2021 BMW R1200GS Rallye (2018)
Well, Turning 60 this year, and so far still dealing with COVID lockdowns and assorted BS, decided to sell the DR and buy a used water cooled 2018 GS:




Picked it up March 8th and rode it home 2000 miles to Alabama from Vegas. By the time I got it home it had 60k miles on it. Yeah, it's a lot, but it's a BMW, so hopefully it can go at least another 50k. Barely missed a five day snowstorm in Flagstaff Arizona. So, other than some cold temps and some rain, it was a pretty good ride. The bike already has some issues, that EuroCycle of Vegas was supposed to fix by letting me take it to a local dealer, but they didn't. Long story. So, I have to fix a leaky fork seal, and see if I can reduce the vibration at speed (feels like out of balance wheels); either the wheels are not true, or the tires, which are nearly new, are bad.


2018 Suzuki DR650SE (2015)
Well, then this idea started bouncing around in my head. If I can do a trip out to Calfornia and back, why not further... like the world... and I started looking for an appropariate steed and settled on this: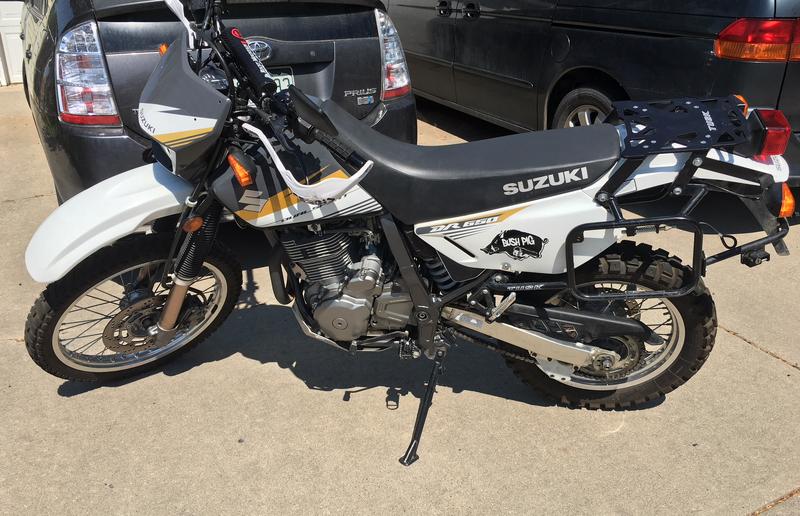 I actually baught this out in Colordo summer of 2018, and just left it at my daughters house, because I had already decided by that time that I was goign to retire early and come out to CO to spend time with them and plan my world trip. And the modifications began when I moved out there 10/1/2018. It already had an LED headlight, brush guards, changed gearing, and Tusk 30l aluminum panniers. Not to mention the guy I baught it from was my size so he threw in his adventure jacket, pants, helmet... The stars were aligned...

2013-2018 Suzuki Bandit 1250
Well, A lot happened between 2011 and 2013. I got divorced and downsized drastically to fit myslef into a one bedroom apartment 15 minutes from work. I had a neighbor who rode a bike and the bug bit me again. So, bought another Bandit, this time a red one from an old guy in Wisconsin. Did some big trips on it, including out to California and a trip through the Southern states up into Arizone and into CO. Here it was ready for the California Trip.

2007-2011 Suzuki Bandit 1250
I bought this one from a guy in MO (while my leg was still healing; see below)... and for a small fee the guy even delivered it. Think I rode this bike until about 2011, when I bought a Mazda Miata!

The Rockster (The Rockster is Dead, Long Live the Rockster)
I bought it in early August of '08... a great replacement for the one below... 2004 BMW Rockster, 80 Anniversary Limited Addition, #112.
Unfortunately I waded this one up 4000 miles later on the back roads of WI in May of '09. No photos of the messed up bike, I was too busy being carted to the ER to get my broken leg looked at.
2004 BMW R1150R Rockster with 20,000 miles on the odometer when I got it. This thing has quite the story that goes with it; The Salvage Experience. But, with all said and done, it was a great bike until the accident. It's got that unique BMW soul. Here is the before and after... The "after" being after getting rear ended and sandwiched in California on July 13, 2008... 2000 miles into the trip, one day after my Birthday... The bike was totaled...
This was the New Kid On The Block... Not mine any more...
Well, after much deliberation I decided to plunk down some cash and buy this brand new 2004 CBR1000RR. This is a picture of it just after it rolled off the delivery truck on 1/29/2005. The hard part was waiting until the riding season started. There was snow on the streets then, so I drove it from the end of the drive way into the garage! That gave it a total of .5 miles on the odometer. I sold it 1/29/08.
The Old BMW R850R




Here's a picture of the '96 BMW R850R. It was a steal when I bought it used back in 1999. I previously had an '80 Suzuki 750 and before that a '75 Yamaha 650. The Yamaha was actually my first bike back when I graduated High School.


When I bought the 850 I wasn't really looking for a bike, but there it was sitting on the side of a road with a for sale sign on it. I'd never heard of an R850R (which I guess doesn't say much for BMW's advertising) but it didn't take long before I was really impressed with the bike. The BMW patented Para lever (I think that's what they call it) shaft drive, the anti-dive front suspension, oil cooled heads, etc.. As an engineer I can really appreciate stuff like that.


After much deliberation I sold it in June of 2005. I'll probably regret that some day (in fact I regretted it enough to buy the Rockster... didn't I) because I'm sure this will be a great classic. But the CBR took up my riding time, and there's no greater injustice than a motorcycle that sits around unused. Maybe when I've had enough of the CBR I'll come back to a BMW (now those were prophetic words).

And this is where it ALL started. Back in 1980, with a Yamaha SX650...