Two Days in Spring Green WI - 05/23/08
Well... where to begin. First, let me say, that Southwestern Wisconsin is the bikers best kept secret. Within less than a half days ride from Chicago begin some of the sweetest roads I've had the pleasure or riding... Everything from gravel roads, to 15-25 mph (marked speed) corners over undulating country side, to high speed sweepers... but hey, I'm getting ahead of myself...
Last year my appetite was whetted when during a four day ride into the Michigan Upper Peninsula and through WI, on the last day we stayed in Spring Green. While there I did a little exploring around Spring Green and also took WI route 78 on my way home. After that ride, I decided that I had to do a multi day trip to and around Spring Green. So, this last Winter I literally started planning out routes. My plan?... Ride to Spring Green one day, stay there two days, and then ride back the fourth day. The objective was to string together as many squiggly lines in that time as I could.
So, here was the plan... Day 1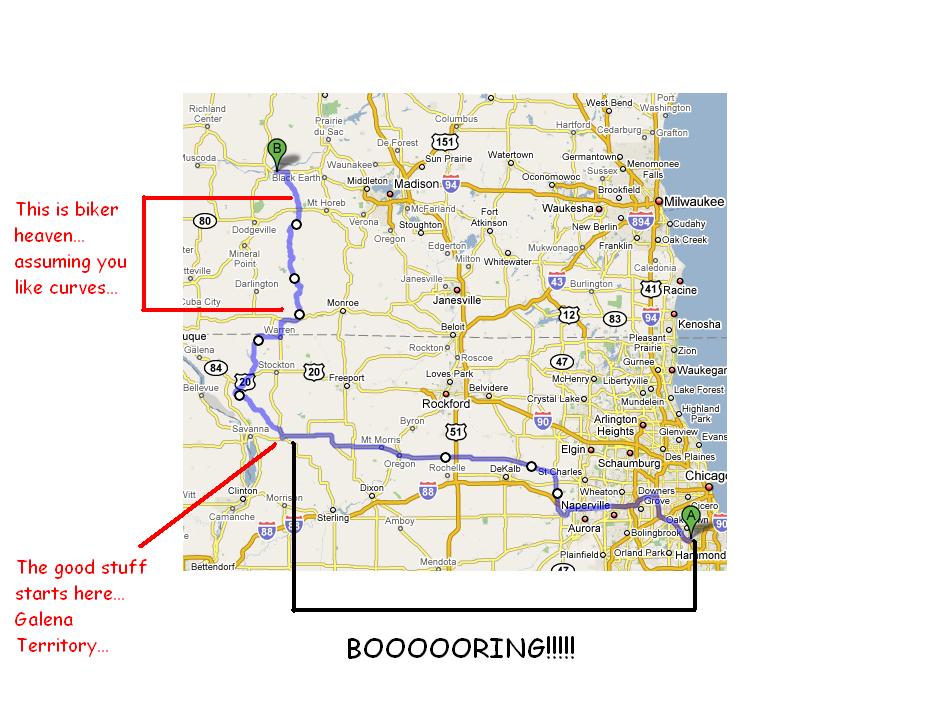 So, the good times start in the driveway on Friday... well actually they started month before when I got my GPS unit and started planning the routes... then just several weeks ago I ran into Mark and the gang in Galena and found out they had already made reservations at the Spring Green Motel... and as it turned out I was free that weekend... so Mark was kind enough to add me to the reservations, with me arriving a day early...
Back to the packing... I got most everything prepped the Thursday night before... So, Friday I just had to get the rest of the stuff in the bags and load up...
It was about 50 degrees, the sky was cloudy, and it smelled like rain... So, I layered up and put on my rain suit pants, hoping for the best. Took off about 8:30 am. I didn't even go 15 miles before it started raining and I had to put on my rain suit top. It wasn't bad... alternating between drizzle and light rain... I was competing with morning traffic, so it took a while to get the heck out of Dodge... At least I wasn't hot sitting in traffic...
This is Illinois Route 64... GPS girl says "Follow the road for 66 miles.".... Yeah... I know!... Snore... Well, it does have a few turns along the way, but don't count on improving your cornering skills here... Good news was it wasn't raining any more... but it was definitely cold enough that I wasn't going to be taking my rain suit off.
Well, wasn't long before I got into the fun stuff. I was going down this gravel road and zoomed by a sign... no way... had to go back and take a photo... Check this out: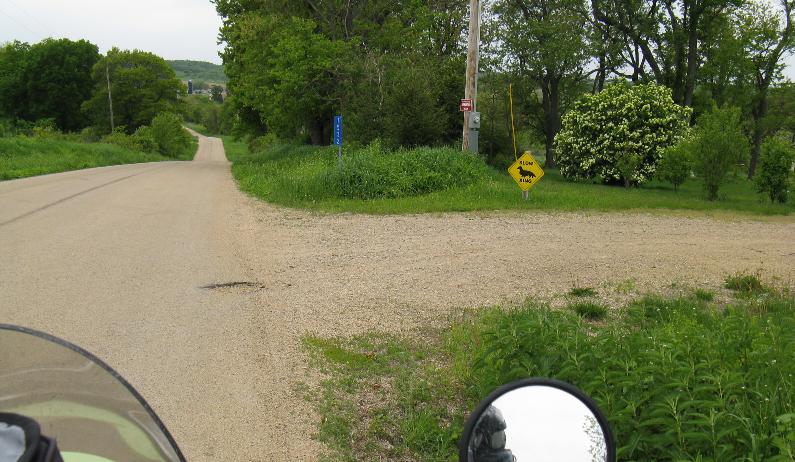 Let me blow it up for you...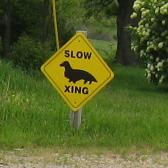 Yes... this is a Slow Dog Crossing sign... To me it was clear why the dog was slow... he had short legs and couldn't run very fast. Either that or it wasn't a dog at all, but rather a four legged duck... Later my wife pointed out that maybe the dog wasn't slow; the sign just says, "Go Slow. Dog crossing.", which or course is a lot different than, "Slow (short legged) dog crossing."
Anyway... I continued... some of the gravel roads weren't quite as well packed as others, but all quite manageable...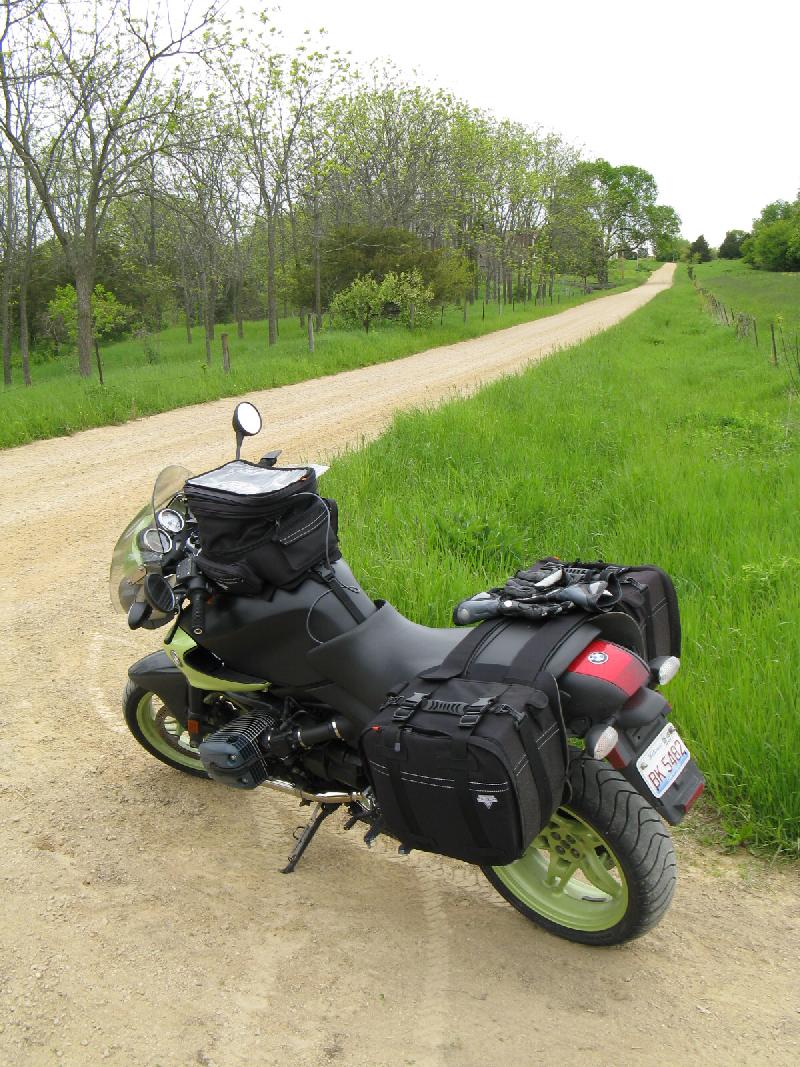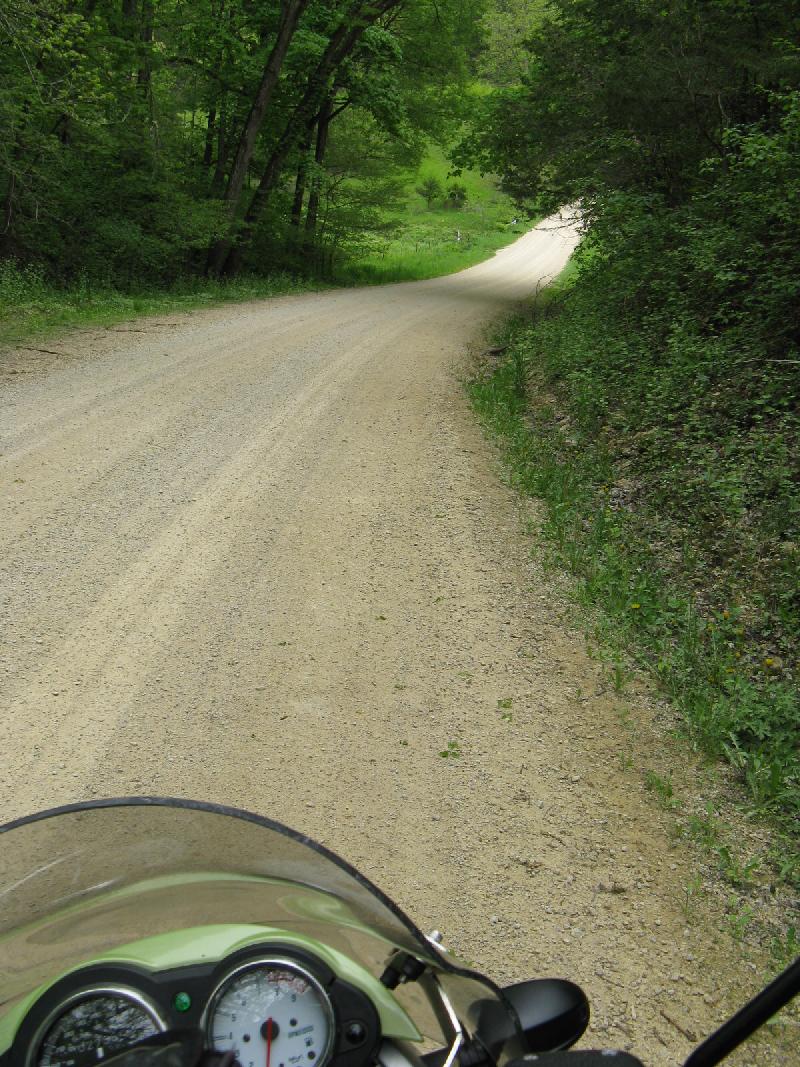 Reference point. Started with about 20 miles on trip meter when I started... stopped for gas once at about 150... back up to 33 on trip meter... so this was about 160 miles into the trip.. which means I started at about 27187 on the odo...
I've decided I'm going to call my GPS unit a GAPS unit... Global Adventure Positioning System... because every now and then it just likes to take me on an adventure and I love the freedom of knowing that I can turn down any road and no matter where I end up, I can just say, "Take me here..." and it will find a way without me studying a map for 10 minutes. And I'm pleased to say that with more careful selection of my waypoints (zoom into the map when planning the route) I had less than a handful of those, "Where the he** are you taking me?" moments...
So, this was about one hour later when I stopped to relax and have a drink of water... (click on the image for a larger view). I was making good time so figured I'd just ride through and catch an late lunch early dinner when I got there.

I have to remind you, I have my GAPS unit in my tank bag feeding me directions through my headphones. Yes, I have a mount for it, but I don't want to be tempted to fiddle with it while I'm riding... Now what do you think my GAPS told me when I got to this intersection?
Odo is at 27397... almost exactly 200 miles into the day...
Let's just say this intersection was a test of my ability to follow verbal directions from my GAPS... and I failed miserably... "In 350 feet turn left than immediately turn right."... Ah... ya... which right?
Anyway... partly sunny... no traffic... life is good...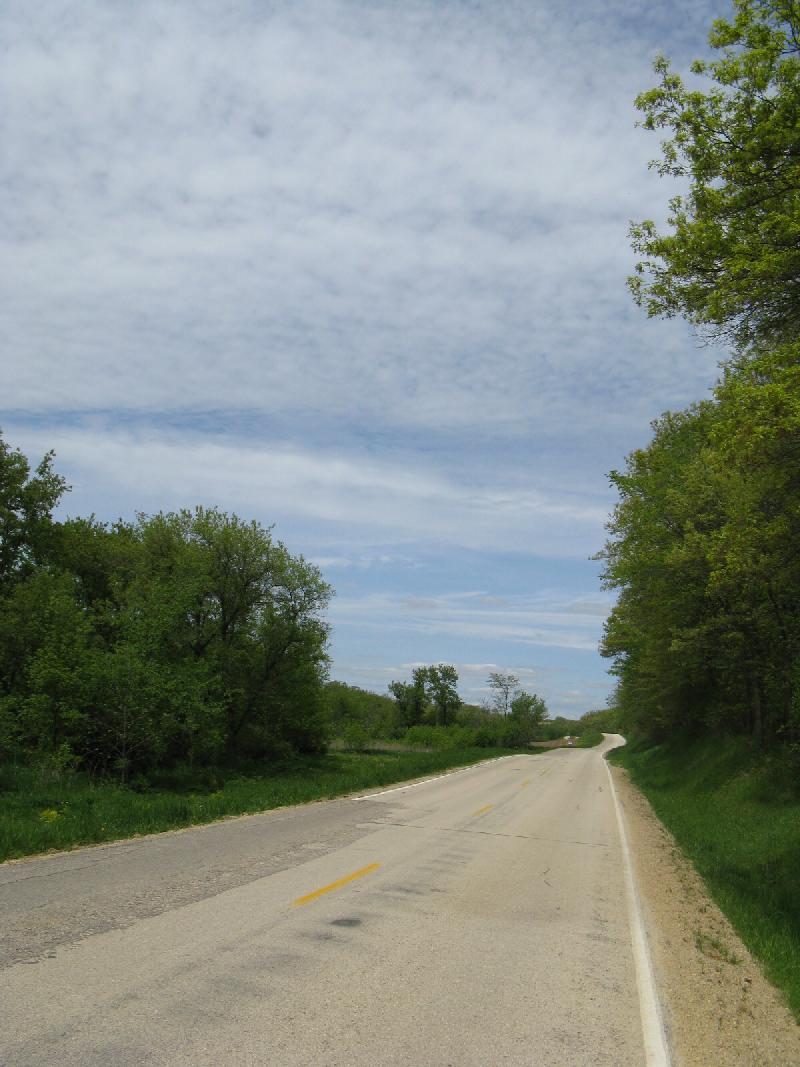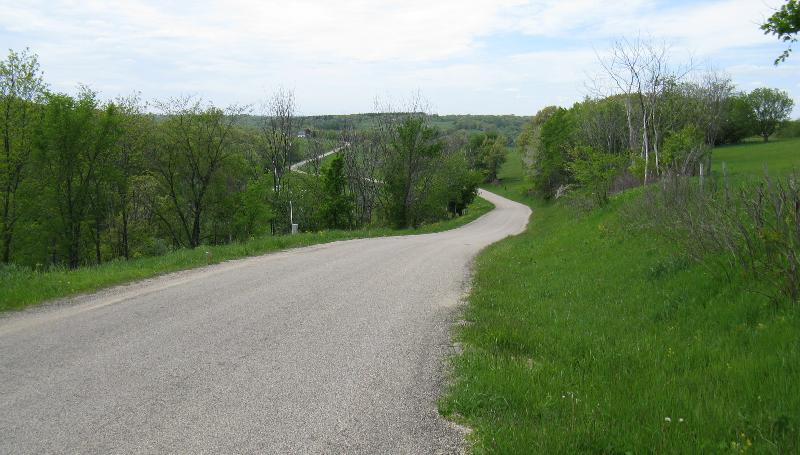 The roads were fantastic... one nice one after another, and the last sixty miles or so was even better than the above photos... In fact my GAPS unit was so impressed by the roads it had me do a few loops... No kidding... I'm not talking like go-around-the-block kind of loop... I'm talking after miles of curvy roads I find myself at the same intersection going in the same direction as I did the first time I went through it. At first, I had a little doubt... thinking all these country roads look similar, and I wasn't paying much attention to actually what road I was on... but it was the familiar looking horses along the side of the road that gave it away... Was I complaining? Absolutely not... My guess is it did this because I had it set on Motorcycle Scenic route and it just made some on-the-spot calculation that some of these roads were too good to pass up... again... This happened not once, but in two locations... Wahoooo!
Well, I wondered my way onto Route 14 for the short trip to the motel. Along the way I came up on this place and made a mental note to come back after I settle in the motel room and get some fruit to munch for the next few days...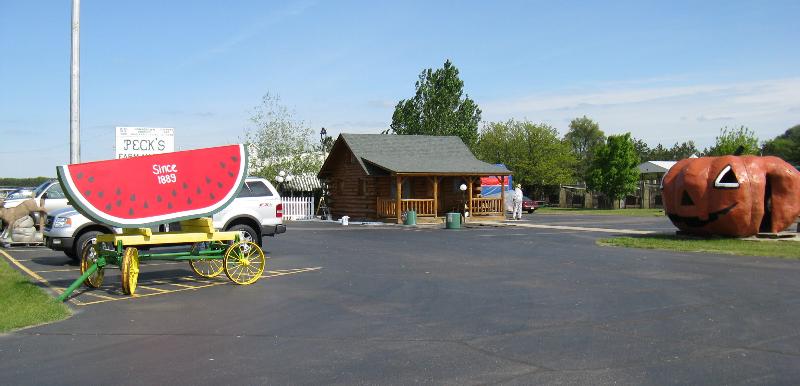 Well, the motel is only a few miles down the road... so I got there in no time and checked in...
Went back to the fruit stand and on the way I stopped at a boat landing on route 14 just East of Spring Green...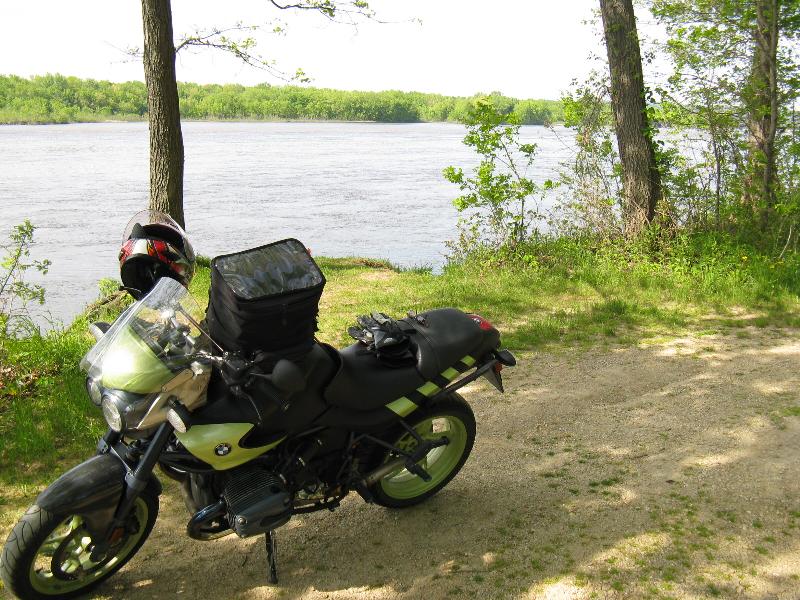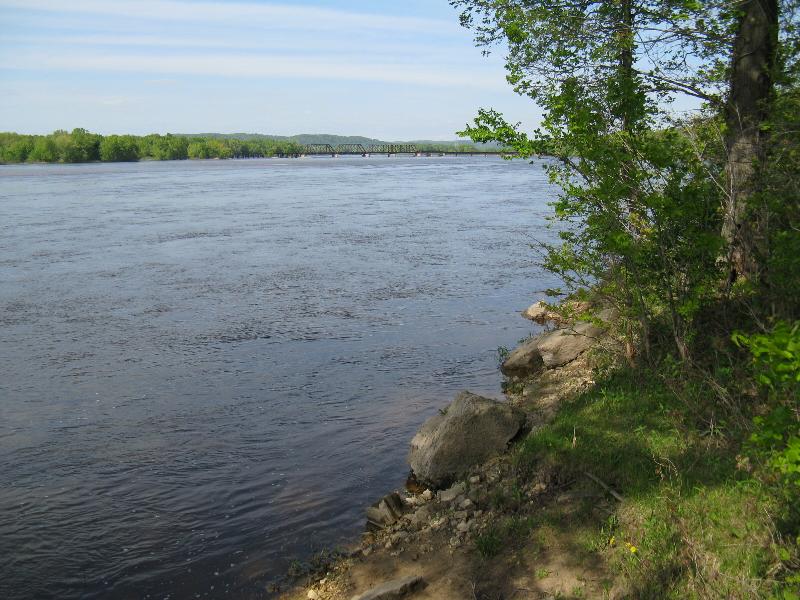 And with my fruit in the fridge I was now ready for the days to come...
I then took a walk into town (only about a mile or so) and found a very rustic place to eat... Sorry... didn't take any pictures (the above is about all the food pictures you guys are going to get)... but it was good food... had a Greek Salad and a Chipotle chicken sandwich...and I ate it on the porch, lit by the setting sun... where I found that there was quite a mosquito problem. One of the locals said that they really hadn't had a mosquito problem in three years, but this year they had gotten a lot of rain, so there was a lot of standing water... perfect breeding grounds... and they were everywhere...
Day 2
...starts in Spring Green... goes to the Mississippi River and then back to Spring Green... Notice all the squiggly lines...
Motel at dawn...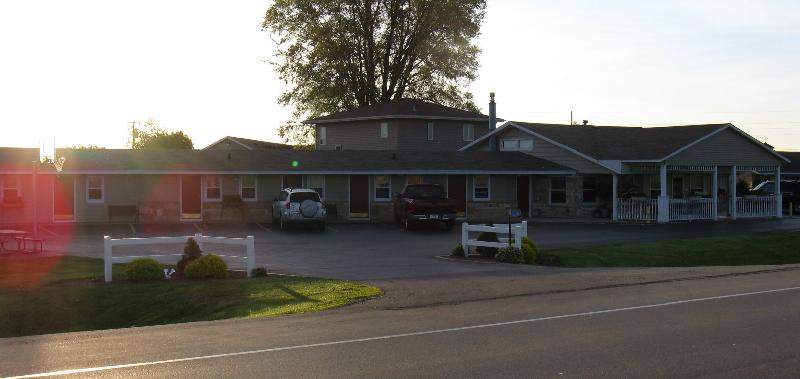 I walked into town in the morning about 6:15 a.m.. Looks promising...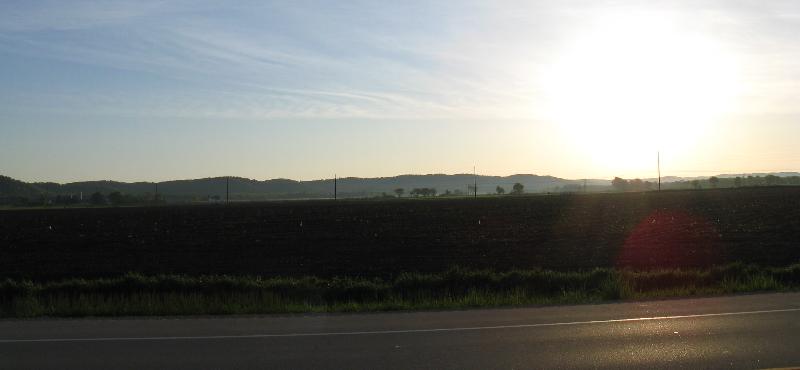 This is the Usonian Inn, also on the walk to town. It was designed by Frank Lloyd Wright. Actually his famous House On The Rock is just a few miles south of town. I guess he grew up around Spring Green.
There was a small restaurant, next to the Mobil station in town, that opened for breakfast at 6:00. Sorry... didn't take any shots of it, but it's what you would expect to see in a small town... You walk in, seat yourself, either at the half kidney shaped counter on stools, or grab a booth. Dishes are being clanged in the back... The waitress has worked there forever, and the conversations kind of go like... "Did I tell you my sister Edna is gonna come and work here?"... Edna?... Yeah, you know, my sister... Doesn't she work at the bank? Yeah, she does, but she's going to work here a few hours two to three times a week... other conversation... "Back in 1967 gas was 17 cents a gallon"... Yeah, I heard airlines are going to be charging by the suitcase now.... or this one... Did you hear that a school bus driver choked on his Coke and swerved into a truck...
After I was done with my three egg "Loaded" Omelette I walked back to the motel and got ready to go. As I'm walking along the highway, at any moment I expected the police to pull up beside me...
Hey you... what are you doing? I'm walking... Walking? Your car broken down?... No, I just wanted to walk... Wanted to walk? Can I see some ID?... and this goes on until they haul me into jail... because nobody walks any more and I'm braking the rules...
This is my artistic moment as I walked along... it was interesting the way the shadows exaggerated the pattern in this farm field...
Well, I didn't get arrested for walking... and I got myself together and took off about 8:30 or so... On the road again...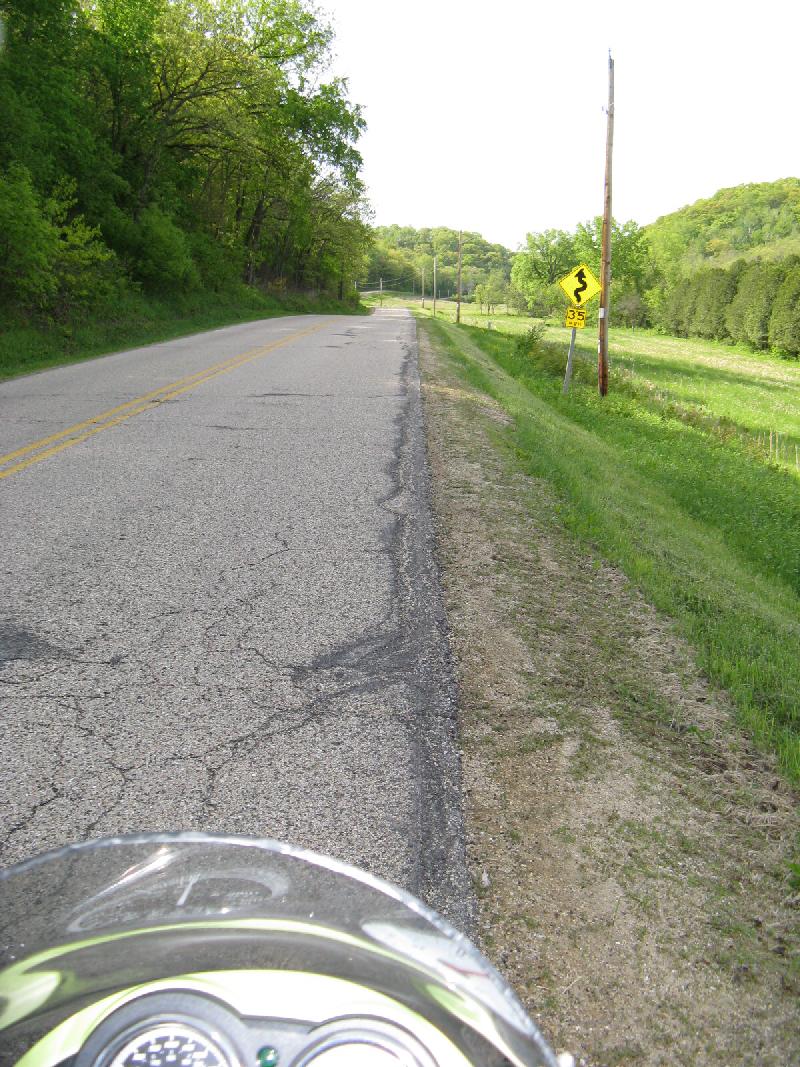 So much gets lost in a photo... the shot above was one of several places that had a fairly steep grade with really nice curves... If I had pointed my camera horizontal all you would see would be the sky above the trees...
Now this shot was definitely one of those where-am-I-going moments... this gravel road was fairly steep and you can't see the rest of the road because it dropped off even more. When I started up and went down that hill (slowly and favor the rear brake) GAPS girl tells me to make a U-turn... hmmmm... so I do and as I'm coming back up she tells me to make another U-turn... hmmmm... so I did and she left me alone... That's good, cause I ended up dealing with some relative thick, loose gravel and the two tires were each doing their own thing... but I wish I had a move camera...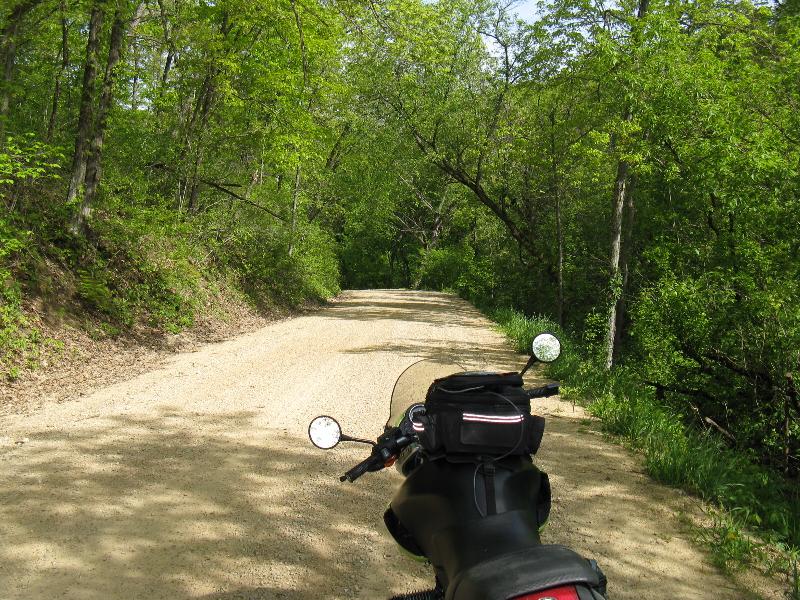 Sometime later after getting back on asphalt I came across this lake. It was kind of stunning because of it's very dense greenish-blue color...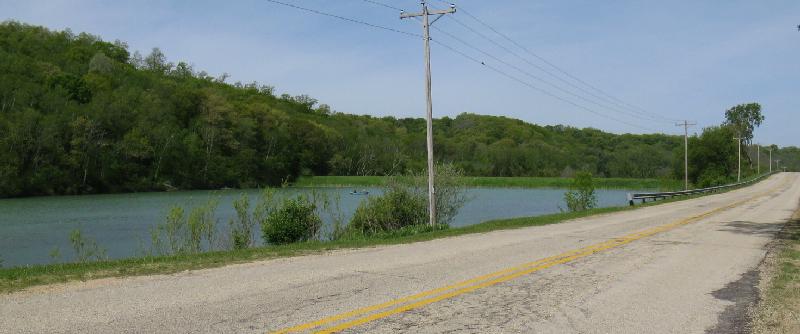 I found this old mill and water fall...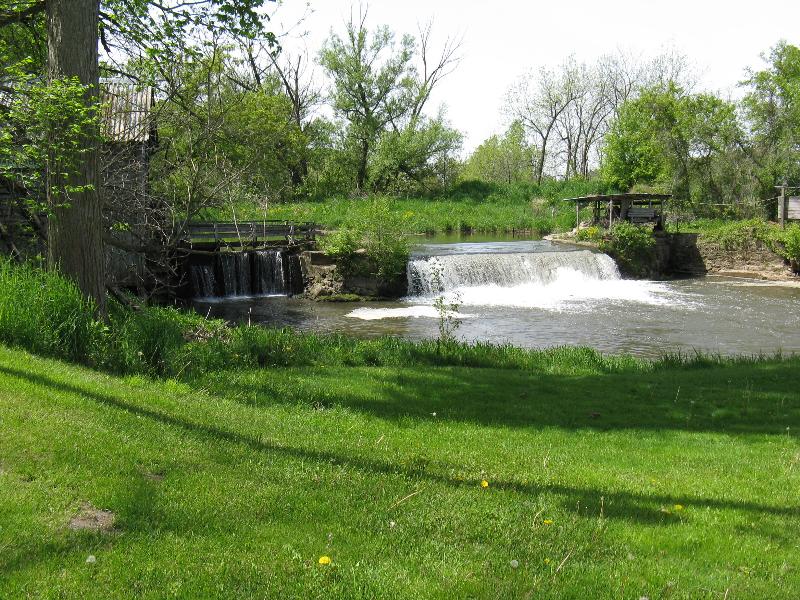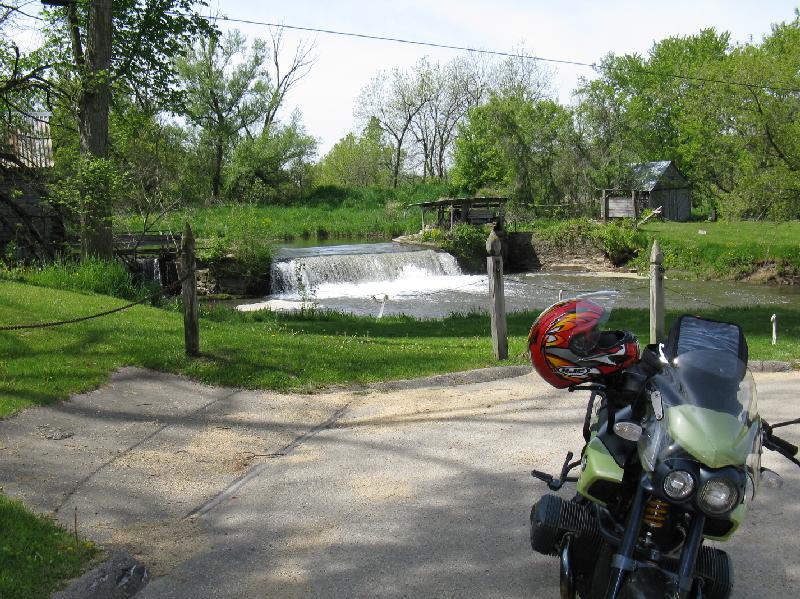 What I found most amazing about the whole two day is the countless small valleys over every ridge. This one below is just typical... A curvy (should I say voluptuous..) road hugging the hillside of lusciously green valley... You know what? I bet the cows in Wisconsin are happier than the cows in California... click on this image to get the full view... this is a blend of four images... it's big... I have no idea where the dog came from. As I was taking the photos... I take the camera away from my face... and there he is... he could have literally bit me on the ass before I knew what was going on... he didn't make a single noise... hmmmm...course the fact that I still had my earplugs in may have aided the stealth approach... we looked at each other and he walked away... I barely got a shot of him as he was leaving... Now you have to figure that is on happy dog... He's got the run of an entire valley... what a dogs life...
Now you have to understand... I was south/south-west of Spring Green and getting no place fast... GAPS girl had me going all over the place and I was more than happy to oblige... But I did need to be back at the hotel around 6:00 or so, cause I was meeting the rest of the crew, and I had talked to my wife and we decided she would come up for the night in the car, meet the crew, and then I could take her around some of the roads closer to Spring Green before she went back home... So, I altered my trajectory a few times and started making my way west...
Lunch was kind of an impromptu affair... I had actually brought some nuts, fruit, cookies, and cheese but then I stopped for gas in a small town and it turned out the gas station had a small kitchen area and served up pizza and hot sandwiches... so I opted for the hot sandwich and an ice-cream bar... it hit the spot...
As you approach the Mississippi River area there tend to be more sweepers as opposed to the narrow roads and tight turns in the countryside... click on this shot to get the full effect... who am I kidding... you're not going to get the full effect...
Course that's not to say there aren't any gravel roads... cause there are...
Well, I did eventually make it to the Mississippi... at about 2:20 in the afternoon... yeah, I was running WAY behind... This is the rail that runs right along the river by route 35... Where exactly on route 35?... not sure...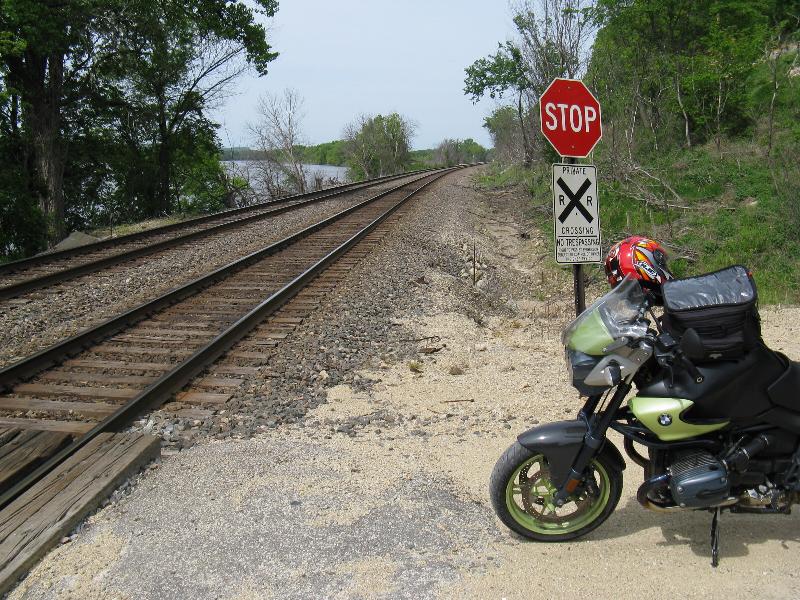 So, here's the thing... see this steep gravel road leading down to this spot?...
I was headed north on 35 when I saw this driveway... that's what it actually is... a driveway leading to a property right on the river... So, I pull a U-turn, come back heading south so that I can make the sharp turn onto the driveway... Well, it's steep, the gravel is loose, my handlebar is at full lock, my front tire is about a foot from going down that embankment, I get a little off balance, put my foot down and it's too late... cause the ground is tilted away from me, my foot slips on the gravel and the bike goes past the point of no return... it's down and I'm standing next to it... I quickly pick it up... making sure I don't shove it off the cliff... Wow, that sucker is heavy... Brush the embedded gravel off the valve cover and proceed down the hill... Could have done without that... So, now one valve cover has a scrape from the track...and the other one has these gravel pits...
Ah well... moving right along...
I was pretty much out of time. So, I made my way back through the side roads until I got to Route 60... which was a nice fast road (relatively speaking) along the river... until I get to a spot where it's blocked by a police car... and here comes an ambulance... Now, I'm sure I could have gotten through... but I doubt the police would let me... So, checked by GPS and backtracked, went across the river on 133... which was boring and quick... and eventually crossed back over... got back on 60... then 14... and into Spring Green... And just as I pull into the motel, the gang is all there getting ready to go to dinner at the Shed... a local bar/eatery place... Jen and Troy were locals so they rode down just for dinner and the fire. They all went ahead and I waited for my wife, who came about an hour later...
After dinner we went back to the motel, where someone had managed to get a wheelbarrow full of wood for the fire pit and we sat around and talked. My wife and I had a sad game of HORSE cause neither one of us could hit the basket... and the day came to a close... I can't say enough about all the roads I was on... most of them were just roller coasters...
You have to hand it to the caretaker... that's not just a piece of dirt with a place to burn wood... We're talking coating concrete surface with a sitting area... adjustable basketball hoop... class act... We definitely needed the fire... cause it was barely keeping the mosquitoes away... Well, that and the mosquito repellant that Vicky got from the caretaker...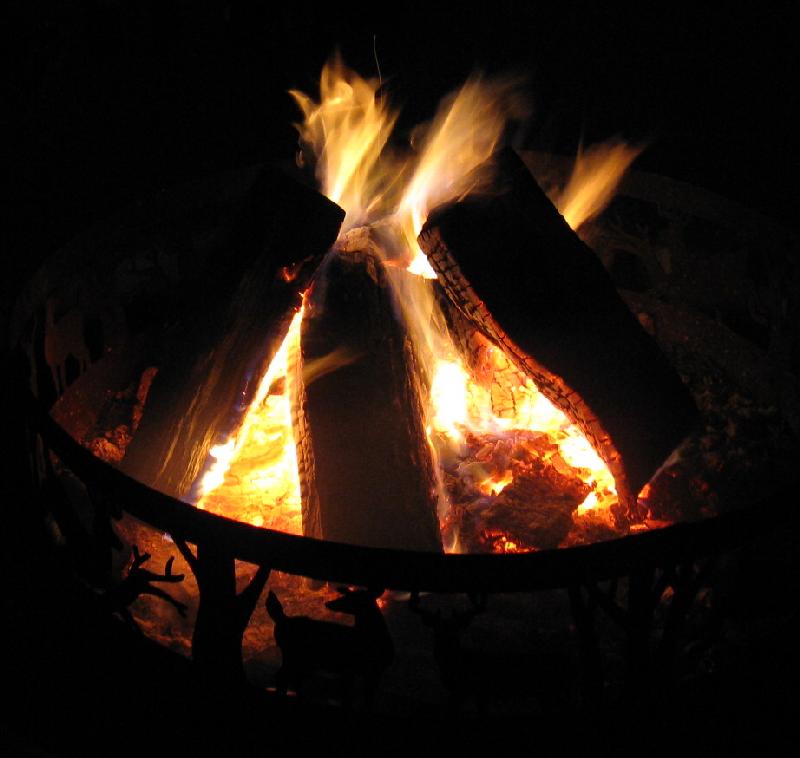 Day 3
Wife and I got up early and walked our way to breakfast where she got the full restaurant experience... It was amusing to say the least... The rest of the gang planned to take off and eat breakfast along the way, and by the time we came back they were already gone. We would meet up at dinner again. I had plenty of time, so I took the wife for a ride around some of the winding valley roads. It was still pretty chilly and she didn't have any windproof gear, so we couldn't really stay out that long, but at least she got the flavor of the area. She took off about 10:00. The plan for the rest of the day was head North from Spring Green... wonder over to the Mississippi River... and then back to Spring Green...
Well... imagine that... more squiggly signs... :0)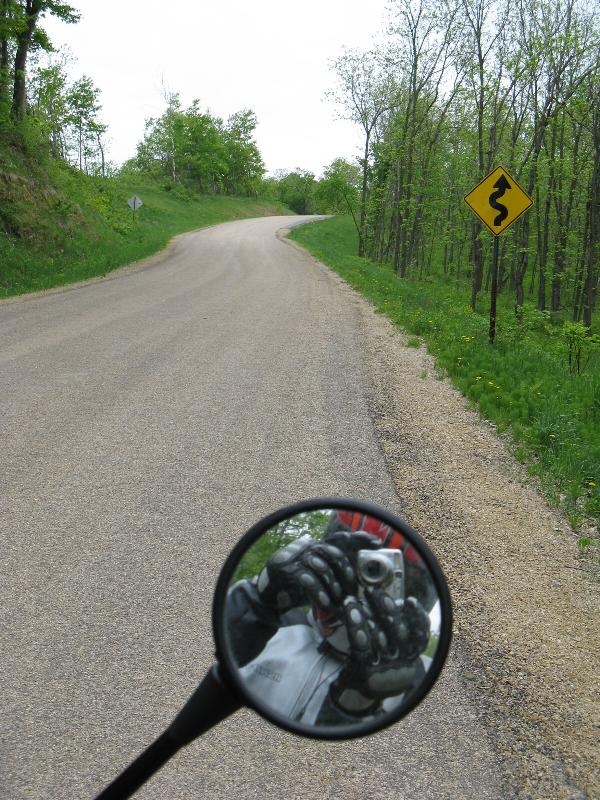 Check out the countryside... click on the image... it's huge...

Here we go... one of a couple church pictures... could have taken a few more... but there were just too many...
That church was right across the street from this place.... I don't know about his business practices... Buy 3, Get 1, the sign says...
And then there was some more of this...
And then some more of this...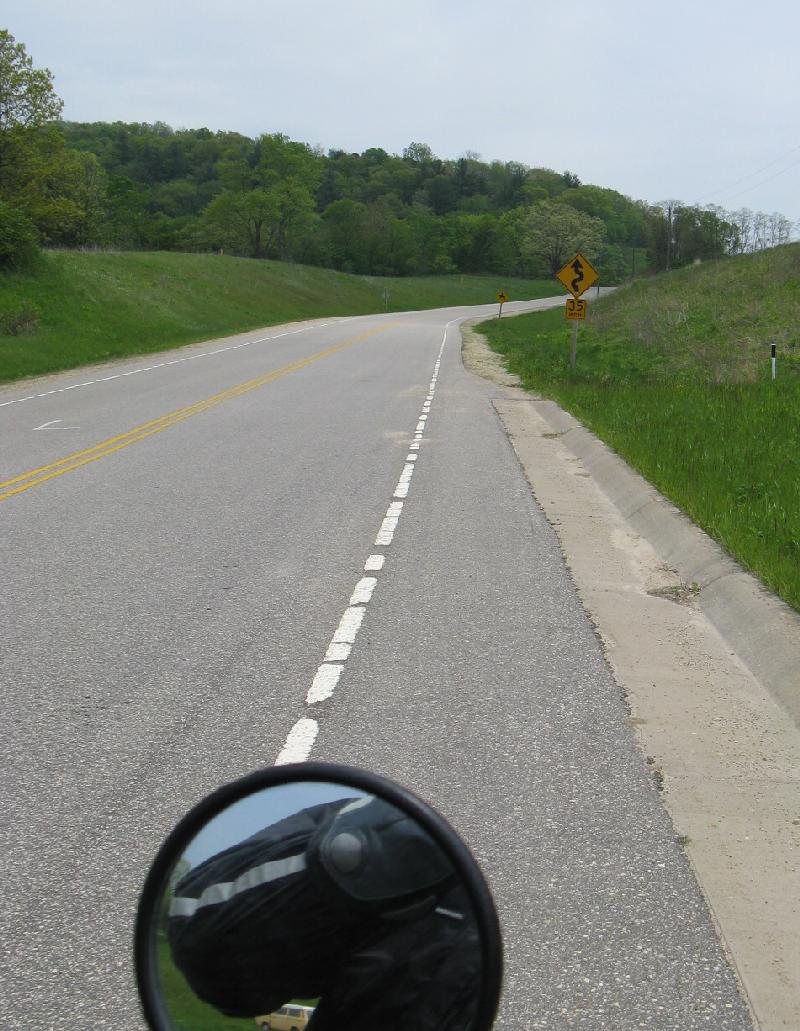 As Rooster Cogburn use to say... I say B-b-boi.... I say boi... are you getin the picture yet... are you... I say are you comprehending what I'm trying to tell ya?
Click on this one... it gets bigger...

And then more of this...
Now, here's the funny thing... it's somewhere around noon... I'm somewhere north of Wilcat Mountain State Park... just got to an intersection to turn left... I look to my right and who's coming down the road? The rest of the gang! What are the odds? They pull over and it turns out they're going to Rockton for lunch at some famous barbecue joint. I had been through Rockton a little while ago... but what the heck... off to lunch we go...
And here it is... That's Jeff, Ann-Marie, Vicky, and Mark (right to left)...
The sign below says Barbacued Chicken April-October... For $8.50 you got half a barbecued chicken, choice of two different salads, and baked beans... It was chicken, but it sure hit the spot... The building over to the right is a bar area, and then to the left past the smoke/pit is a roofed in seating area with picnic tables, and then further back are a bunch of tall round table where you can just stand and eat... This place was hoppin...
So, we drank and ate and talked about our next move. Ann and Jeff were feeling kind of beat and were going to head back to the motel. I was going to continue on my way west to the Mississippi and follow the route I had planned. Mark and Vicky wanted to ride some more so they came along with me.
Here's another church photo... Those people under the tree were looking at us like we were kind of strange stopping to take a photo of their church...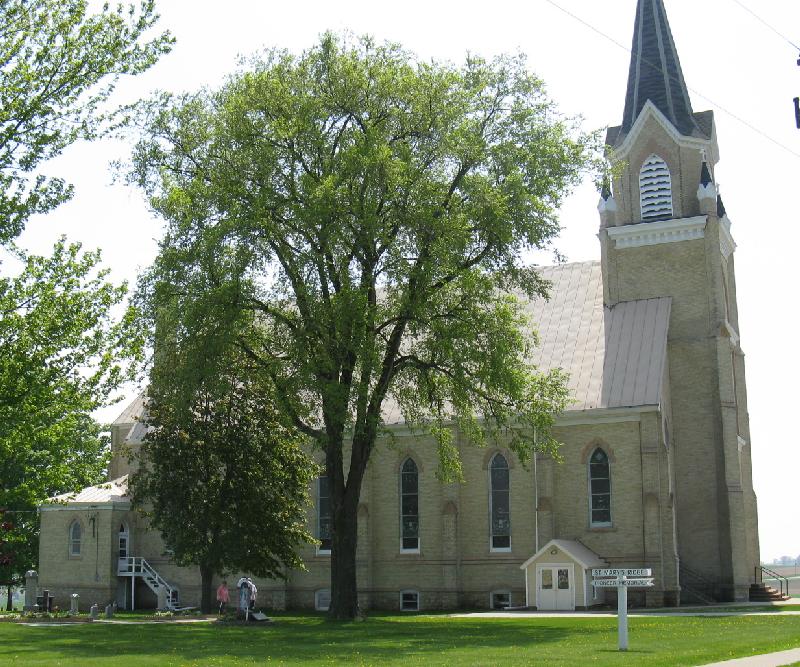 We ended up in this valley, which had a really nice twisty descent into it... and here we have a bit of cow heaven... a few cows in a field covered with one to two foot tall grass... click on the picture to get the full view... The sun was out now and it was getting pretty warm... had to start taking off the layers...

One of the cows decided to come closer and investigate... we had a brief staring contest and she went on with her eating... Also if you look closely at the full image you'll see just to the left of my bike, near the grass, a turtle... the poor bastard got run over and got his shell cracked...
Hmmmm....this valley looks like a place that Gypsy might be interested in...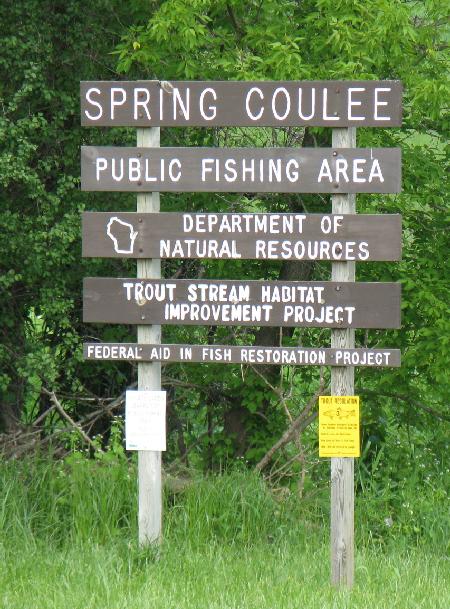 And after we were done snaking out of the valley, we had some of this...
Well, we eventually made it out to Route 35 next to the Mississippi and stopped for a drink at the Thirsty Turtle...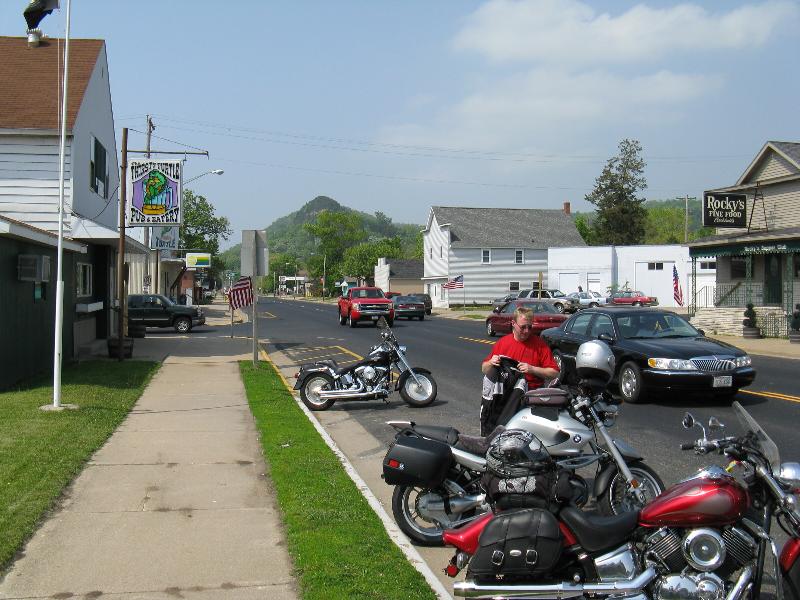 Well, apparently it was the weekend to be dropping bikes... in addition to my little fopah the previous day... Vicky had her own... as we headed back toward Spring Green, we got to a gravel road. I knew Vicky really wasn't up to doing gravel roads, so I pulled a U-turn at the intersection, pulled over and started rearranging my GAPS... I hear Mark say..."How did she do that?" and start running... I look over and there's Vicky on the ground with her bike on her leg... we both run over and help her lift it... Well, guess the U-turn got the better of her... and being that that bike weights about 700 lbs and has the turning radius of a truck... anyway, Vicky was relatively fine and the bike didn't seem much worse for wear... so we carried on...
Well, it became clear that if we were going to make it back to have dinner at a reasonable time we needed to abandon any major excursions and beeline it for Spring Green... It was getting windy now, and it smelled like rain. Mark and Vicky put on their rain gear... I was still warm so I figured I'd just wait until it started... Well, it never started... We got all the way back to the motel with no rain...
Mark had exchanged text messages with Ann and they were at a bar close to the Motel. The place actually served pizza. We joined them there after dropping off some stuff at the Motel. Well, it was definitely good pizza... As we sat there... it began to rain... and the sky got a strange color... there were Tornado warnings on the TV... So, after eating the three of us took off for the Motel and Ann and Jeff stayed behind for a while longer... It was raining fairly steady... my rain gear was at the Motel... so I just hit the road... tucked behind my fairing and blasted down the road... I was surprised just how dry I stayed...
Here's the capper to the day... as I get off my bike... I see this... a full double rainbow in the sky...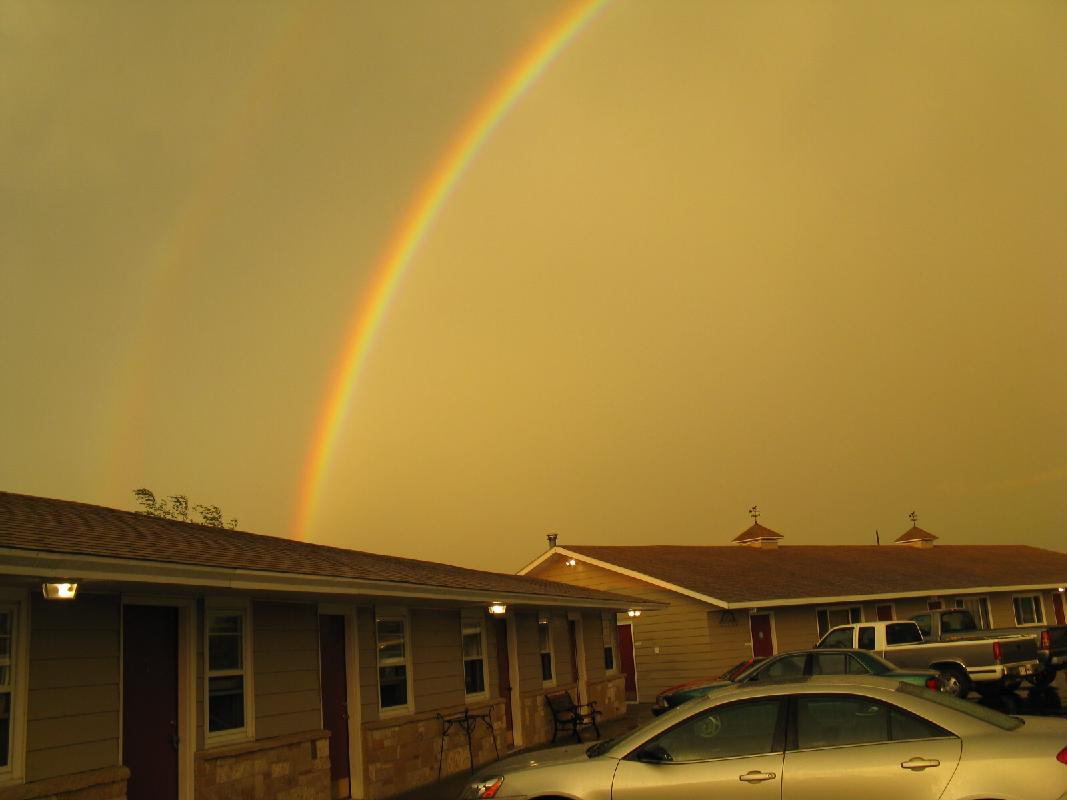 And where is that rainbow coming from... here...
Day 4 - Going Home
Well, the forecast was for heavy thunderstorms, but I woke up that morning and it didn't look so bad... everything was wet but the sky actually looked fairly clear. The best part of it was the bike got a good washing...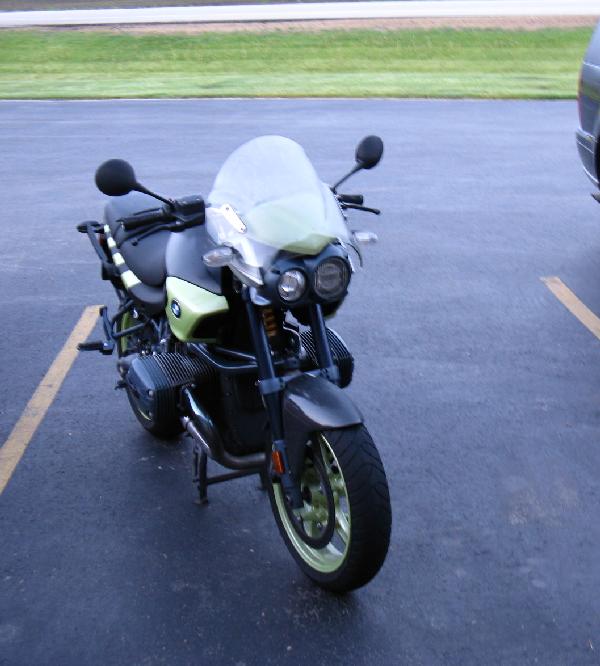 For some reason I had actually gotten up at about 3:45 a.m. and couldn't fall back asleep. My mind was drifting over some of the moments and scenery. At about 5:15 I figured I'd just get up and get ready. The planned trip home was about six hours... This is just the non-boring section of the ride.
I got myself packed up, turned in my key, and found Mark at the front of the Motel, then Jeff came wondering along. Mark and I talked for a bit, I said my goodbyes to the two of them and onward... 7:30 a.m.... And of course there was more of this...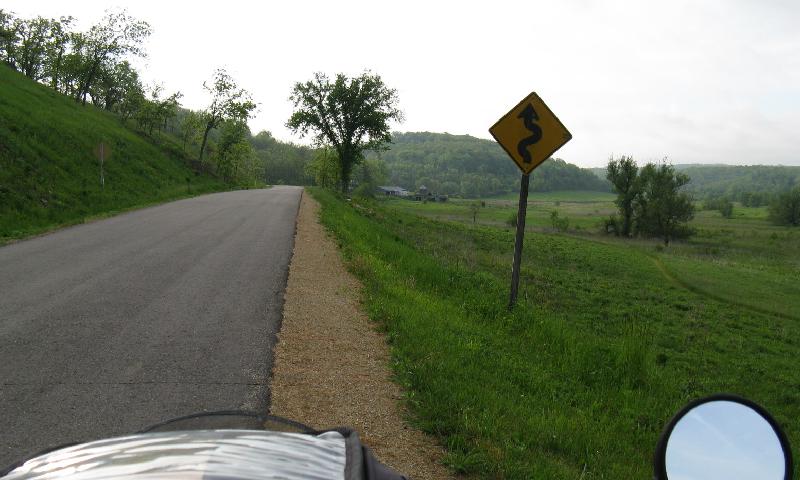 and this...
I didn't quite stick to the plan because I remember wondering into New Glarus, and I went on 78 for a while... but that didn't last long because it was blocked for construction so I had to take a detour... As my riding along I see this... They looked like really big poodle dogs... Llamas shaved for the summer I guess...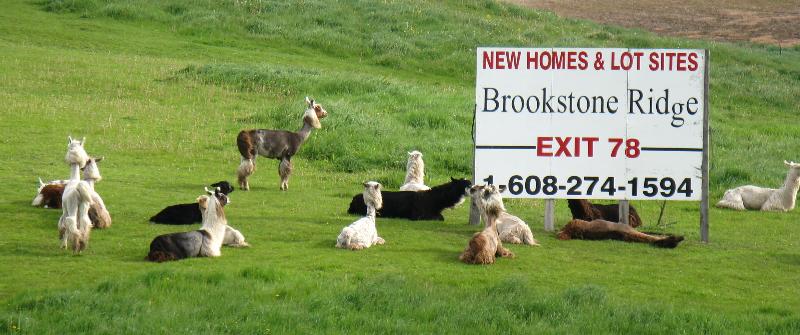 I had to take a photo of these Lilac bushes... several times on the trip we would be on a road and come up to a row of bushes like this... and the aroma just filled the air.
Well... no denying it now... I was back in Illinois...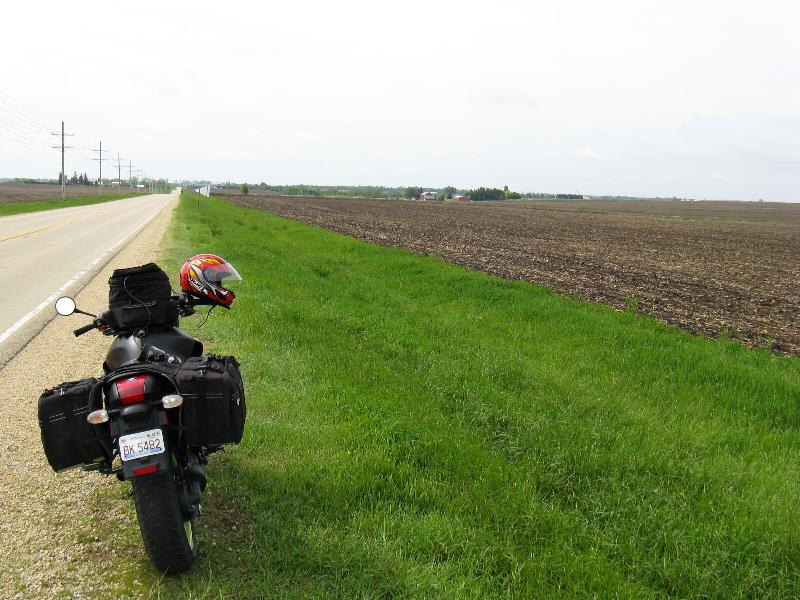 I actually made a valiant effort to continue the weekend by programming the GAPS for the scenic route... and although it did manage to find a couple curvy roads... it was pointless... so I just reprogrammed for shortest non-interstate route... improvised some... and got myself home...
Approximately 1162 miles...