The Early Days
Around Lake Michigan With Nev
It's November '08 and winter is just around the corner. The motorcycle is already stored for the season and I'm already having withdrawal symptoms. So, I've come up with a brilliant idea to pass some time; I've decided to look through some old photos, do some scanning, and document what it was like in the "Old Days"; back when I was young, stupid, and without responsibility.
Right about when I was 20 years old I had gotten myself 1980 Suzuki GS750E. The first of the dual overhead cams four valves per cylinder generation. It was my second motorcycle; first new one. The first one was a 1975 Yamaha SX650, which I had purchased the year before. I didn't even know how to ride a motorcycle when I bought that one; my cousin had to ride it home for me. By the time I bought the Suzuki I had just enough experience to be dangerous.
Here's a shot of my bike (the silver one I'm standing next to) and my cousins. This was actually the start of our longest bike trip together; actually probably my longest trip until just recently ('08) and probably his longest trip on a bike ever.
Of course, standard was never good enough; the fairing is a Vetter Quicksilver; the little radiator is a Lockhart oil cooler; notice the case guards. Somewhere during the ownership of that bike I also added a fork bridge/brace, a Supertrap header, SW shocks... Anyway...
Seems that I had started a trend... not long after I bought my Suzuki, a good friend of mine also bought one, and obviously my cousin did as well.
So this long trip was going from my parents place in the far Northwestern Suburbs of Chicago, through lower Michigan, into Mississauga Canada, Sudbury Canada, through Niagara Falls, down through NY, across Pennsylvania, and back home.
Some of the photos I dug up I'm not sure where they're from... others have clues... Fore example, this shot... I'm thinking this was somewhere in Michigan. Obviously we had decided to go climbing the rocks along the road... My best guess is some of these are actually from an around-the-lake (ATL) tour we did, and others are from the Canada trip.
Here's a couple pictures that make a statement about automobile drivers... The sign said Glenn Lake... so I take it that's somewhere near Glenn Arbor Michigan. So, this is most likely from the ATL trip.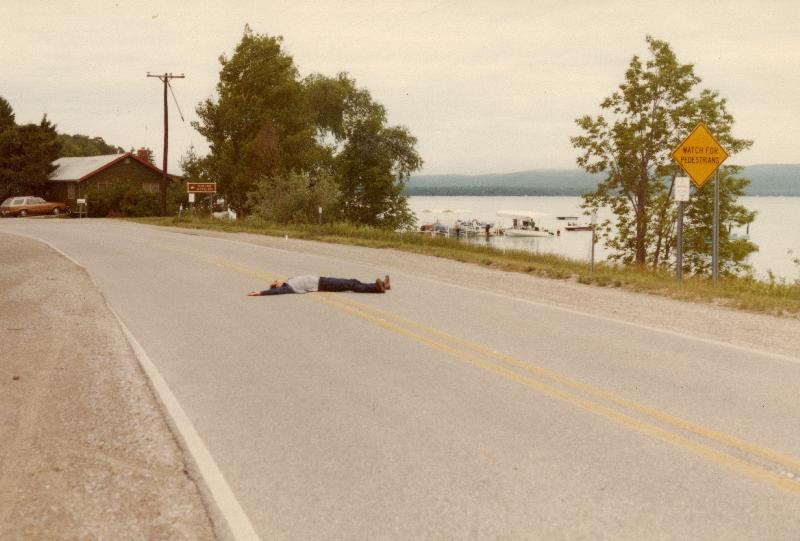 See, if you own a motorcycle, the car drivers are out to get you even when you're not riding the motorcycle... Good thing a car didn't actually come along while my cousin was taking this picture... the road must have been fairly deserted. By the way, did you notice the riding attire; denim jacket, jeans, cowboy boots... yes I did wear a helmet and gloves also... but there were no knuckle protectors on the gloves, no armor in the jacket... glad I survived those years... I do have some photos of a few self induced accidents.
Now this was scary... The truth is in that photo above I was knocked out by a UFO which flew right near the shore. As it flew by, it completely destroyed half a house... but it took off so fast my Cuz could only get this photo with the UFO way in the distance...

OK, you UFO freaks, relax... it's not true... but I wonder why this house looked like this... Did half of it just fall into the Lake? Or, is it just that small?
Here's my cousin taking a picture of me taking a picture of him... More clues too... looks like this was after I had the headers and S&W Street Stroker shocks on the bike. Back rest and luggage rack too. It was a nice one.. the back rest part could be removed, or it could be slid forward and back. In this case I think I had it slid forward and all my luggage was piled up behind it. Tank bag too. Yeah, Cuz had a full Windjammer fairing with a stereo.
Here's Cuz trying to get a creative shot of the tracks...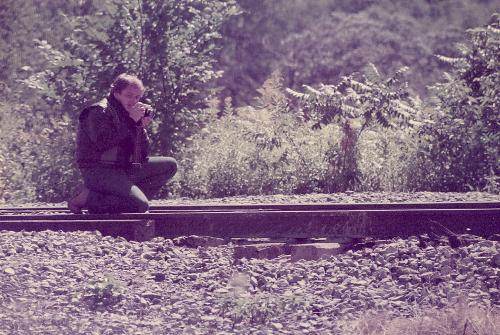 I took a "shot" at that too...
Funny how the photos just don't have the color depth and saturation that we see now-a-days, and these were taken with an SLR camera. Here's another interesting shot. I'm pretty sure this was taken somewhere in Ohio. Not much scenery in Ohio.
Now these photos have a cool story behind them... wish I knew exactly where this happened...
Cuz and I had had been riding all day... it was getting late and we needed to find a place to camp... So, we came upon some park/forest preserve. There was noone at the gate, so we just rode in and found some spots under a couple trees. By the time we had pitched our tents it was dark. There was not as single light anywhere... just the sound of crickets... Looking up we could see the Milkyway like we could touch it... There were a couple picnic tables near where we camped, so Cuz and I each took a table, laid flat on our backs, and just watched the stars... for hours... talking... joking... trying to figure out what the moving objects were... satellites... comets... Skylab? We finally got cold and tired and hit the sack...

We woke up in the morning to a pretty thick fog, and still not a soul around... as we packed up, the sun started to break through a little...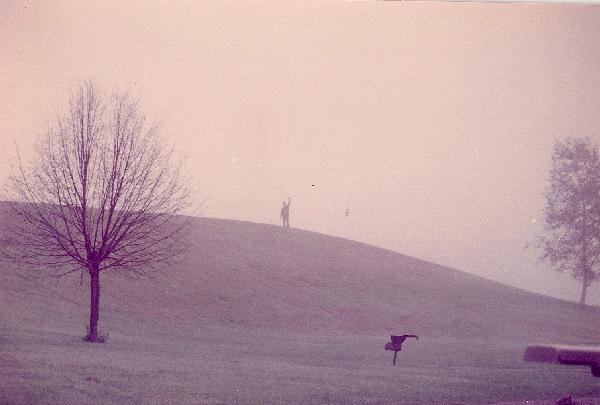 A sunset over Lake Michigan... I'm pretty sure this photo was taken at one of the campsites we stopped at, at a park right along the lake...




Quick, do you know where this is taken... It's not Seattle...




Niagara Falls area?




Have you been to the falls? We didn't spend a lot of time there... but millions of gallons of water pouring over the edge is an amazing site... and feeling... We should have spent more time there... But who knew I was going to return there years later for a honeymoon... Yeah... You know what, the falls are not nice enough for a honeymoon... but that's one of those lessons you learn and never have a chance to correct...

And of course what's right near the falls... obviously a harbor with boats in it... somewhere in New York state... This is Cuz walking to see if we could catch a boat back to Illinois, cause we were just tired of riding... (NOT!)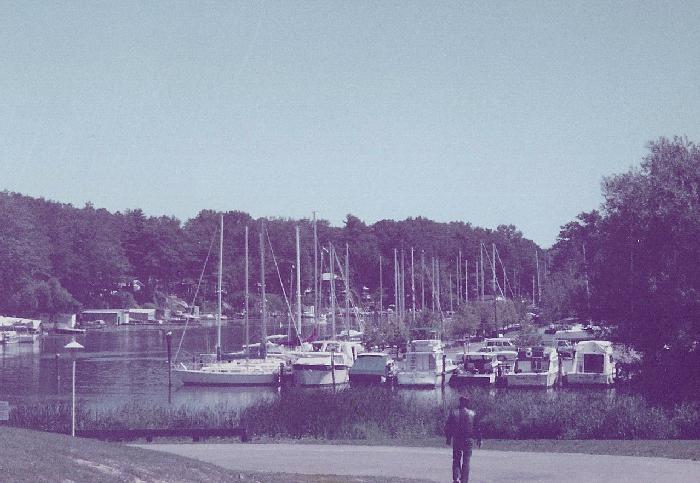 Another attempt at art....


Dead Fish?... Don't ask... I have no idea why we took this picture.... Apparently when you're 20, and you come across one, it seems like a good idea...




This is know as "The Look"... it's reserved for those rare moments when the recipient has said something so outrageous/ridiculous/crazy that only this facial expression comes close to relaying my true inner feelings... There are various versions of "The Look", but my kids know it well, and though they often try to mimic it... they can not.

The sign says Tilbory 21, Windsor 72... Hmmm... So apparently we were headed toward Detroit? I'm confused... Apparently we had to rush home and give Elton John his glasses back....




Ya.. Detroit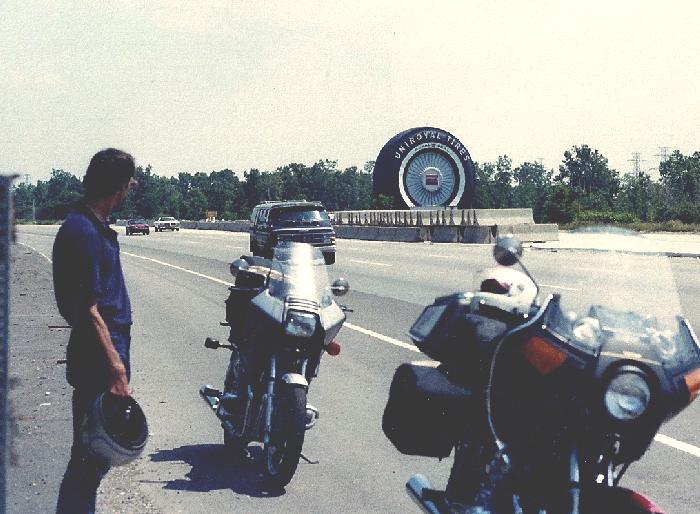 On the other side of the the lake... a little south... when we ran through upper Ohio...
Clearly my cousin is not happy with the scenery along the interstate in Ohio...


Not much to do besides clean bugs off your shield... and there's a lot of bugs by the cornfields...


Hmmmm... back in Canada?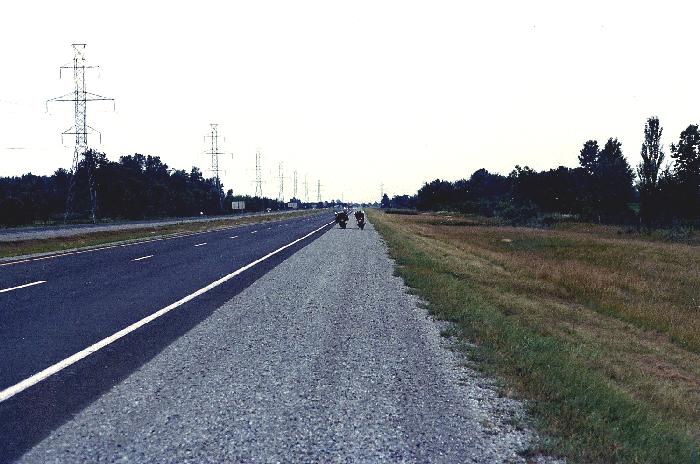 So anyway... on the trip around Lake Michigan... Here we are at the Benzonia (No, not Bosnia) MI, Post Office... now who cares about the post office..? Well, the night before, riding all day again, and it's dark, we hit rain, and the rain got even worse... then all of a sudden hail... huge chunks of the stuff... I find the side of a building and pull up next to it just to get some shelter... don't know who suggested it... but we then go behind the building, and what do we find, an enclosure with a huge overhang (like a loading dock). We pulled our bikes in there and waited out the worst of the storm. We then went back the next day just to take these picture...




After waiting out the storm we found a cheap motel. This is the shot in the morning... it was still light rain...



Nice suit...

Did you ever just want to take off running through a field and sing.... The Hills Are Alive With The Sound of Music...



Another curios shot... here I am, clearly in a Motel parking lot, putting away my tent fly (that's what they call them, right, fly's)... Anyway.. I found that it makes a great motorcycle cover. It's generally waterproof, and it had all these little bungee chords with little hooks on them, that I could just hook to various spots on the bike and get it nice and tight... to keep the wind and rain off...

The Wisconsin Crash Trip
Well, memories are a bit sketchy... think it's a couple years later... but myself and a couple buds went up into Wisconsin for a couple days... Overall it was a nice trip... plenty of sunny skies and beautiful scenery... a bit chilly, so it must have been in the fall or spring...




We were zooming around some curvy roads and started picking up the pace. Came into a corner kind of hot... SAND!... no time to stop... just as I hit it I stood the bike up slightly... front twitched, rear twitched... whew.. no problem, I was feeling good... burn into the next corner... lean in... Ro Ro! Going way too fast... this isn't going to be pretty... last thing I remember is the bike hitting gravel and me headed straight for one of those three foot tall poles with the little reflective squares on it...

Next thing I know my friend is shaking me... are you alright?... I come to... I'm laying face down in the sand/gravel... I stand up and all this sand and gravel comes falling out of my helmet... my face shield is all scratched up and full of dust... can barely see out of it... I take my helmet off... my friend is still asking if I'm alright... yeah, I'm OK, I think... I see the bike laying on it's side... help me pick this thing up... We pick the bike up and I start surveying it and me for damage...




Well, fairing and instrument panel are toast, handle bars are bent, but that's about it... Bike seems to run fine... (Odometer says 42,999? So it was definitely a few years after buying it...)




Myself, well... my shoulder hurts, but nothing seems to be broken, and I have two gouges in my wrist... one fairly deep, just to the right of center... Not bleeding too much, just got some sand in there... apparently I had hit that three foot pole with the reflectors on it... that's what hit my wrist and shoulder... Yup, made sense, the two gouges were at exactly the distance of the two reflectors on the pole... I had been wearing my denim jacket, and it had ridden up on my arm...

Well, what to do? After some discussion we decide to completely remove the fairing and pitch it into the weeds and move on... I take the lead again and I'm constantly catching myself going 60 and 70 mph, and I have to slow down... it's like my sense of speed was thrown off... Later my friends ask me why I was going so slow... Turns out my speedometer had gotten sand in it, it was causing it to read faster than true speed...

We found a cheap Motel to sleep in... That night was rough for me... the shoulder was hurting more... as I was laying down to sleep I started shaking uncontrollably... breathing irregularly... think I was hyperventilating... shock? Finally settled down and slept...

Here's a shot gearing up in the morning... Yeah, leather jacket today... only thing left of my fairing are the two mounting rails...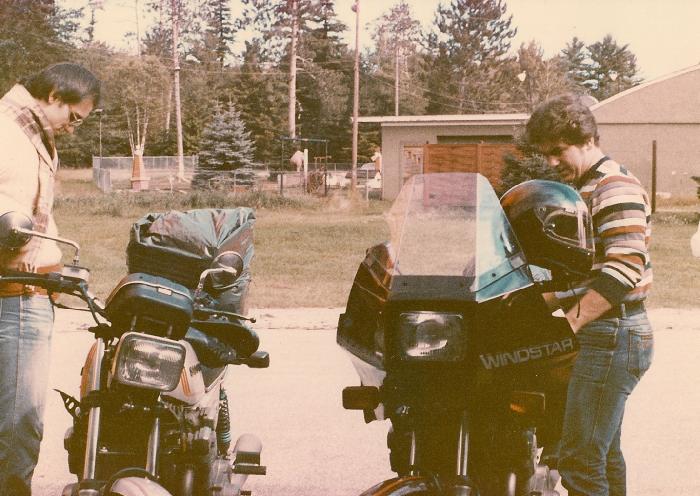 Anyway, insurance fixed the bike... got a new fairing out of it and a Supertrap header to replace the scratched right muffler...


That shoulder hurt for a while... to this day it "clicks" at certain angles... A couple years back I went to a chiropractor... she's feeling around the shoulder and says, looks like your shoulder adapted pretty well to some kind of injury... I thought to myself, injury, what injury?... then I remembered this incident...