Mississippi River and Around the Lake

Part 1 - Mississippi Aborted

Well, the plan was to head west until I got to the Mississippi River, follow it south, and then start to work my way southeast for a few days, until I had to turn around to make it back home. I had ten days, so up to five days heading out and five days or less coming back. It didn't quite turn out that way, but it did turn out.

I got the bike prepped and packed up on Saturday (Sep 26th, '06) and was ready to leave on Sunday. The plan was to camp out as I went along, so I had a sleeping bag and tent, along with enough cereal, powdered milk, and fruit to allow me to eat breakfast at the campsites. Lunch and dinner I'd get on the road. I also brought a blowup mattress and an air pump so that I had a chance of getting a decent nights sleep. That's all in addition to the saddlebags which were packed with clothes. I also had to squeeze in all the small things like toiletries, vitamins, flashlights, extra batteries. And of course I put all the important stuff, like my clothes, in plastic bags just in case it rained. My saddlebags came with these rain cover things, but with the way I had everything strapped down, I couldn't really use them.

Saturday night it rained pretty hard, but by the time Sunday morning came around the rain had died down and the streets were mostly dry. It was humid, but... close enough.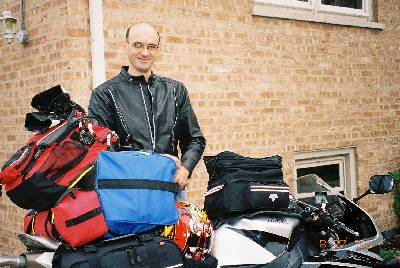 I got myself together and was on the road by about 8:00. I headed down toward I80 which I was going to take at least part way to the Iowa border. The streets were relatively empty but I came up on a guy riding his Harley... typical no helmet, T-shirt, and a cigarette hanging out of his mouth. I pulled up next to him at a light, we looked over at each other, and he smiled and said, "You must be taking one hell of a trip.". "Yes I am." I said, and explained kind of what the plan was. He smiled and nodded, and the last words form him were to look at the cloudy sky and say, "Hopefully you'll get out of this." I nodded, the light turned green, he said good luck, and we were back to our respective destinations.

Well, as it turned out, when I got to 80 I just stayed on it the whole way to the Mississippi. I thought about turning off and taking route 6, since it basically ran parallel to I80. But, there really wasn't much to see on these Illinois flatlands, so figured there was no reason to detour. The highway was fairly empty, so I didn't have to contend with a lot of trucks anyway.

Part of the preparation I did on the motorcycle was to pump up the tires to near maximum pressure. I was carrying a heavy load, and I didn't want them overheating. At the first rest stop I checked the tires to see how they were holding up. The rear tire didn't look too good.. there were actually bits of rubber, like what an eraser leaves on a sheet of paper, and it was very tacky down the center. I was wondering if the tire was going to make the trip. The tire is rated a 70% track / 30% street. In other words, a track tire... If I do more touring I might have to look at something that's more of a street tire. Actually turned out the tire did fine for the whole trip, but I do have an almost noticeable flat area... something I haven't had on a tire since I started doing track days; usually I wear out the sides long before the center shows any wear.

Considering this is a full blown sport bike, I was fairly comfortable. The only thing really bothering me was my left hand. One thing for sure, I was really grad I replaced my seat with an AirHawk. The seat on the '04-05 CBR1000RR is nothing more than a torture device. The shape gives no support and it's sloped forward so you're constantly sliding onto the narrow part of the seat, giving even less support. Plus it's just hard as a rock. A little side note here. When I first got the AirHawk, although it was a big improvement over stock, I still felt like it could be better. Problem was the slope of the stock seat still caused sliding forward, plus it did raise the seat height, which put more pressure on the arms. What I eventually did was to completely remove the stock seat padding, and then turn the AirHawk around so that the wide part was in front. There still a little bit of a tendency to slide forward, but it's much more comfortable because it forms a bucket. The trip would have been unbearable without this setup. As for my left hand... my pinkie finger is still a bit numb. The Helibars are a bit higher than stock, but the bars still need another couple inches of lift to make them really comfortable for the long miles.

Before Davenport Iowa 80 becomes 74 and 280 and crosses over the Mississippi river. Maybe 1/4 mile on the other side of the bridge was my first turnoff; route 22 headed south. The first thing I thought of when I was about half a mile into the road was that it reminded me of Route 6 about half an hour from the house. There were rows of large silos and processing plants. The difference was that by Route 6 it's a canal that runs along there, and here it was the Mississippi; frankly, not a very scenic area.

By the time I got to route 22 it was about , so I started looking for a place to eat. There wasn't much along that road and the few small towns I did come across apparently didn't have any restaurants in them; at least nothing obvious along the road. So, I just kept going. I thought for sure by the time I got to Muscatine there would be something. Anyway, one mile lead to another and I found myself at the next point in my ride, going along county road X61, which meandered among corn fields, some small towns, and country residences... then a sign said "Pavement Ends". What the... ? I was moving along at a good clip so I grabbed the brakes pretty hard and slowed myself down before hitting the gravel. The next intersection, a T in the road, was just a few dozen feet ahead. I looked in both directions... gravel. Well I turned around and went to the next intersection north, which was country road G62, pulled over to look at my Atlas, and decided to head west until I got to 61. I actually came out on 99, which was the next road in the plan, so I took that south.

That took me into Burlington, which was a pretty big town. As I'm riding through town, a guy in a pickup pulled next to me and stayed there long enough for me to know that he wasn't just flowing with traffic. I looked over; he looked and nodded his head a few times, as if to say... "Yup... now that's traveling." What ever he was thinking, it was clear he approved.

I took 34 West toward 61. That was a major business area with stores and whatnot. So, I stopped for gas and asked the attendant on duty if there were any good local restaurants. She gave me a name and direction, but when I got there it didn't strike me as my kind of place; a bar and grill. But on the way there I saw Sarducci's; a fast food Italian place (now there's a concept... fast Italian food) so I stopped there and ordered some Fettucini Alfredo, with broccoli (or should I say broccoli stems)... now I know where all the stems go when I buy a bag of broccoli florets... they go to restaurants that don't know the difference between real broccoli and a broccoli stems... Anyway, it sure hit the spot, cause by now it was about and I was pretty hungry.

The first highlight of the trip came shortly after Burlington, and that's Fort Madison. In that town right up against the river is this extremely old part of town where all the buildings look like they're from the civil war era, including a genuine wooden fort. There was also a river walk that went along the shore, with benches and trees where one could just sit and watch the river go by.


| | |
| --- | --- |
| | |
| | |

Well, at this point the road was really boring. 61 becomes a four lane highway and you're basically just doing time. Thinking back on it I probably should have crossed the river to the Illinois side and followed 96. On top of it there was a detour on 61 because it was closed several miles ahead, so I ended up on some second class road which was nothing but cracks and bumps. Not good when you're on a bike which is basically set up for track days.

Several times during the trip I would just pull over and check my Atlas to get my bearings. As I got to the end of this detour I pulled over again. As I was sitting there looking at the atlas, a car pulled up. The guy said he noticed me turn around earlier and he was wondering if I needed some help. I took him up on his offer and he explained that the road ahead would take me into Hannibal, which is where I was headed. I thanked him and we went on our way... southern hospitality.

Just slightly before that I had taken a side road and followed it to a small town which had a huge sign over the main street announcing the Watermelon Festival. The road wasn't what I thought it was so I turned around, but it never ceases to amaze me, all the little towns that exist in America, where things like Watermelon festivals are a big deal.

At this point I was starting to think hard about where I was going to camp for the night. I thought real hard about stopping at Wakonda State Park, several miles before Hannibal. But I decided against it because I could make it to DuPont Reserve on Route 79, just past Hannibal.

Hannibal is a pretty decent sized city, and as I was going through town, what did I see? A Sonic! I've seen enough commercials for Sonic to drive me crazy, but there isn't one anywhere near us, so I figured I had to eat there. Ok, the food wasn't that great, but it was good, and now I can say I ate at a Sonic.

When I was done eating I asked one of the locals how I get to route 79 from there and he was more than happy to help me out. Turned out I was only a few blocks away from the 79 turnoff.

79... now that's a road I would recommend to anyone... miles and miles of hills and curves. Some of the curves just seemed to go on forever. Here's a shot from one of the scenic rest areas with the road just visible through the trees and the Mississippi in the distance.






I did have a slight problem... forgetting to gas up in Hannibal. I had about 120 miles on the tank, which normally goes on reserve around 150. But I started getting to about 135 miles on the tank and wondering if I wasn't going to run out of gas somewhere in the middle of nowhere. What really threw me was coming upon a sign, for the conservation area, which pointed nowhere. There was no road... no campsites... just bushes... I couldn't believe what I had just seen, so I turned around to get another look at the sign. --Riding 101: tight roads going up steep hills are not really good places to turn around... the bike tends to tip downhill... I nearly dropped the thing.-- Yup, the sign pointed into the bushes. Maybe I should have stopped at the campsite I saw just as I got onto 79... maybe I should have gone back and gotten gas... It was getting dark and I wasn't sure how far the next town was.


I came on a sign that said something like, "Impassable During High Water". Luckily it was passable, but I'd never seen so many dragonflies in one place. They were zooming across the road and I was bobbing my head to avoid hitting them. All I needed was one of those spattering across my face shield... I came up on a split in the road with a sign indicating there was a town six miles away. Of course I didn't know how large a town it was, nor if it would have a gas station; there were quite a few towns I went through with no gas stations. I stayed on 79 and got to route 45 where a sign indicated Bowling Green was 11 miles away. I was at about 145 miles on the tank, no reserve light yet. Looking on the Atlas showed that the town was right in the midst of several roads, including 61, and figuring it had to be a fairly large town so that's where I headed.

I stayed on 54 until a sign came up pointing to, and started wondering if I was going to make it. I was now Over 150 miles on the tank, but the good thing was the reserve light hadn't come on yet, so I had at least another 30 miles or so to go. As I kept going there was a Minivan behind me, so I slowed down and flagged them down to ask if they knew whether or not there was a gas station anywhere up ahead. They weren't sure but they did say that Bowling Green is a pretty large town and they should have gas stations there. That made me feel better. But now it was getting really dark and I still had no place to camp.

Sure enough, a couple miles later I got into town and pulled into a Shell gas station to fill up. At that point I decided that camping was a dead issue. I didn't want to be roaming around in the dark looking for a camp site, nor did I want to be setting up my tent in the dark, so I asked the attendant at the station about a hotel and he said there was a Motel 8 just down the road. I saddled back up and a couple miles down the road was a more modern business district with a Motel 8. I pulled into the lot, and who did I park next to? The folks in the MiniVan I had talked to just a few miles ago.

I went in and got a room and came back out to unload all the gear. While I was unloading, this older guy comes up to me and started up a conversation. Turns out he was 70 years old, riding an FJ1100 off to see his son who had just come back from Iraq. We talked for a while about bikes and riding. All I can say is that I hope I can still ride, and look as good as he did, when I'm 70 years old.

The hotel room was very nice; clean, had a small fridge, a small coffee maker with a selection of coffees and teas… But the room was really cold and the air conditioning was blasting. That I didn't need, because several times along the way I had gotten caught in drizzled, and as a result I was pretty cold. I flipped on the head and got the room to a more reasonable temperature.

I got myself unpacked and showered and turned on the TV to check out the weather forecast. They were predicting rain for the next couple days, which was going to be moving East... same direction I was going, so it looked like I was in for a rainy trip for at least three to four days. Hmmmm.... that didn't sound good. Well, some time before I went to sleep and slept fairly solidly until about Usually I don't even sleep that long in hotels. I don't know if it's just being on the road or the typical mattresses and pillows.

I got out of bed at 6:00 and looked out the window to find that it had rained. I turned on the weather and the story hadn't changed... rain for the next few days. At this point I was thinking it may be time to abort the trip. I wouldn't be much fun getting cold and wet, and going down through the twisties having to worry about traction issues. But, I wasn't sure at that point.

I had breakfast, consisting of cereal I had brought with me, milk made from powdered milk. It was actually pretty good. I then went down stairs to see what they had for breakfast, and grabbed a banana and some biscuits and gravy. I don't know what was in that gravy, but it was good... spicy.

I packed up, brought the stuff down stairs and started loading up the bike. The bike was wet and it was drizzling. Who should come along but the guy I was talking to the other night. We talked about the rain, and riding in it, and wished each other luck. He was going where I had just come from.

Well, I couldn't decide what to do about my rain suit and jacket. The jacket really doesn't fit under the rain suit. So, I just wore the jacket over the suit. Figured that' would keep me dry and protect me if I had a spill.

As I headed back toward route 79, the way I came, it started raining more, and by the time I got to route 79 I decided that was it. There was just no point in riding in this weather for the next three to four days, and I decided to cut my losses and head for home... the most direct route I could find, which was 54, across the river, to 72, to 55, and 55 home. Several times along the way when the rain let up a little I wondered maybe if I shouldn't stick with it. But then the rain came again and I came to my senses.

The worst part of the entire trip was when I got to Joliet on I55. I absolutely poured. I started feeling my crotch getting wet; by this point the leather jacket was soaked and the rain suit had failed me. Although I had rain covers on my shoes they were soaked. On top of it all, I had lost my shield guard somewhere at the hotel (little thing that goes over your nose to direct your breath off the shield and keep it from fogging), so now my shield was fogging up. I opened it a bit and got rain on my glasses which made things even worse. I could barely see 20 ft in front of me and I was more than just a little bit worried. All I could do was follow the taillights in front of me and target between the lines in the road. Everyone was doing about 30 max..

I got off at the next turnoff and found a spot to stop. I took my glasses off because there was no way I could wipe them off, and I rode home from there. I turned down ones street and in places the water was actually a foot high. At one point I went in the water and it splashed up to the height of my fairing shield. I slowed down and went on.

It continued to rain through Wednesday and I seriously thought about going to work on Thursday. Course I did have six more days before I had to be back to work, so I could head back south or ...


Part 2 - Around Lake Michigan


I gave it some thought and decided to go around Lake Michigan. I had plenty of days to do it in, and it had been close to 20 years since the last time I did that, so why not? I got myself all packed up again and was ready to go. Thursday morning rolled around, the skies were clear, and the weather forecast was looking good. From the way it was shaping up, it looked like the weather would be better if I started up through Wisconsin and came back down through Michigan.

The start of the trip is nothing to really write about. I got on 294 and spent some time sitting in slow moving traffic and then some construction zones in the north suburbs. I made my way to route 12 and then picked up route 67.

Route 67 is part of the Kettle Moraine Scenic Drive. The wife and I had stayed up in the Lake Geneva area one time and we took the car drive through that area. I remembered the roads there being really nice, so I figured that was a good way to start the trip.




I took a short stop at Holy Hill Cathedral, which is basically what it says... A big church perched on one of the higher hills in the area.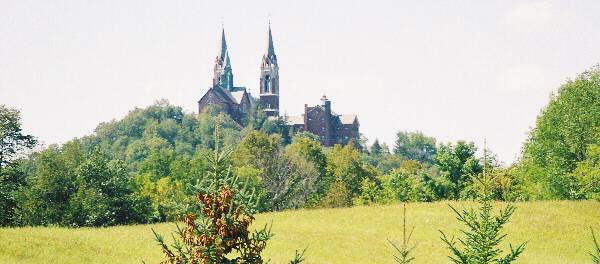 That route took me up to Sheboygan county, where I promptly got myself all confused. The road signs were not great, and I missed a turn. By the time I had figured out where I was I had to decide if I was going to go up the Peninsula to Door County, or just go through Green Bay and skip the Door County. It added a couple hundred miles to my total trip, but I went up to Door County anyway. That was a good decision because I ended up in Peninsula State Park.

Peninsula State Park is nearly at the tip of the Peninsula on the shore of Green Bay. I pulled into the park around 6:00 p.m. and checked in at the office. They had a few camp sites left and one of them just happened to be right near the beach. The woman at the counter asked me, if I'd like a spot by the beach. I thought it was a trick question. Well the vehicle and camp fees added up to $28, which is a lot less expensive than the Motel 8. She gave me a map and showed me how to get to my campsite; a five mile ride. I decided to take a shortcut, and I think I almost left the park twice before I figured out where I needed to go.

I could not have asked for a nicer camp site. The site literally backed up into the Bay, and about 100 yards from me was the beach and shower facilities. I got my self unloaded, set up the tent and sat on a picnic table by the beach. There was a nice breeze coming off the lake which created just enough turbulence in the water to create small waves. The sounds, the sight, just calmed the soul. These are photos that I took from my campsite:




Next day I packed myself up and got back on the road about 8:15 or so. I took 57 where it splits off from route 42 and took that into Green Bay where I picked up 41 until I got into Menominee. That made it about lunch and gas time. I spotted this place called Three Brothers who's motto was something like "Food for Hungry People". Sounded like my kind of spot. So, I gassed up and went in to get some lunch.

Judging by the menu they had a really well rounded offering, with a specialty in Italian and Pizza. They also had a Mexican section. The Vegetable Burrito really attracted my attention and that's what I had. When the waitress brought the plate out it was this huge thing with no empty room on the plate. What little space there was around the edge was covered with lettuce, tomato, and a spicy red sauce. When I was done, it's all I could do to keep from licking the plate.

I got back on the road and stayed on 35 to Escanaba, where I picked up 41 again, which took me to route 2. 35 and 41 are kind of boring. Yes there's some nice scenery, but the road is pretty straight most of the time. Route 2 gets really nice where it starts to hug the Michigan shore again. A bit of a warning here. I'm not sure if it was because of the Memorial Day holiday or if it's always like that, but there are a lot of state troopers along route 2. Guess they know people are going to be zooming through there and they're taking full advantage of it.

One of the things that made it a little more interesting was two guys, one on a BMW Boxer Cup replica, and the other on a Harley, who were moving at a good clip, passing the cars on a regular basis. So, I played chase the rabbit with them, letting them get a bit a head and then catching up to them. Given the rate they were passing at, it really made me appreciate the CBR. All I had to do was crank the throttle and I was past what ever was in my way. A downshift or two and entire lines of cars just disappeared in the blink of an eye.

The miles went by and before I knew it I was near the Mackinac Bridge.




Once getting across the plan was to get some dinner and find Wilderness state park. I was going to eat dinner first and found a nice looking Family Restaurant just off the highway, but it seemed packed, so I decided to go look for the park first. Well, the signs were not very clear but after some searching and turning around I found the road going to the park. That was one beautiful pieces of road; ten miles or so of nothing but curves mostly through nothing but forest. Unfortunately, when I got to the park there was a sign that said, "Camping Full". Great, I guess labor day weekend was kicking in. Time to find another place to camp.

Before taking off on my campground search I got back out toward the highway, and before getting on, stopped at a Dairy Queen grab a quick bite. With a fish burger in my belly I continued on. My plan was to go along Route 31 to find another state park. Well, I got there and the campgrounds were also full. Just as well cause that was nowhere near the quality of the place in Door County. No showers that I could make out, camp sites really close together, no view, not even any attendants. I stopped along the road and talked to a couple ladies out for an evening walk to find out if they were aware of any more camp sites, but they weren't, so I was on my way. Looks like it was going to be Hotel time again.

On the way down 31 I had passed up a Holiday Inn Express, so I headed back North toward the Inn. Luckily when I got there the parking lot was still pretty empty, so I figured they'd have a room... and they did... for $140/night. Yikes! I told the lady at the counter I was looking for something in the $50 or less range. She said not on a Labor Day Weekend. Well, from that point it was a matter of heading back South on 31 and stopping at every Motel I came upon. The least expensive Motel was in the $80 range, so I just kept going.

Now it was completely dark, the night air was really chilly and I didn't know how long I'd be riding. About 9:00 p.m. (10:00 Eastern time) I finally came upon one of these small roadside Motel's. It was a single story, 9 rooms, with all the doors off the gravel parking lot. I walked into the office and was greeted by a dog barking, and an older lady (at least in her 60's) that obviously lived here. In the back of the counter area I could see her kitchen. I asked her if she had any rooms and she sure did... $42/night. Can't beat that. I got myself signed in, paid my money in advance, got my key and entered my little 10 x 10 (couldn't have been much bigger than that) room. I pulled the spread off the bead to find a blanket that had a few burn spots on it where someone had obviously dropped a cigarette. Ah well, at least it was clean and warm..

I took this photo in the morning so I would remember where I stayed. My wife asked why I didn't take a photo of the hotel itself... Not sure: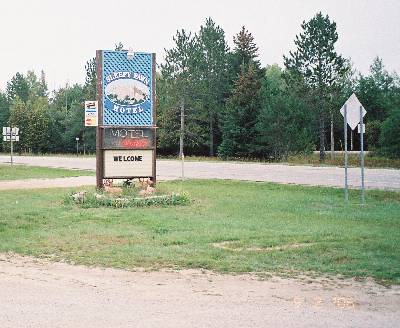 I was ready to leave the motel at about 7:15 a.m., but first I needed to know where I was, so I went over to the office to ask the lady and drop off the key. The office door was locked and soon as I opened the screen door the dog started barking. I was obviously going to wake the old lady up. When she got to the door I think she was wearing the same nightgown/mumu thing she had on last night. She took a look at the map I had, and showed me that I was just outside of Boyne Falls on route 131. Given that I decided to go a few miles down the road and cut over to 66 via 32. Route 66 starts to follow the shore again.

It was cloudy and chilly, but not rain kind of cloudy, more like early morning sun's not up yet foggy. As I drove on and the sun came up the sky started clearing again and gave way to another beautiful blue sky billowy clouds day.

My route from that point was to follow 31 and than 22 along the shore. These were both very nice roads with beautiful scenery, but route 22 is definitely one of the nicest piece of road I've been on. California was probably a bit more dramatic with most of the curves being tigher but Route 22 is not far behind. I saw a lot of these signs:




Much of the road is forested, and when you're not going through the forest it's either small bays along the lakeshore, orchards and vineyards, or just small towns. At one point I was passing a small roadside fruit stand where the owner was setting up for the day. He noticed me looking in his direction and waved as if he knew who I was. Of course he didn't, but that's just the attitude out there.

Speaking of roadside stands, while I was on 31 I came up on one where the sign said they had peaches. Well, how can you go through Michigan and not have some in season peaches? So, I stopped and went into the store. They had bushel baskets full of peaches and apples. You can't find peaches and apples like that in stores. Just looking at them reminded of my childhood days on the farm in Croatia. Well, I should have bought a bunch of both, but I really had no place to put it, so I bought a few apples and a few peaches. By now the sun was up though I was still chilly, and the store had some nice benches in front in the sunshine, so I sat down and had one of those peaches while I soaked up the heat. A lady walked by and commented about how good the peaches are, and I totally agreed. The peach just dripped with juice as I bit into it. I explained I was from the Chicagoland area and you just can't get peaches like that in the store. She agreed, and said that she had canned three bushels of them.

Two other places I stopped along the way was Sleeping Bear Dunes and the lighthouse at Point Betsie. Here are some of the Photos:


11:30 had rolled around and I had made it most of the way on route 22. I stopped to get gas at a small town along the way and figured I might as well go down the main street and see if I could find a place to eat lunch. I didn't go a block when I found Cilia's by The Bay. I'm pretty sure this is not lake Michigan I'm looking at, but on of the smaller inland lakes along the way.




The menu was kind of sparse, but they had some burger which was two 1/4 lb patties. I figured that and the salad bar would hold me over. The burger was as promised, two huge, almost meatball like, patties of beef. When you put them on top of each other and closed the bun, there was no way you could get your mouth around it. I made a valiant effort, but I couldn't finish it.

It was warm enough now that the sweater I had under my jacket was too much. I put that in my bag and I was off again.

A little while after lunch I came to a roadside scenic stop. I was kind of on a hill that overlooked lake Michigan. At the last minute I decided to stop. I just happened to pull up next to a couple Yamaha R1's, and before I even got off the bike one of the guys came over and asked me if I was getting tired. We started up a conversation and it turned out that he and his buddy were also going around the lake also, but they had started in Indian where they lived. More conversation lead to the fact that they were both also from Croatia and had come here at the age of 11 when the war was going on. One of the guys was also interested in doing some track days on his bike so I encouraged him to try it out with NESBA. Now what are the odds of this meeting? Well, I took some pictures, we shook hands, and I took off.




And that's about it. I only had a little ways left to go on 22, which brought me back to 31, which turned into a four lane interstate, which lead to 196 (another interstate) and then 94/80/294 home.

Last time I did this trip I think it took four or five days, so I did it pretty quick this time around. One could easily spend days just along route 22, stopping at the small towns and taking in the scenery. On the other hand, a lot of the roads between Door County Wisconsin and most of Upper Michigan are just blow-thoughs; miles of straight road and not much to see. I think next time I'll just go straight to upper Michigan and roam around a few days. Then again, maybe I'll take that southern route I originally planned and see where that goes. One thing I learned is if I want to camp I need to get to the camp site's early and avoid holidays.

I'm also wondering about the motorcycle. I'm really glad I got that AirHawk seat installed because without it I'm sure it would have been torture, but the bike is still a ways down on the comfort scale compared to something with a more standard/touring bent. If I'm going to do more of this touring stuff, I'm either going to need to make some more modifications (like even taller bars), or maybe get something a little less sporting.