Mississippi Mud Run 05/07



What's unfortunate about any memorable event in our lives is that we forget. Even if we remember most of it, the details always seem to get lost with the passing of time. Today seems no different. Last night I got back from the three day "Mississippi Mud Run", and things are already starting to fade. My thoughts are like the line of classic cars we saw going down the highway; there are some beautiful cars going by but I'm helpless to stop any of them. I see them and appreciate what they are, but I can't really examine their true richness... I'm distracted by the next one that comes along, seemingly more amazing than the previous one.

The people. Mark and Vickie, their friend Anne Marie, Jiri (who organized it all), Steve (we figured out his new name should be Sir Talksalot... knight of the round bar table... we love ya Steve), Kyle, Jen and myself.

The Plan. Meet just outside of Madison WI at the Middleton Steak and Lube (by noon), ride up to the Trempealeau Hotel (http://www.trempealeauhotel.com/), where we had reservations -- thanks to Jiri -- and spend the evening there. Next day we ride up the Mississippi and go through some of the surrounding back roads, loop back south, and end back at the Hotel. Actually the plans changed a bit.

Wow, first day back at work was rough. Nothing in particular, just coming back to reality after three days of motorcycling bliss...

For me the trip was a maiden voyage. Although Jiri has posted a thread about the ride some time ago I couldn't say if I was going or not because my Salvage Rockster was still at the rebuilders waiting for it's safety inspection. And I'd already been waiting nearly two months. Last word was that it could take another seven weeks. Imagine my surprise when on Friday of the weekend before the trip I get an email saying the inspection was done and I can pick it up that Saturday... Wahooooo!

Well, I was still a little hesitant to sign up for the trip because passing inspection and knowing that the bike was really road worthy are two different things. Last thing I needed was to get stuck somewhere in the middle of Wisconsin and create grief for myself and the others by having to deal with broken down bike. But I rode the bike the weekend I got it and everything seemed fine. Wife was fine with me going, Steve and Mark encouraged me to go, I took Friday off and the rest is history. I next few days were a whirlwind of getting a few things straightened out on the bike, trying to figure out how I was going to fit my tank bag and saddlebags, and figuring out what I was going to do for lodging cause I wasn't sure if Jiri had reserved enough rooms. That process really got me frustrated cause I couldn't find anything close to the hotel where everyone else would be staying and prices were high. Finally I just gave up. Figured either Jiri had enough rooms or I'll just camp. Luckily Jiri did have enough rooms reserved.

So, there she is, in the garage the evening before the trip...



The tank bag was really no problem, but I didn't have the BMW hard saddlebags, and I couldn't put my soft bags on because the muffler was in the way on the left side. So, I figured out a way to attach just one bag to my rear seat. Worked out great actually. I also managed to mount my custom chopped sport shield. I was set!

I walked out of the house Friday morning (18th) to be greeted with... my breath. Ah...no.. it didn't stink... it was just cold enough for me to see my breath. Brrrrrrrr..... I packed up the rest of my stuff, slipped on my ski bibs, jacket liner, extra sweatshirt, and by 7:00 I was off to meet Steve at his place. I left early so that I'd miss the traffic on 294 and 290 going North.... Ya... that didn't work as planned. What could have been a 40 minute trip took an hour and a half. But, it was tolerable, especially knowing I'd have three days to recover.

I got to Steve's and he was basically ready to go. We yaked about the bikes for a bit. I made a pit stop in his bathroom, and when I came out he's holding a set of spark plug covers, they were leftovers from his bike when he put J-pegs on it. He'd noticed that I didn't have any... yeah, didn't get any with the bike... must have been lost in the crash.... and he says I can have them for the price of a few beers... Cool... deal.... They snapped right on. Now I was really stylin, and obviously more aerodynamic.

Dang, here it is Monday of the following week, and that's all I've gotten written... at this rate I wont be done until next trip. Course I don't feel too bad cause Jiri still hasn't written the official story and pics. Too busy riding I guess.

Most of my photos from the trip are here. There's a few nice shots in there, but I could have sworn I took more pictures than that.... guess not. I'll have to grab some from the others people post.

On the first and second day back my mind just wouldn't work. I had trip withdrawal. So many things that I just do automatically required thought and decision. And the first day back at work was just weird. But, I'm getting ahead of myself. Back to the beginning.

So, Steve and I hit I-90 for the straight shot to Middleton. Just as we were crossing over into Wisconsin I noticed Steve's bike was dripping something. At first I was too far back to see where it was coming from, and as I got closer I saw it was from his hard case. I pulled him over and told him. He looked in there and one of the eight beers he had stowed had built up enough pressure to start leaking.




Funny thing was even at the next rest stop there was a trail of beer to Steve's bike.

We were making pretty good time and we rolled into the meeting point about 11:15... 45 minutes early. That's 185 miles for me and the day was just starting. No problem, it was sunny, and after Steve had his milkshake/float (I guess Steve really likes ice cream) we went and sat out on the Steak and Lube deck. It was still a little chilly, but the sun warmed things up nice.

Right around noon Jiri and Kyle came rolling in, I think Jen was next (with her whole 15 mile ride to get there; something like that) and last to roll in were Mark, his Wife Vickie, and their friend Ann Marie. They took a little longer due to a stop at some brewery along the way. Here's a shot that they took while there.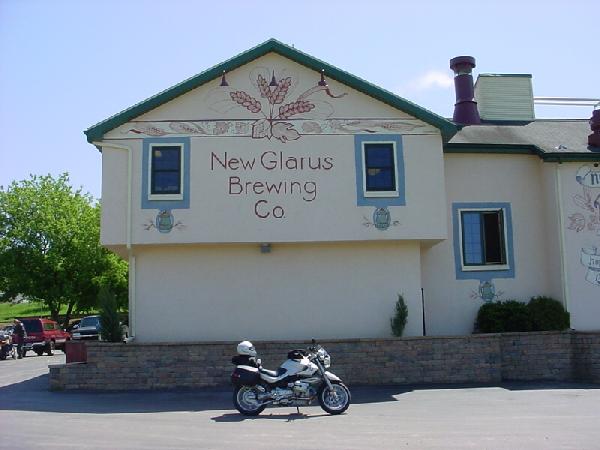 And here's all of us at the Steak and Lube



Left to Right: Kyle, Steve, back of Jiri, Jen, Ann Marie, Vickie, and Mark

Jiri handed out route maps, which of course were way to small to read because there were so many directional change... I figured as long as he knew where we were it was fine with me. We had lunch and shot the bull for a while, and the trip was on.

Well, I can't tell you exactly how we got to the trempealeauhotel (well I guess I could go get the directions out of my tankbag... )or how many stops we made, or exactly when we got there (somewhere around dinner?), but about 150 miles later we got there.




As you come into town you come down a hill where the street is cut short by a fence, railroad tracks just beyond that, and the Mississippi river just beyond that. Nice. We parked our selves across the street from the hotel and piled in. Note that across the street from our hotel is another hotel... for future reference.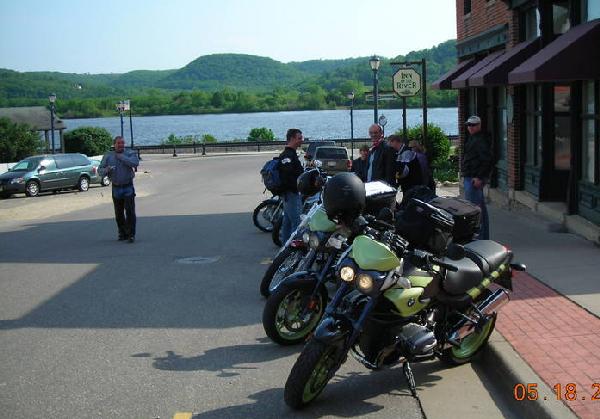 Walking in the front door you're greeted by a... bar. Not exactly what you'd expect, but I guess it makes sense. The caretaker had us fill out forms and assigned rooms. Apparently there were six rooms just above the bar and everyone there shares one bathroom. Somehow between everyone else getting their rooms Kyle and Jiri ended up in two rooms above the bar (or as Kyle and Jiri put it, "stumbling distance from the bar") and the rest of us ended up in the Kingfishers... We agreed to meet back at the main hotel after getting situated...




I guess it's a fishing cabin fit for a king? Those rooms were actually a couple minutes ride from the bar, and after the caretaker gave me directions (clear as mud) , I promptly went and rode around until I found my way there. Interesting that there also seems to be some sort of banquet room up there, which we didn't have access to. Well, somehow I lucked out and got the room with a view or the river closest to the deck...




In fact, here's a photo of the view outside my room... took that right through my window...




and here's the room... not the biggest, but conformable and fresh... Not like we spent much time in our rooms anyway.




Soon as everyone unloaded their stuff we went back to the main motel for drinks and to decide where we were going to eat. Everyone else rode back to the Hotel but Ann Marie, Jen, and myself decided to walk. After all, we'd been riding all day, a little walk seemed like a welcome change. We basically followed the river and railroad tracks to the hotel. It was a bit hot and a little further than it seemed when you ride the distance on a bike. The photo below was taken about half way there. I think you can just make out the hotel down the tracks in the distance...




The Hotel is actually laid out well. Just off the bar in one direction is a fully enclosed formal dining room, and off in the other direction is a screened in dining room which leads out to a deck. Here's a shot from the back...




The screened in area is just to the left and what you see there is a deck with a row of Anarondac chairs and a couple picnic tables. Definitely no shortage of sitting room. I must say that just sitting there looking at the river and the distant hills I felt really at peace, or as Kyle put it... "centered". Apparently Kyle knows a thing or two about meditation. And this was definitely meditation. So we sat there, quenched our thirst, talked about the ride there, and decided that the best place to eat was... exactly where we were. Apparently people came from all over the area to eat at the hotel... Who were we to disagree.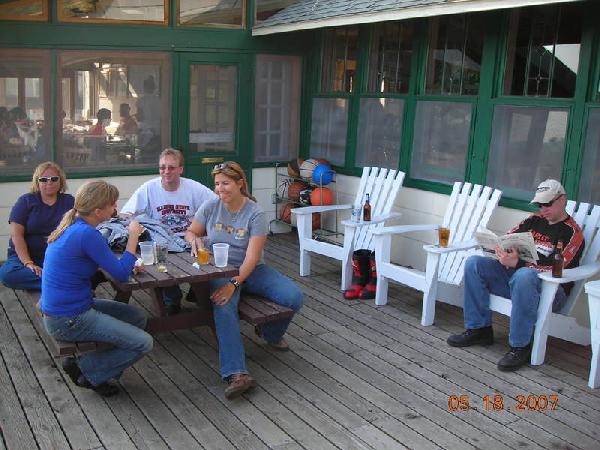 The other thing you see if you look at that deck is that on the left there is a rack filled with basketballs and volleyballs... actually I didn't notice the volleyballs, but you can't miss the basketballs, because just to the right of that picture is a beautiful full length basketball court.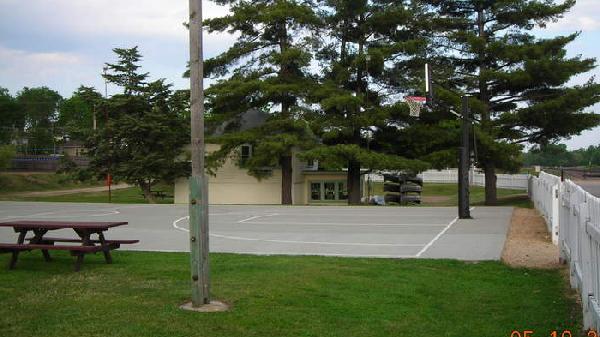 So, after I had a few glasses of water I couldn't help myself but to go out there and shoot a few baskets. After all, we'd done enough sitting today. Certainly I had, since my total mileage for the day was about 330 miles.

Now I hadn't brought any gym shoes with me, and I admit, I must have looked kind of funny running around the basketball court in my red and black, mid calf, Alpine Star riding boots, but it's actually surprising how flexible they were. Anyway, I shot basket for a bit and Jen joined me, wanting to know if I was interested in playing a game... and quickly added, "anything but one on one". Maybe that had something to do with the fact that she's about all of 5'3" and I'm about a foot taller. Well, we played horse and around the world, and of course I creamed her... Well, that sounds a lot better than saying, "it was close but I got beat by a 5'3" girl".... which is actually what happened. It was the boots... yeah, that's it... they messed me up... that's my story and I'm sticking with it.

Well, it started getting dark, and everyone was hungry, and Vickie was finally back from her Kmart Quest... Vickie likes to go to local Kmarts and buy things for their kid... so we all went inside to eat. Apparently the most unique thing on the menu is walnut balls. They look like small meatballs but are actually made of walnuts, eggs, and other vegetables. They come served with two sauces; salsa and mustard. I liked them, especially in the mustard sauce, but apparently several of the people didn't share my enthusiasm. I also went whole hog and ordered the walnut burger. After all, I can get just about anything else somewhere else, but I can only get walnut burgers there. It wasn't bad... came with tomato slices and sprouts on top, and a dinner salad or soup on the side
I'm sure we drove the waiter crazy cause we all asked for separate checks, but he probably makes a better overall tip that way anyway... Well, you know how it is, when you combine checks and people pitch in, who ever ends up paying the bill usually ends up getting stiffed. Well, after we were done eating and yaking we decided to go back to the Kingfisher rooms and sit out on the deck to partake in Steve's mega beers... "Fat Tire" I think they were called.

Jiri and Kyle joined us walking. On the way to the Hotel is was hot, and going back it was just plain dark. Well, we stumbled along the tracks (...this is not a reflection on our sobriety... only reflects the fact that there were a lot of rocks along the way) and made our way to a lighted area and finally got to the rooms. Steve had already broken out the wastebaskets from the rooms and filled them with ice and beer. We sat around and talked and joked until sometime around 1:00 am. Also, at no time did we actually drink any beer, we just put them out on the table for looks and stared at them... Some of the beers are half empty because they were leaking out of Steve's saddlebag....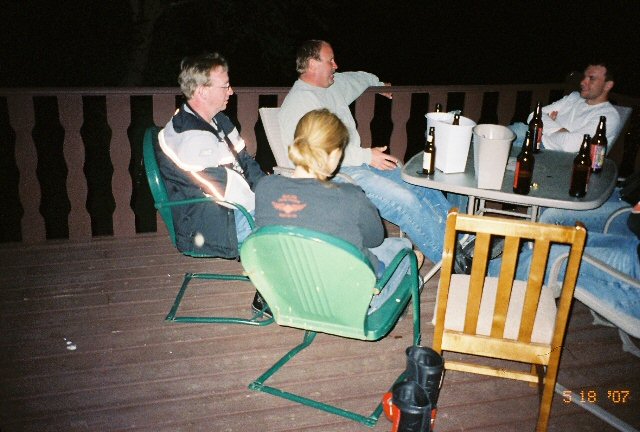 Can you tell it was chilly out there?... We agreed to meet at the Hotel 9:00 am Saturday morning.

Well, Saturday morning I actually got up about 4:30 or 5:00... couldn't really sleep beyond that, which was really weird, cause you'd think with staying up that late I'd be zonked until at least 7:00. I typically don't sleep well at hotels, but the amount of time I did sleep was pretty solid. I showered, had some almonds as a pre-breakfast snack, and went outside, barefoot --I just wasn't ready to put those boots on yet--, to get some fresh air and take some pictures.




I particularly like the above picture because it clearly shows my Rock-ster parked next to a ... rock... Get it, rock next to a rock. Actually I must have spent at least an hour just siting on one of those rocks watching the sun come up while the ripples on the river lapped the shore... very peaceful. I also walked to the shore and squished my bare toes in the sand. At some point, as I was sitting on that rock, it became very clear to me that the rocks was sucking the heat out of me... COLD rock....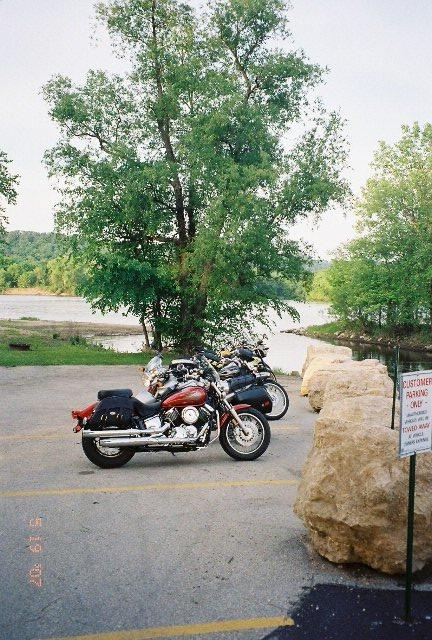 Well, we all got our selves together and found out that the Hotel was not open for breakfast. By this time I think Kyle and Jiri were already looking for someplace to eat... The details are a bit fuzzy... Mark, Vickie, Steve and myself rode around for a bit trying to find another place in town to eat. No luck, but Vickie stopped and talked to a local who gave her the hot tip regarding a restaurant about 10 miles away. We all got together and agreed that's where we were going. And here we are:



I'm sitting in the back cause that was shady, and my bald head had gotten plenty of sun the day before....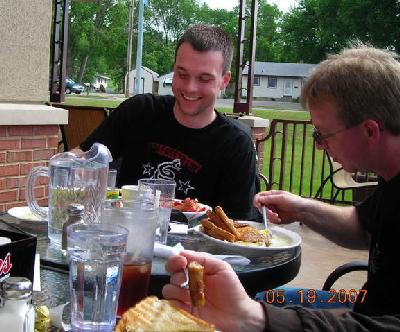 Steve was really pleased with his eggs, biscuits, and gravy when he got it... but after digging in, he found that the biscuits needed some persuasion... in fact when it was clear that the butter knife just wasn't cutting it (no pun intended), Ann Marie gave Steve her sharp knife with a three inch blade. It was still work. I had ordered a breakfast burrito with ham, veggies, eggs and something resembling tatter tots. It was all good... but left me wanting, so I ordered another one and we split the tatter tots amongst the group. I think everyone was very happy with the food... we had the deck to ourselves... and it looked like we were going to have a great day... what more could we ask?

And here we are in the lot, ready to leave. We recruited an innocent bystander to take a shot...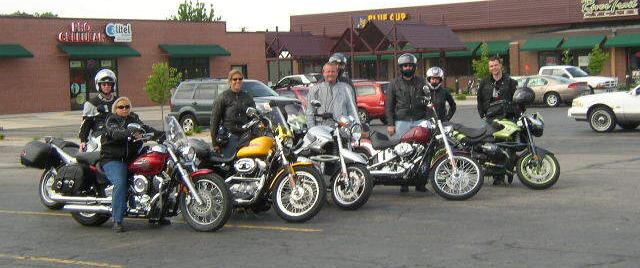 Well, we made our way up highway 35 to Alma, our first stop.




It was there that we stopped at a small bar, where Jiri found a detailed map of the surrounding area, talked to some of the locals, and rethought our travel plans to favor the twisties... good work Jiri!

One of the things I had suggested at breakfast was that we keep the pace below 70 mph so that we'd be able to take in the scenery a little more (the day before Jiri was cooking at about 80 mph or more most of the time). Well, that plan kind of went out the window. There were a couple really nice clear stretches of road with nobody around, where a few of us (me) let out bikes stretch their legs. And when we got into the twisties I'm pretty sure we were sticking below 70 most of the time, but Jiri, Steve, and myself kept up a pretty good pace. So, every time we got to a turning point in our route we stopped and waited for everyone to catch up. Which was absolutely fine. That's part of a successful ride... we're together, but everyone rides their own ride and stays within their limits.

Here is a distant shot of one of the stopping points. And actually after that little straightway, behind me as I'm taking this picture, we had a really nice twisties road that went through some forested area. You an see how the hills are rolling even in this photo. I actually couldn't believe how nice the roads were. Steve says it was the best rid of his life, and he's spoiled forever...



At one of the stopping points we were greeted by this: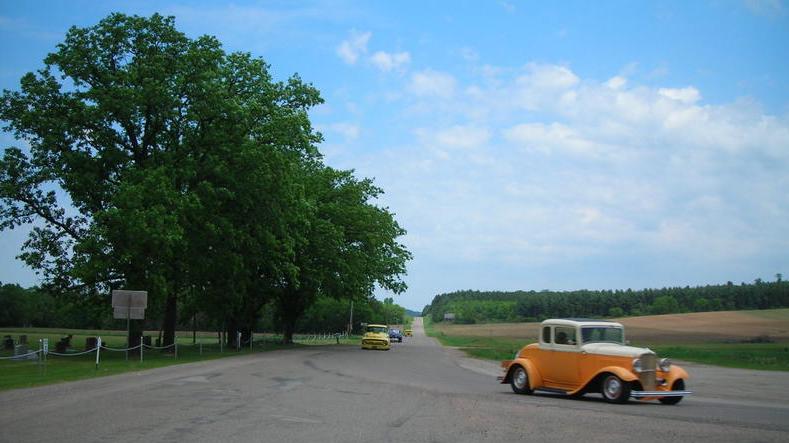 Out in the middle of nowhere, it was some sort of classic car convention. This is the tail end of the line of cars... The line had actually stretched all the way back to that last hill down the road. So, we just sat there waving and beeping at each other as they drove by and disappeared around another corner to our right. Also, look at the sky in that picture. It just doesn't get much better... Yes, they call this God's country for a reason.

Here's Mark's account of our next stop: From Durand we took the county roads down to Stockholm on Highway 35. It was here that we had our only miscue and an unscheduled lunch stop. My wife was staying way back due to the V-Star not being as nimble in the twisties as the shorter bikes. (And having some bad fuel & carb issues which we found out later) We took a left in Stockholm and the pack kept going not realizing she wasn't there yet. Sportstergirl and I pulled off to wait for her but she never showed. (Actually she went straight through the intersection and we didn't see it) so the two of us headed back the way we came fearing the worst, but didn't find her and headed back to Stockholm where the pack was now at a bar & grill. Jen said she saw her head north so Marousek went after her. (He secretly just wanted to go as fast as possible – but we all knew it!) Come to find out she just went to the next town up, got gas, and was heading back – Wow that thing was drinking gas! Lots of apologies and laughs over lunch.

This whole time we had been heading North. But we got to this intersection and we turned South without waiting for everyone to catch up: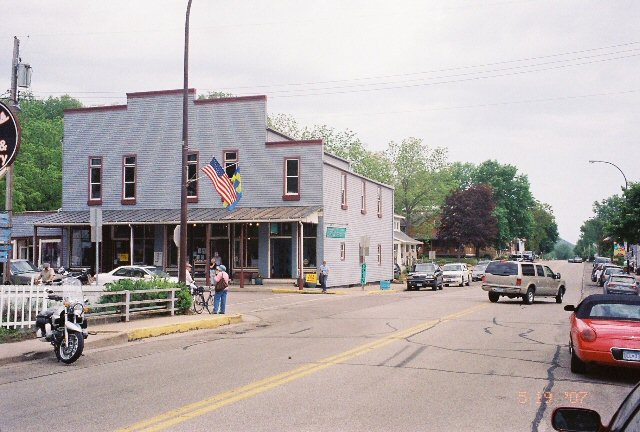 So when Vickie came through there she just headed North. Jiri, Steve and myself pulled over at an overlook a few miles down this road, and when we saw no one else was coming, I turned around with a two-way radio that Jiri had brought, to look for the rest of the crew. I came to this place and found Kyle, Ann Marie, and Jen. Mark and Vickie weren't there cause Mark had taken off after Vickie. In the mean time we tried to radio back to Jiri and Steve but the reception was bad so we couldn't make each other out. Eventually Steve and Jiri figured out I wasn't coming back and they joined us. That's where Jiri took off North after Vickie and we stayed a the pub... well, you've got the rest of the story already.




While we were there we ran into these guys:




Apparently they belong to a classic bike riders group. They get together once a year on these rare old bicycles, dressed in classic British riding attire, and ride around the surrounding roads. They do about 40 miles per day. Some stay at hotels for the evenings, others camp out. That's a lot harder work than sitting on a motorcycle....

Well, after we at lunch we went back to the overlook where Jiri, Steve and I had originally stopped and took some shots there.




Later on in the day we rode up into the hills right near the Mississippi as we were headed back south and took these shots:




And of course we snagged another bystander to get a shot of all of us.





Our last stop --or was out last stop the previous overlook... getting fuzzy-- for that day was this little "Hamlet" as Steve put it.




As you can see, plenty of turn-of-the-century buildings, lots of hills, and lots of bikes circulating the roads. In fact there's Mark walking across the street to his bike. By the time we got back to the Hotel we had logged about 240 miles on some of the best roads I've been on. But the fun didn't stop there.

We went back to the Hotel where we got to sitting on the deck and talking over the day. There was some talk the night before about having a volleyball game but didn't seem like anyone else was up for it... So, when it started getting dark we went into the screen dining area and proceeded to chow down. Someone had mention the day before that it was Ann Maries birthday, so I grabbed a waitress and asked her if she could bring something for her. She assured me she would, and here we have Ann Marie with that.... goodie goodie I have a birthday cookie look. The whole table sang happy birthday to her, which the waitresses and waiters much appreciated since they didn't have to do it.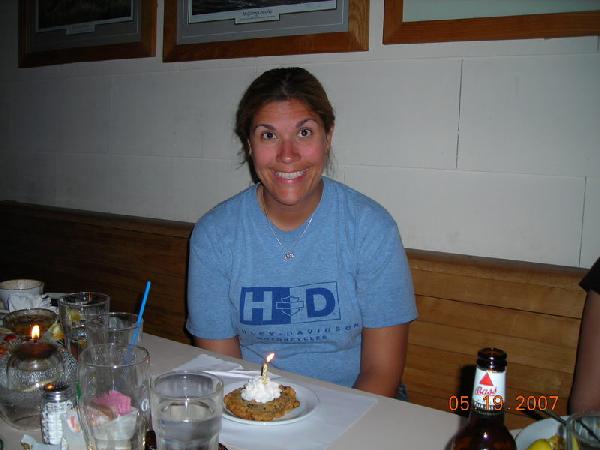 And here's Ann Marie and Quackers... one of the trip mascots... sort of like Duck Under Glass... except he's in the glass....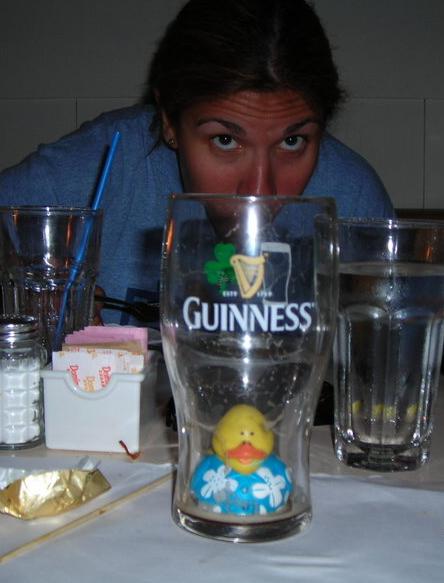 Of course the food was great once again. I opted for the garlic and cheese tortellini with a glass of Merlot to wash it down. I can definitely see why people come from all around to eat here.

We also has a little entertainment at dinner. This guy that had come along and started getting involved in our conversation before dinner and came by and sat by us during dinner. Let's just say he was apparently interested in Jen, who blushed several times at his advances. He was also being kind of coy and gave some very vague answers to questions she was asking. You had to be there. At one point he was going on about he he couldn't get a room at the Hotel because we had booked so many of them. Anyway, he was pleasant enough and eventually excused him self. We told him to stop by the Kingfishers later for a campfire.

At the end of the meal Mark, Vickie, and myself went back to the Kingfishers and started a campfire. The hotel was nice enough to provide a fire pit and all the dry wood we needed. All we had to do was drag some chairs off the deck, and bring over a couple picnic benches, a little toilet paper to kindle the fire, and we were in business.... And of course Steve came up with some more beer-in-waste-basket... Well, what so you expect, he's Irish... Here's a couple shots of us around the fire. The pictures really didn't come out that well.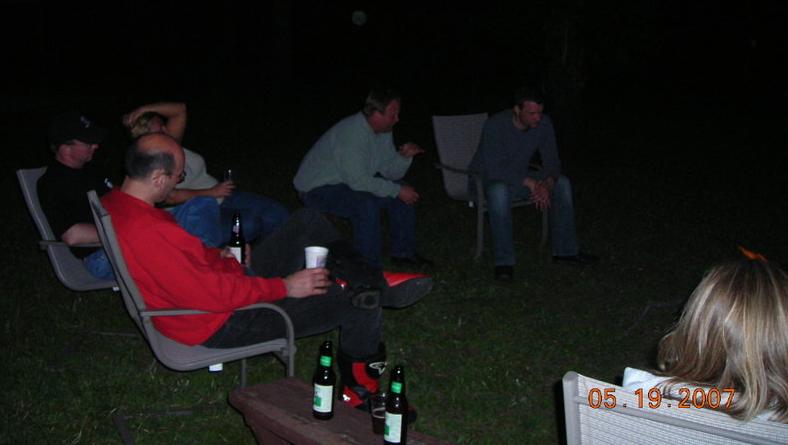 You've heard of the sport Cow Tipping, right?....




Ya. The cow was our other trip mascot....

Well, it was darn windy out there and it actually started raining, so we agreed to meet up at 8:00 am and started breaking things up about 11:00 pm. But after a few people had left, as we were putting things away, it stopped raining... so, we put everything back and continued to enjoy the fire and conversation. Even our friend from the Hotel stopped by and we found out he was actually with the Fire Department... Hazmat group. 1:00 am rolled around and it came time to call it a night. Another fantastic day.

Sunday I was up at about 5:00 am again. After getting showered and packed up I went outside to find that everything was wet. Couldn't figure out if it was from rain or just the fog that had settled in. It didn't look good and temperatures were suppose to be in the 50's. Obviously it was time to cover up what ever we didn't want getting wet, put on some layers, and break out the rain gear. Here we are meeting at the Hotel before our departure.




After some of us stopped to fill up with gas we drove to our breakfast spot... a whole mile from the gas station... I got all dressed up to ride here? Didn't look like much from the outside... and frankly, it wasn't much on the inside either. The breakfast selection was on a chart on the wall... the basics... eggs, bacon, sausage, toast... all fixed any way you want. Hmmm... no breakfast burritos? The place was run by a guy and his wife... he took our orders at the bar, and you could hear his wife making the stuff in the kitchen right behind the bar... could have sworn I heard a "shit" at one point... dropped someone's eggs? Hopefully not mine. I asked if they had any fruit and the guy came out with a banana that had seen it's better days... I just opted for orange juice... but the custodians were nice enough and the food still hit the spot.

Back into our gear and back on the road. Well, it wasn't long until we hit some pretty bad rain and we ended up loosing Mark and Vickie. Vickie didn't bring a helmet with and she was riding with just goggles.... Ouch! I could feel the rain through my rain suit and pants... can't imagine how it felt on a bare face. So we pulled over and waited for them. Here's all of us after they caught up. At this point it was still raining.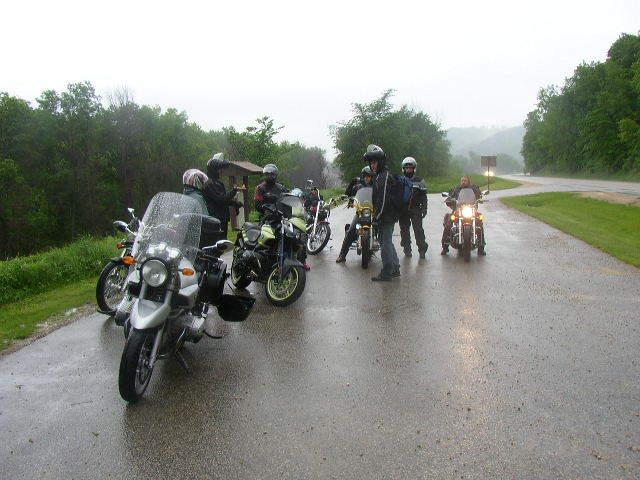 Apparently Quackers didn't mind the rain... and actually I didn't mind it either. There's just something satisfying about riding a bike in the rain.




Well, after that stop we put up with some more rain, but things turned for the better, and by lunch time the skies were sunny and we stopped at Eddies Irish Pub

in Prairie Du Chien

for some food and drink.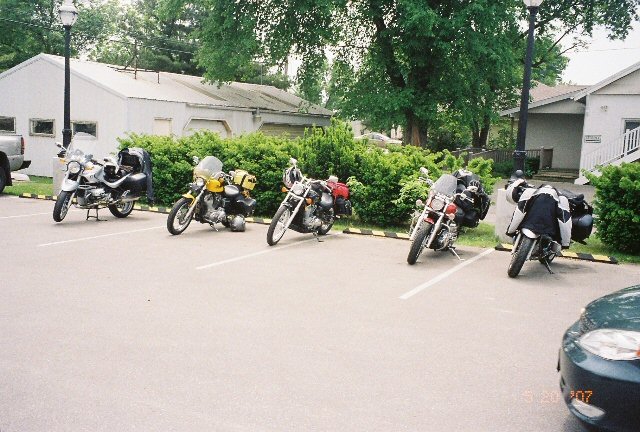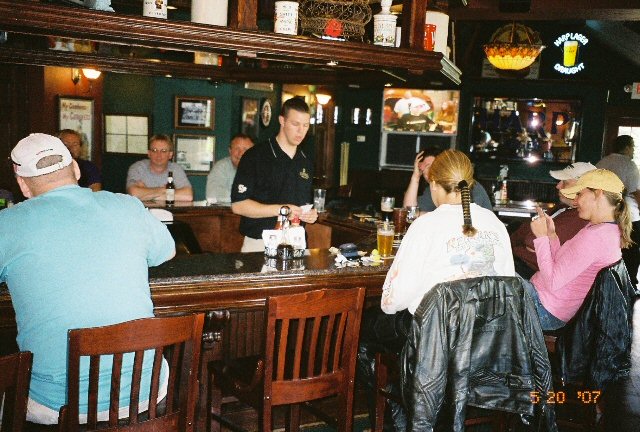 They also had a nice pool table there so Jiri and I took the opportunity to play a couple games. Apparently I'm a lot better at pool than I am at basketball because I actually did win both games.

Well, we were back on the road and headed for Cassville where we would start splitting up, and hear we are before the tears started flowing... ok, there weren't any tears... at least I don't think there were... but we obviously hated to break up. From this point Ann Marie, Mark, and Vickie would continue to head south, the rest of us would head East for a while until Steve and I split off form the others and started our long trip back home on boring ol' I90.




Steve and I only stopped two more times, once so that I could put some more layers on because the temperatures dropped to the high 40's, and it seemed I couldn't put enough clothes on, and then we stopped again to get a quick bite at trusty old McDonald's before we got onto I90 just outside of Madison. Our plans changed a bit too because we ran into stop and go traffic and it was just killing us... so we took the first turnoff and got around the jam by going further south.

Steve and I parted ways where I290 meets I90, and I had another 40 miles or so before I got home. It was cold and as I got closer to home the road got wet again but I just missed the rain.

The Beginning... cause it certainly can't be the end.