Southeast Tour 06/2010
Day 8, Thursday 6/24/2010
Morning rolled around and we were ready to hit the road by 8:00. Well, I was ready, not sure Krystal was. But it was going to be a long day.. some 300+ miles, so we needed to get to it. So we said our goodbye's and headed out... Destination, Frankfort KY, Fairfield Inn... yeah I splurged, considering it would be our last night on the road.
Of course, the day started out in the usual way...
Doh! Someone is sleeping again... at 10:30 in the morning... or she wishes she was...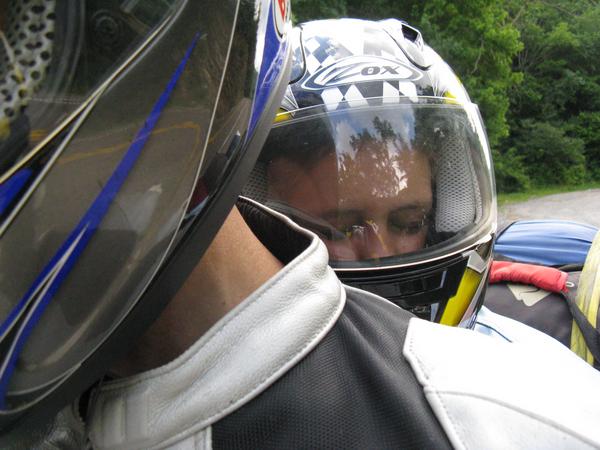 This was some sort of dam I saw from the road, figured it was a good time to stop for a break... Sleeping beauty needed to stretch her legs and get some oxygen in her lungs...
Or... sit... yeah, that works too, just not as well...
No shortage of nice scenery...
Well, it was bound to happen... after basically no rain all trip, around 4:00 we started heading into a really nasty looking lightning cloud, so we pulled over to put the rain gear on... Oh the drama... do we really need to? What if it doesn't even rain? I look like an Umpa-Lumpa. Oy!
What cracks me up is, after I look at this photo I see she had the pant legs rotated around 180 degrees... those reflective stripes are suppose to be on the outsides of the legs... holy cow... amateurs...
Well, yeah, we did need it, and it did rain... we got rained on for about 40 miles or so... and then things cleared up. Then the issue was taking the rain gear off. First she doesn't want to put it on, then she doesn't want to take it off... I'm not going to be hot! I don't want to! I finally just had to put my foot down and tell her to take the stuff of... it was hot, humid and sunny again, and she would have boiled in the black rubberized suit... OY! Teenagers!
Well, we made it to the Inn, safe and sound, and yes they had a pool and a Jacuzzi... After a long day riding you just can't beat a swim and a little hot bubbly water... Though the place really wasn't worth the extra money; the room and pool were no better than the Red Roof Inn for half the price.
For dinner we walked across the street to a Dairy Queen, got some salads and brought them back to the room. After dinner I went and swam a bit more while she caught up on her cartoon watching and that was a day.
As usual, the great roads there are no photos of, because there's really no place to safely stop at the side of the road, but there were some great roads that day also.
Day 9, Friday 6/25/2010
The stretch home... 300+ miles again...
Back on the road right about 8:00 and again... it started out right... a squiggly road sign going off into the hills... this was really the entry way to miles and miles of beautiful roads...
About 9:00 we rolled up to this peach stand... I'm a sucker for fresh peaches... you just can't get them in stores... and these were perfect... the lady even gave me a couple that were totally juicy and just ready to be eaten... Krystal didn't want any... City kids, what do they know... There's a guy who wrote a book about Nature Deficit Disorder... The Last Child in the Woods... talking about how kids don't experience the world through all their senses any more, just sight and sound... All I know, is she really missed something by not having a fresh, off the tree, with the fuzz still on it, peach. By the way, that white figure in the photo below is the grandmother on the farm... 89 years old and still works every day...
It was an interesting conversation with the caretakers... they operate this 500 acre farm, grow various crops, and have 5000 peach trees. That's a lot of peaches... and they sell most of them locally.
As I was standing there, slightly leaned forward, eating my peaches, juice just dripping with every bite... a couple in a minivan pulled up and asked if I needed some napkins... and yes I did... Southern hospitality.
About 20 minutes later we came up on this, a big cliff overhang with water flowing down into a manmade catch basin. I assume the cliff and water were there before they put the road in, and this was the way to keep the water from flowing across the road. Anyway, it gave Krystal a chance to stretch her legs.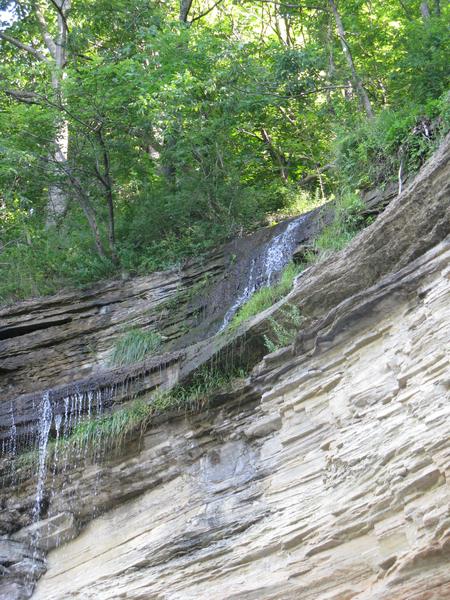 We were in Indiana now, but you never would have guess it by the roads. Coming from the southeast the reads were pretty good until we got just south of Indianapolis. Then, well, the usual... straight as an arrow...
And that's it... As usual, every time I return home after a long trip like this, the neighborhood streets never look the same. They seem familiar, but then again just roads from another town we're passing through. Soon as we pulled into the driveway, Krystal went running off to get her social life back in full gear, and I had to start tending to things like fixing brakes on cars, changing out my rear tire, etc..
I thought the trip was great. We really lucked out with the weather given that it's been raining so much lately. The roads were fantastic. And even if she was bored, I think Krystal had some good times that she may appreciate more as she gets older. After all, how many kids get to go travel around the country on a motorcycle. However, I doubt she'll want to do it again any time soon. Next time maybe I can talk the youngest son into coming along...