Southeast Tour 06/2010
Day 6, Tuesday 6/22/2010
So, we were back on the road at about 8:45 local time. Destination for the night was my daughters place in South Carolina.
Didn't take long for the twisty roads to start... and the sitting at rest stops...
Daughter even started taking some photos...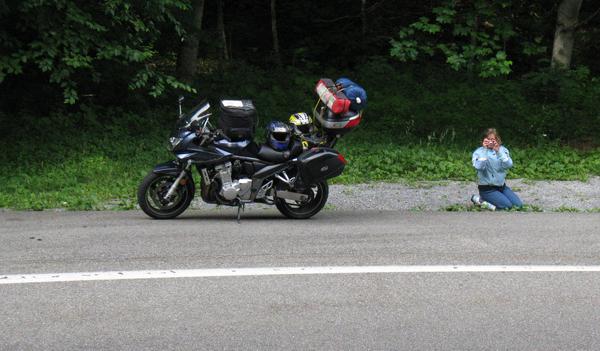 And even sent a message to mom...
You lookin at me?...
And there was more Blueridge Parkway time also... This southern section is absolutely breathtaking... Huge views, and you're going way up in the mountains... It's not like going out west into the Rockies, but a close second...
Oh... here she is again... hiding... but smiling too...
The south seems to be obsessed with licking... in addition to this Licklog ridge, I saw several places during the trip that were lick something...
At the Glassmine Falls stop we couldn't quite figure out where the falls were... looked like across the valley in the clearing of the trees, but the water was not running?
Hmmm... maybe not such a good place to by lying down...
there's a pretty steep vertical drop on the other side of that wall... Here she is spitting over the edge cause she wanted to see how far a hocker would go... she's such a truck driver at times...
And another stop with a great view...
And then we got to the end of the road at Bad Fork Valley Overlook. There were signs saying the road was closed, but didn't see any detour signs. And sure enough the road was closed. Guess we missed something. Talked to a couple other guys who stopped at the rest stop to find out that there was a detour sign a few miles back, but it wasn't facing the traffic flow. So, I blocked the route on the GPS, went back, and routed around it.
Somewhere around 3:00 we arrived at the place my daughter and her fiancÚ were renting...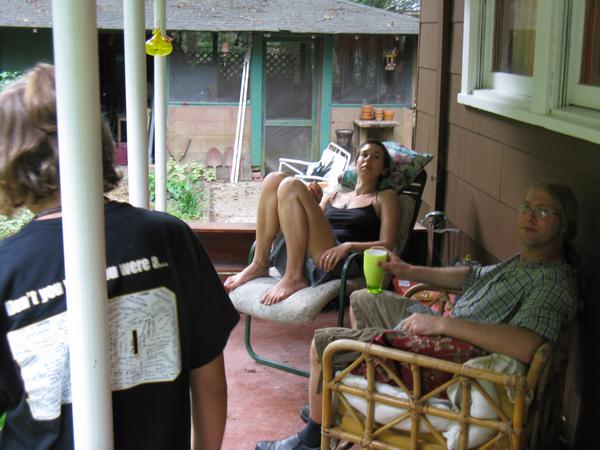 The sign on their shed told the whole story...
Yup, that's where we were...
We got our selves all unloaded and chatted while my daughter prepared a great home cooked meal.
Yup, little shack in the woods by a stream. And yes, below is a gate with no fence... I'm assuming there was a fence at one time...
The owner had taken moss that had started growing on the roof of the shed and transplanted it to the ground. I took, and the result is a very cool moss covered back yard area... Walking on it felt like carpet.
The day riding was great, dinner was great, and it was great to land at my daughters place.