Southeast Tour 06/2010
Day 3, Saturday 6/19/2010
The route plan had us staying at the Super 8 In Claypool Hill VA, which was only a couple hundred miles away, so I let my daughter sleep in while I continued to plan out the routes. Also ran out to get breakfast. By the time were ready to go it was 11:15 local time.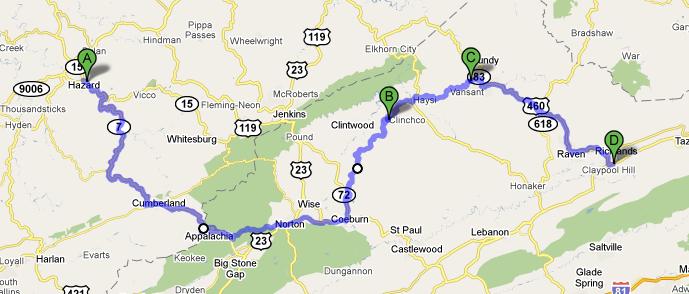 And the roads were great from the moment we started going... Just miles and miles of stuff like this... And of course, what was a rest stop without the traditional sitting on the ground...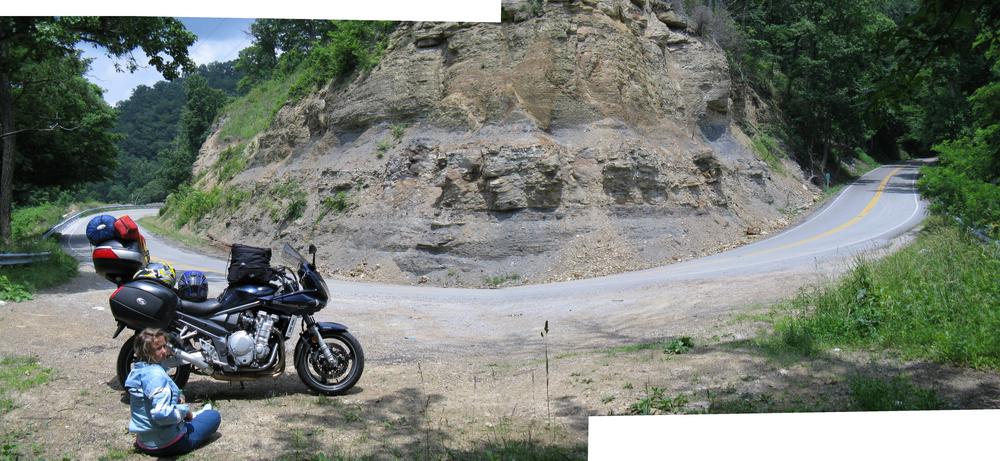 These weren't just nice roads, many of them were on par with the "Dragon" in NC. It only reinforced my thinking that this area would be great for a group get together.
And as the day rolled on there way more lying around...
About 3:00 rolled around and we ended up on some high altitude plateau... and yes, more sitting on the ground...

And the daughter actually did some walking around and climbing to see what was over the ridge...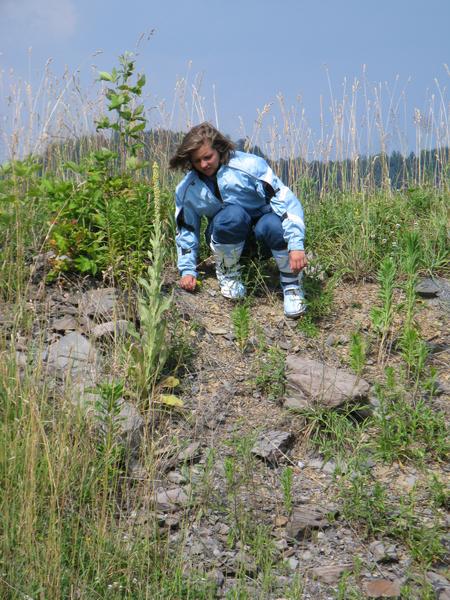 While she was climbing around I was messing with my GPS trying to get our bearings. Problem was the road next to us was not on the map. So, repeated attempts to recalculate the route failed. Great. So, got back on and took off in the direction we were going. Got to an intersection and had no idea which way to go. Left went off into the rock hills and turned to gravel. Forward went down some hill into the forest. So, right it was. The sun was about overhead, so couldn't really gage what direction was what. After a mile I came to a very twisty narrow road heading down hill and into the forest and said no, and turned back around... after going down each road and not liking what I saw, it was time to find someone to give me an idea of where I was. There seemed to be some sort of business on the hill... the only building that could be seen around... and I pulled into the parking lot to see if we could go in and find someone... A guy came walking out and we discussed my dilemma. He said the roads were all new around here in the last couple years, which is probably why they didn't show up on my GPS. Well, turned out that my first choice was right... into that forest with the twisty road. While we were talking the wind stared picking up and a large, ugly, dark cloud with lighting was moving in... We couldn't get out there fast enough, and a couple miles later we were back on track... Time to get a new GPS...because, unfortunately, I can't get updated maps for the one I have.
So, a little bit of excitement, but we were at the motel in no time. The capper to the evening was that we ordered Taco Pizza from the local Pizza Hut, yup, no sauce, just refried beans and the usual taco contents, spread on a pizza crust... and it really hit the spot for dinner.
I have to say again, the roads were just crazy, twisting up and down the mountain and hill sides... of course, for the daughter, they were just boring... more trees, rocks... and animals...