13 Day Trip Northwest 8/09
Day 8, Tuesday 8/25/09
As I mentioned before, I woke up that night to the sound of rain on my tent and went back to sleep like a baby... Woke up early the next morning and found that I was completely dry... looked up and saw this...
Big deal.. drops outside my tent... the suck part of that tent is it has a relatively flat spot on top so the water doesn't drain off well... anyway, see the four drops that are darker than the rest... those are actually suspended on the netting on the inside of the fly cover... I thought that was so cool... OK, moving on...
Got out of the tent and took a quick look around (didn't see much the night before cause it was dark) while I ate a granola bar and an apple for breakfast... The camp site was pretty nice... I was right next to a babbling brook kind of river... On one side my tent... on the other side a stream...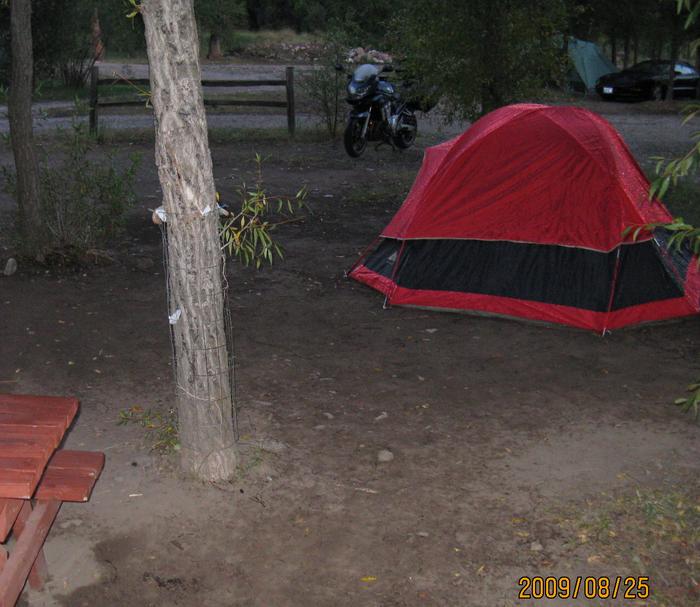 There were a couple houses across the river... nice location...
The real suck part was putting the wet tent away... I used my good towel to wipe some of the muck off, but it didn't matter... any way I folded it, it was going to be a mess... For the rest of the day the tent was dripping water...
Put my rain gear on... cause it was COLD (imagine that... whoda thunk)... Destination for the day was Crestone CO... a little nothing town with no economy in the San Luis Valley... and the place that my oldest daughter chooses to call home... and she didn't even know I was coming... I must say, that girl has enriched my life, cause the first time I went to Colorado it was to see her, and I've been in love with the roads and the scenery every since then...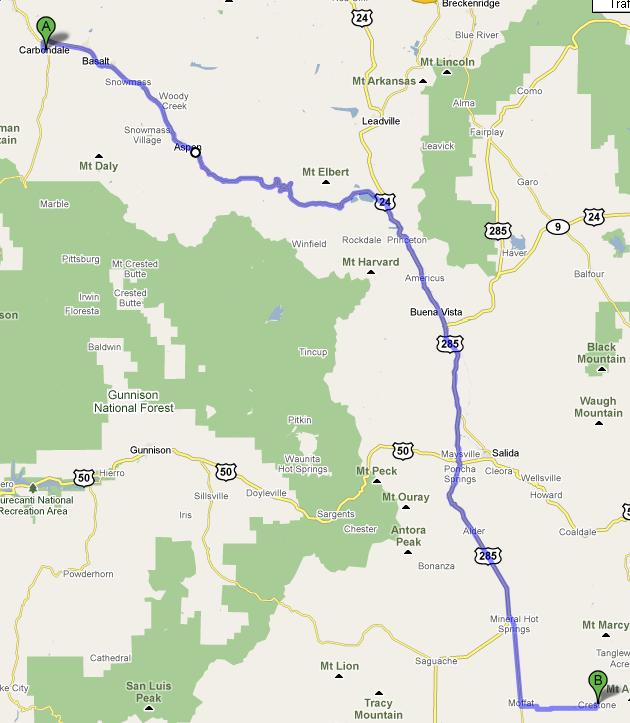 Route 82 Southeast through Aspen, 24, 285, 17, Country T, Crestone...
So, I'm cruising along on 82, which at some points is like three lanes in each direction, but still very curvy and hilly, and as I get a few miles out of Aspen... TRAFFIC JAM... I'm talking dead stop... So, I go in a parking lot check the map and it's either this way or no way... Next few miles were a combination of clutch in ... clutch out... clutch in... BUS LANE!... more clutching... more bus lane... until I got past most of it... the rub is that through Aspen the six lane highway goes down to a two land road and a roundel... What kind of urban planning is that?
I was just happy to have some air flow again... As I continued on 83 I see signs for Independence pass and a wide vehicle warning... no problem there...
Independence pass... DO IT!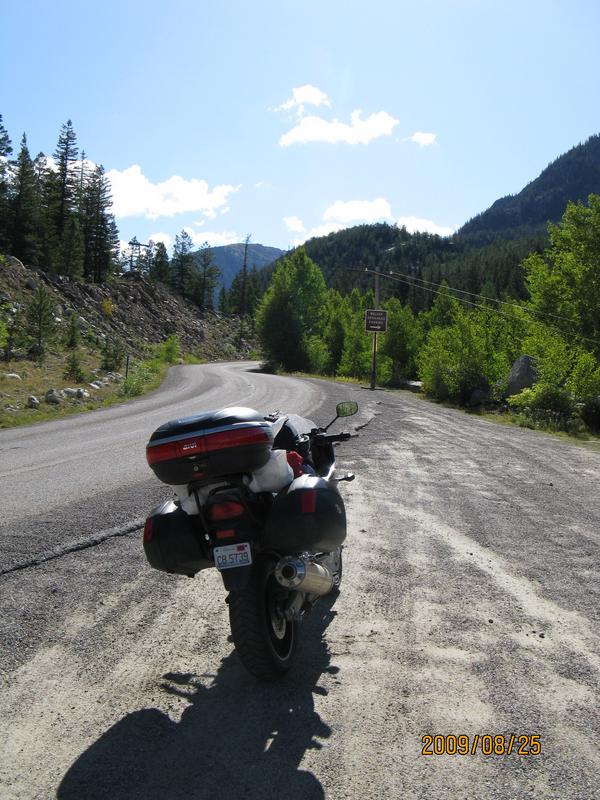 While you're looking at the above photo let me point a few things out... As usual, on the really nice spots in the road there's no place to stop... When they say wide vehicle warning they weren't kidding... There are definitely some sections where I doubt two cars could pass each other without swapping paint... So, I'm on this snaking, climbing, narrow road, sometimes with the drop-off to oblivion directly on my right (don't look down)... there's broken shade from the trees... in the shady areas it's still wet from the rain the night before... AND there's gravel strategically strewn around the corners... It was nerve racking... but I loved every mile of it... It's not all like that, but a major portion of it is, and you start to wonder if it's going to reduce to some two track mud road for RV's only... Luckily it doesn't...
I thought it ironic there was a sign along the way that said "Lost Man Trailhead, White River National Forest"... Lost Man is right...
Did I mention it was COLD... I found out later that they actually close the pass end of August early September...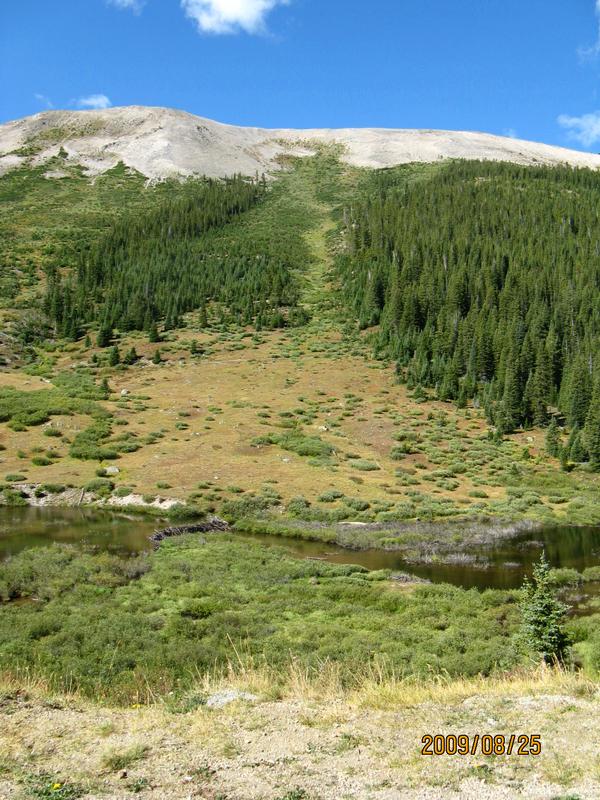 And just after 10:00 am I reached the summit... Highest paved pass in the Rockies...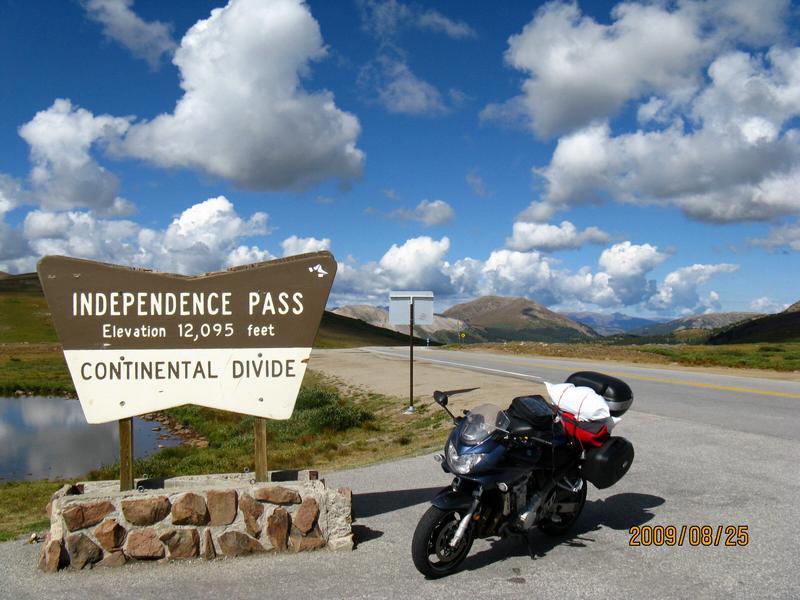 Did I mention it was COLD at the top ... Took the opportunity to put on some more gear to keep the wind out... And then... I got to go down...
Before I knew it I was blasting down 24...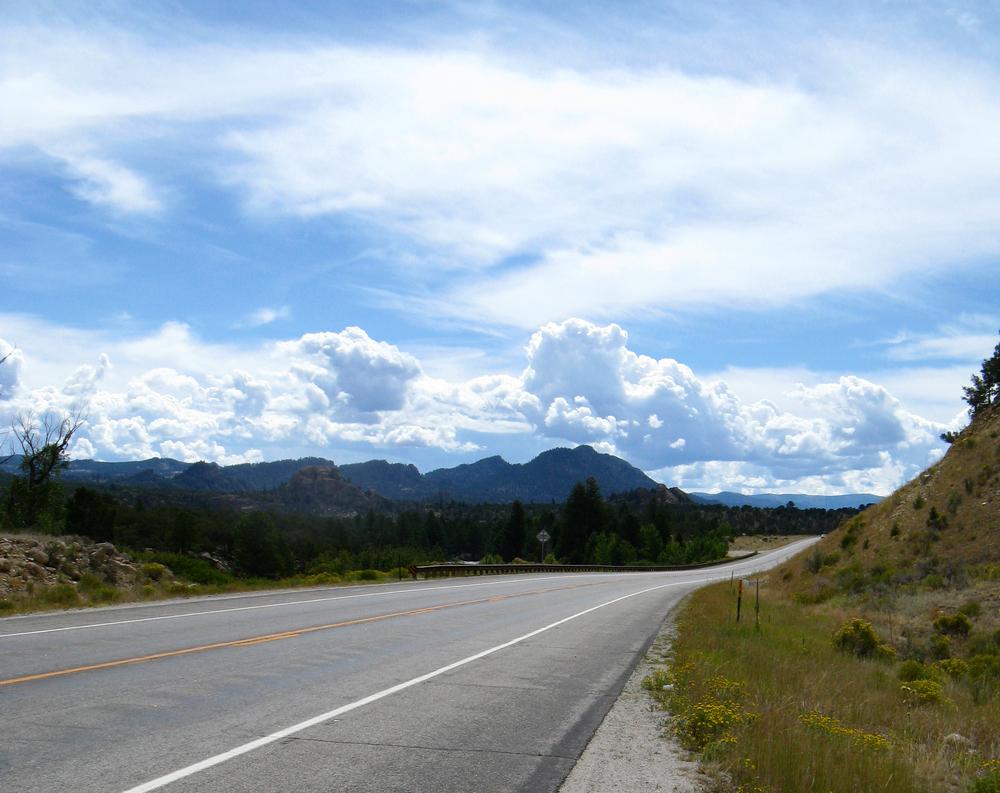 Found myself in Buena Vista for lunch... No McDonalds there... can't say I missed them... I sat down at a roadside restaurant that had absolutely the best Green Chile, Potatoe, Beef soup with a Vegetable Panini... mmmm mmmm mmmm... stop there if you're in town... just north of this sign...
From there it was pretty much a mostly straight shot to Crestone... I've been that way before so I didn't take many photos along the way...
So here's the thing... I didn't tell my daughter I was coming... I don't even think she knew I was touring... I show up in Crestone... I'm not even sure where she's living now (long story but my ignorance is somewhat justified)... in fact she recently switched cell phones... and I didn't realize she kept the same number... Not that it mattered, cause my phone, like many others, has no reception in that area...
There's only one gas station in town... so, as I'm filling up with gas I start asking passers by if they knows where my daughter is living now... (it's a REALLY small town...). Second guy I ask says he's not sure, but Rachel, her best friend (who really wasn't her best friend at all... but I didn't know that) owned the small place on the corner and should know how to get a hold of her... Rachel it is...
I walk up the three wooden steps, across the wood porch, walk in and feel like some a gunslinger walking into a bar... all eyes turn for a moment (all three customers)... I look around... see a girl working the back counter... my boots make that familiar sound on the wood floor as I walk back... I introduce myself and ask if she knows where I could find Missy... She says that she's not sure, but Missy is suppose to drop back through town, so I could wait... I ask if she knows where I could find her mother... (my X-wife, and that's all I'll say about that...) and she tells me where she works... So, I ask Rachel to tell Missy I'm looking for her and not to leave if she comes back to town... I get back on the bike and ride out about 5 miles back the way I came... find the place of X's employmnet... walk in and ask for her... Turns out she's sick today... I explain myself and ask if they can tell me approximately where she lives (that I'm perfectly justified in not knowing because she just moved and she doesn't really care that I know)... They tell me what area, and armed with that, and knowing what car she drives, I go another few miles and start driving up and down the streets looking for her car... I find it...
To make an already long story shorter... She calls my daughter, tells her I'm looking for her, and I go back into town... to sit on the steps of that restaurant... cause no one gets into town without going past that corner... and I wait... talking to a few of the locals... Locals leave... and a few minutes later I see a beat up Mazda come to the corner... It's her... I yell and wave my arms... she sees me, smiles a big smile and parks the car down the block... runs over, practically tackles me... and we share a deep hug and a smile... she is bowled over that I'm there...and I'm glad to be there...
We chat for a few minutes, but she needs to get back to work (doing some landscape work for one of the retirees). There are only four kinds of people in Crestone... eccentric whackoes or not so wacky... munks... people who vacation/retire here... and my daughters group; free spirited hippy types... I follow her to her job site and she explains to me how I can get to her current residence... so I go there to meet up with her later...
First order of business is to spread out the tent and hose it down... Yeah... that's a pickup bed being used as a trailer... and that's not dirty laundry on the line... those are some sort of spirit flags... HERE'S AN INTERESTING FACTOID... There are several monasteries in the area... they consider this holy ground? Crestone is diametrically opposite Tibet... if you stuck a rod into the earth in Tibet it would come out in Crestone... and this apparently has spiritual significance... They smoke a lot of pot there too...
Above is a section of the front yard... and below is the view from the front yard...

Those are the Sanda Da Cristo Mountains (I probably butchered that name...) I means something like the blood of Christ... because at sunset... the peaks turn bright red...
And here is the casa...

And here is my daughter showing up later... making faces at me while I'm trying to take a serious photo... what is it with kids?
We talked and caught up over dinner at the fancy restaurant just outside of town... The food was good, and I got introduced to all sort of people... cause everyone knows everyone there...
After dinner we decided it would be nice to go camping at one of the hot springs about 40 minutes away, north and into the mountains... so we put the essentials on the bike, borrowed her a helmet... I met some more people...(I could tell you pages of stuff here, but if you want to know more about Crestone and the people, ask me...) and we took off as the sun set across the valley...
It was pitch dark just as we started getting off into the gravel roads... that was a new experience... doing gravel roads at night... Well, we got there, went to check in, and found that it was $52 to camp... Ok, yes, it's a hot spring... but I had my swollen leg (yeah, the leg would pretty much swell up every day), so although my daughter could go into the hot water... I couldn't... so it seemed pointless to pay $52, especially since we were only staying the night.. So, more fun... turn around and head back down those gravel roads back to her place... a little disappointed... but the ride was still fun...
I set up my blowup mattress on her floor and I went to sleep, while she went out to hang with some of her friends... Ahhh, to be young again and be able to stay up late and still get up the next day...
Day 9, Wednesday, 8/26/09
I got up early. The air was crisp and dry... and as the light just started coming over the mountains I tried my hand at taking some night shots... after playing with shutter speeds and ISO settings I finally got something that resembled a photograph... tried taking photos of the stars but it was already too light for that...
As the sun really started coming up I stated planning my next days route...figured I'd spend the whole day with my daughter and leave in the morning.
At the back of the house is a breezeway and a sitting area...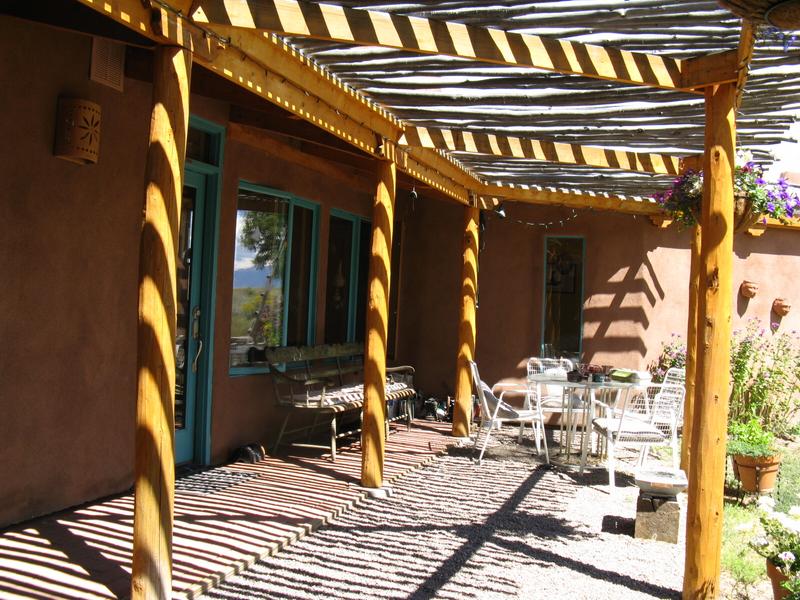 I sat there, soaking in the morning sun, watching at least a dozen humming birds buzz around, dive bomb each other, dive bomb me (curious buggers), and feed...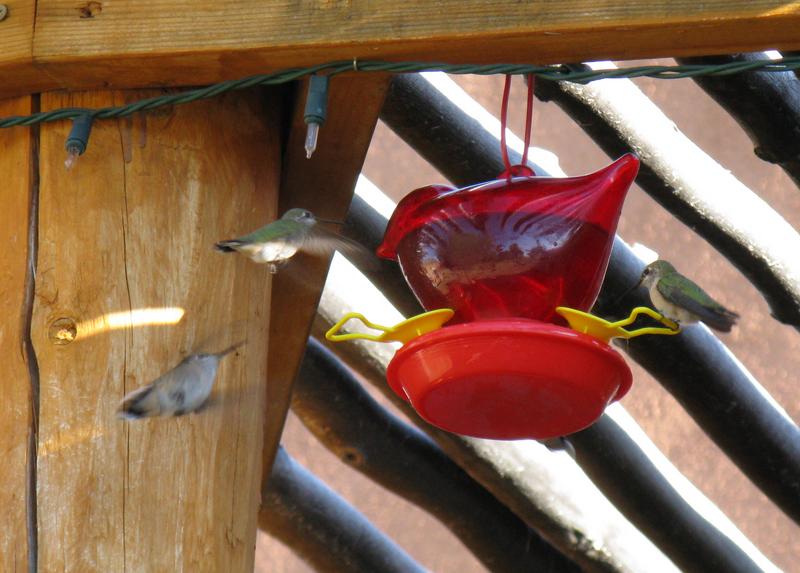 If you want to see a video of these tiny buzzards...
Well, my daughter eventually dragged her self out of bed and we planned our day... We did some more riding into the nearest big town (Alamosa), had breakfast, did some shopping... just an easy day in the cool and sunshine... In the heat of the day we sat in the shade and drank cold Mojitos...
I have to apologize for not taking my camera with me during that day... figured what would I see, I've been here before... One of the things I got was a full tour and education regarding beekeeping... Missy's boyfriend was experimenting and he and a buddy had several hives... The hives have a glass side, so you remove one of the boards and you can see right into the hive.. absolutely fascinating... The social structure of bees... what you have to do to build a hive that will survive... I just can't go into it here... but I will say that the recent dying off of bees over the years is due to the bee keeping practices rather than some mystery disease... Figures... us humans can even screw up the bees.
Now close your eyes (figuratively) and let me paint you a picture and try to make up for the lack of camera... On one hand this has nothing to do with motorcycling, on the other hand is has everything to do with it... because it's about living and enjoying life... So, here it is...
In Alamosa we bought some food for dinner... the plan was grilled chicken, with tomato/onion/basil/vinegar/olive oil salad, and au grotten potatoes... As dinner time neared we went to the foothills of the mountains, where Missy's boyfriend resides in his parents house... they were in some other part of the world... We drive up and all you see is this big rock looking thing nestled on the rocky cliff among the pines... the house is about the same color as the one my daughter is staying at... but the shape is organic... no real corners... looks like someone started with a really big rock and just carved the house out of it... The windows have glass on the outside, but they are roundish, and at the center of each window, acting as the structural members are big wagon wheels.. all you see is the hub and spokes because the wheel part is the window frame hidden in the apparent rock...
The structure of the house is beams that meet at the top of each domed room... The walls are just over a foot thick made off... get this... rice bags (heavy reinforced) filled with pea gravel... stacked and interleafed against the beams... and on top of that is slapped this paper mache/concrete stuff... you can still see the hints of the finger shapes that slapped it on...
You walk out the back and there is this huge, brown, flagstone sitting area with a wooden table, umbrella, and chairs with big comfy cushions... directly beyond that is a huge flower garden with a variety of colorful local flowers... and beyond that, through the trees, you see the valley... just to the right is an attached greenhouse where they grow fresh vegetables...
Missy starts working on the food... boyfriend is working on the grill... the sun is shining... humming birds and bees dart in and out of the flowers... and we converse...
Eventually the potatoes are done baking, the chicken is done marinating, and we throw it on the grill... The chicken grills up perfectly... the potatoes come out in a glass pan, crusted with baked cheese, the tomatoes in the salad are redder than they have any right to be... a few olives and fresh basil thrown in to round it out... It all looks and tastes amazing...
The sun is going down but there's already a full moon hanging over the valley... the few clouds are lit up orange... there's a cool breeze blowing up the slope... As we eat, talk, drink and laugh the sun finishes setting, leaving a sky absolutely lit up by the stars and the moon... The portable stereo comes out... Raggae music starts to play... and we eat ice cream, and cantaloupe just dripping with juice, for desert... My daughter and I literally burst out in laughter and tears when we realized how surreal the scene was and how difficult it would be to describe to someone... Anyway... I tried...
Sleep came easy that night...