13 Day Trip Northwest 8/09
Day 7, Monday 8/24/09
God rested on the 7th day, but I was too busy having fun to rest. Chance for rest would come in a couple days when I got to Crestone CO when visiting my daughter.
The destination was Carbondale CO. I only have three requirements when picking a destination; needs to be within the timeframe, needs to be a dot on the map, needs to have some squiggly lines going to it... and there was some major squiggliest here...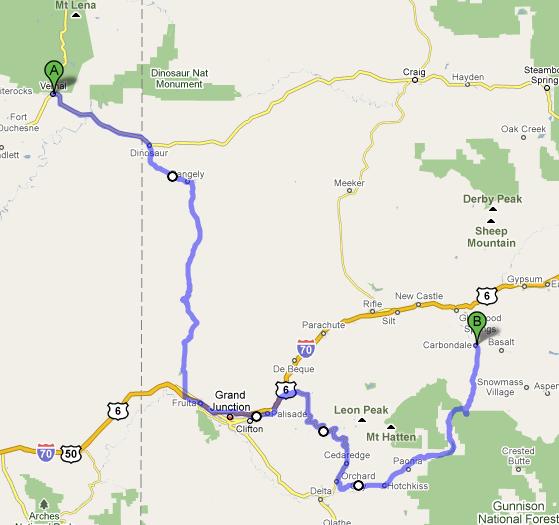 The route was 40, 64, 139, 6, 65, 92, 133...
Breakfast consisted of fruit, granola bars, milk and some Chips Ahoy (food of champions). I was on the road by about 7:30, but the BMW crew beat me out still. Quarter to 8:00 and things were looking promising... mostly clear skies, curve, mountain... full speed ahead...
40 and the short section of 64 I was on were kind of sedate... just cruising watching the scenery change... 139 was significantly more interesting... miles and miles of curvy valley road... At one point curiosity got the better of me again and I took an excursion on one of the dirt roads...
Did I mention I need to stiffen up my suspension... ya... back to the asphalt... Douglas Pass was drawing near... Incidentally, the clouds were really hanging in.. the closer I got to the pass the colder and more threatening it got... but other than a little drizzle it held off...
Apparently this was open range... cause there was some cow encounters... and some of the cows thought they were goats... As I approached one spot in the road there was a cow on the cliff to my left on what had to be a good 45 degree angle, right by the road... I'm thinking if bossy looses her footing... steak for everyone... But chance bovine encounter is the price you pay for riding these kinds of roads...
Squiggly asphalt... squiggly dirt roads... so many roads... so little time...
Coming down the other side...
Shortly after these amazing roads, I arrived in Grand Junction CO, promptly found a mall, and went to a sporting goods store where I bought a sleeping bag... and fixed everything that was wrong with the world at the time.
And shortly after that I was on 65... another unbelievable road... going up and over Grand Mesa...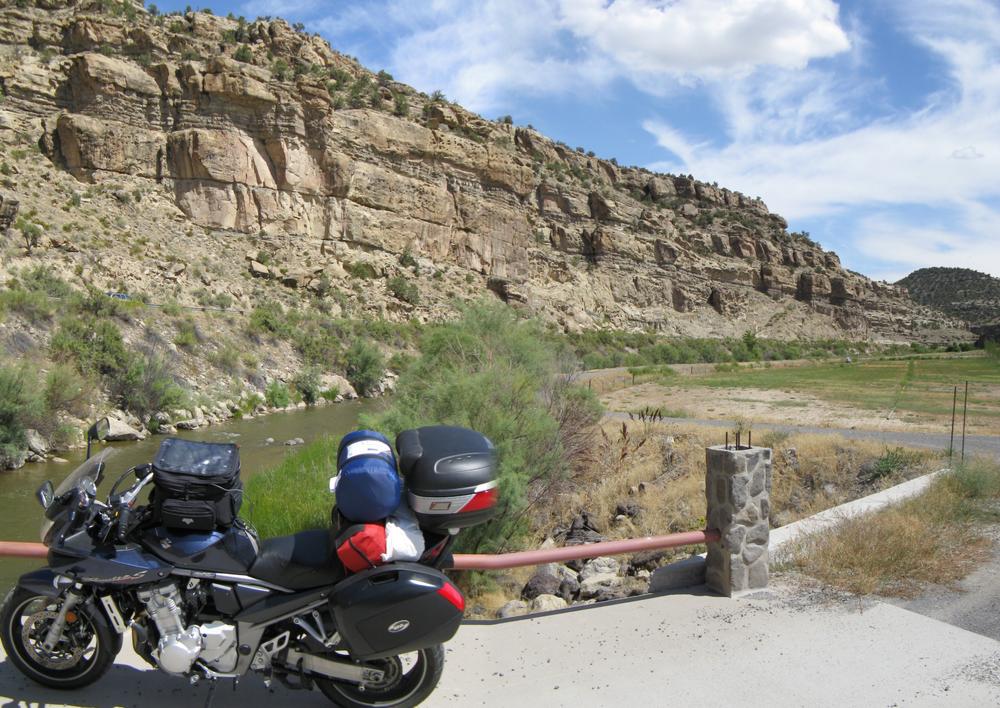 Powderhorn Ski Resort is along the way...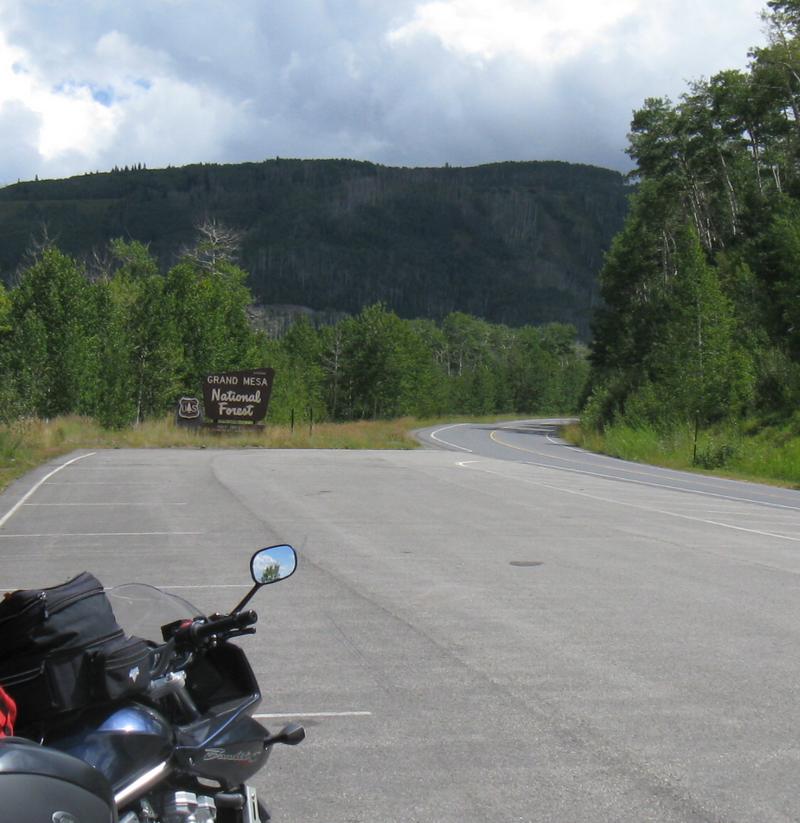 A small cross on the side of the road serves as a reminder to be sure to leave some safety margin on these roads...
Now if you're still not getting the sense of space I merged a few photos together... Click on this next one...

Ok, ok... I'm getting carried away... But sorry to say that the really great pieces of road generally don't have anywhere to stop and take a photo...
So, after coming down from heaven I landed directly in hell... on route 92... construction... but with a view...

That's OK... I was calm... cool (or should I saw warm, after coming out of the mountains)... and relaxed...
So, the road was stripped down to the gravel/dirt and for good measure a water truck would come along and spray water all over the road... just in case it wasn't squirrelly enough for me already...
But it wasn't long before things were back to normal... The spot below is approximately 15 miles East of Orchard City...
Then 113 is another piece of work... more mountain views... rivers... and curvy road until you're just sick of curves (if that could ever happen)... miles and miles of this...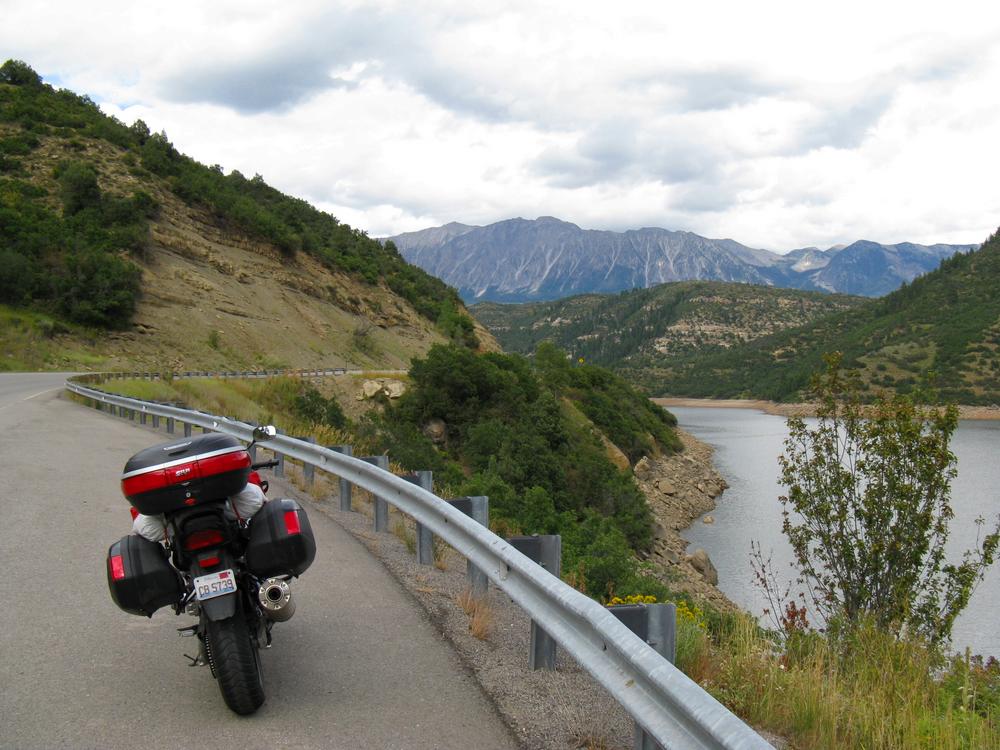 Well, eventually those clouds got darker and caught up with me... or should I say I caught up with them... So, part of the road was done in light rain, which cleared up just as I reached Carbondale. You know, there isn't much in Carbondale... a few motels, a strip mall, and from what I could tell... one restaurant... Chinese... So, Chinese for dinner it was...
While eating my egg drop soup and chicken and broccoli I contemplated what I was going to do for the night... I called home to talk to the GPS (Global Positioning Spouse) and she said rain was predicted for the night... so camping was a last alternative... After dinner I rode down to the nearest Motel and inquired... $90 for a room... NOT!
At that point I figured I'd do the 10 mile ride to Glenwood Springs and see if I could do better... but a few miles into that route I noticed a camping sign... so I turned around took the gravel road and ended up in this really small trailer camping area with some REALLY sketchy characters sitting around... I promptly turned around, headed back to the main road, back to Carbondle, and back to a camp site I saw about 5 miles South on 133... paid my $21 and It was home for the night... I quickly set up my tent and by the time I was ready for a shower I could barely see where I was walking any more... I found that my GPS (the real one, not the Spouse) makes a handy light... After the shower I took some notes...
considered my route for the next day... and curled up in my nice warm sleeping bag...
Some time during the night I woke up to the sound of rain on the tent... and went back to sleep...