13 Day Trip Northwest 8/09
Day 4, Friday 8/21/09
It was a chilly morning, low 50's. I got up early and walked around to see if anything was open for breakfast. It was about 6:40 am and nothing opened until 7:00, so I just walked the boardwalk a bit, and sat on the sidewalk benches. First place open was a restaurant with a breakfast buffet. So, my breakfast consisted of scrambled eggs, sausage, pancakes, oatmeal, a bowl of fruit and a couple apples to go (Hey, I was making up for the other day...).
Route 16 out of Keystone is a great ride... Curvy and scenic... like this...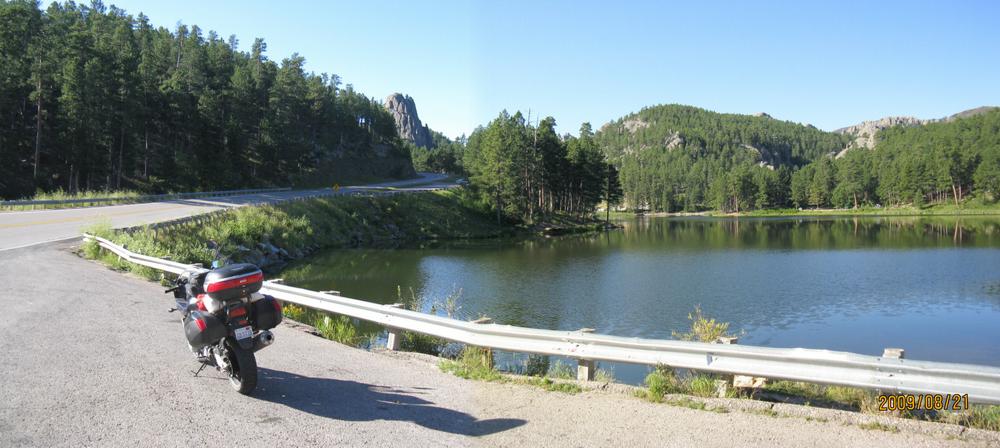 Once I got into Wyoming pretty much everything from Newcastle to Buffalo is flatter and roads are straighter for the most part.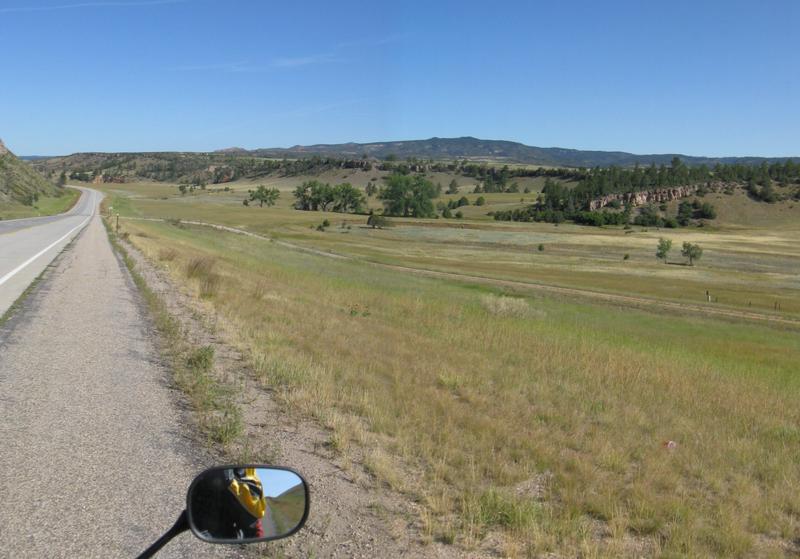 In fact, from Moorecroft to Buffalo was one of only two places where I went on the interstate. There really was no other convenient way across there, and taking the back roads would have taken much longer but there wasn't much to see.
The fun really started in Buffalo, taking route 16 Southwest up and around Loaf Mountain toward Ten Sleep Wyoming. I could have stopped every few minutes to take photos...
I believe this is Meadowlark Lake...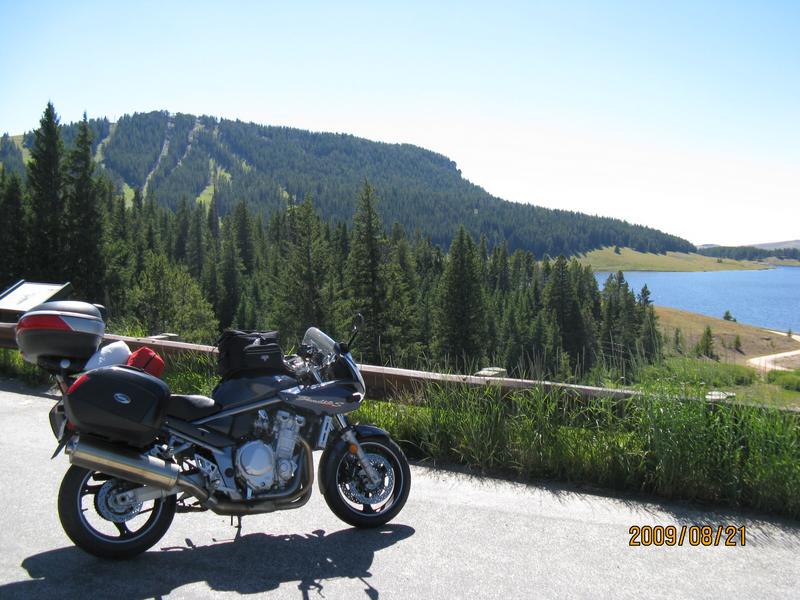 Here are some of the straighter sections of road...
A few minutes before I got to the above spot I happened to pass up a viewing spot where you could see the road snake down the side of the cliff. Not sure what was better, seeing it as I came upon it, or riding it. Here is what it looks like on a topographical map. Drops from about 7000 ft to 6400ft elevation.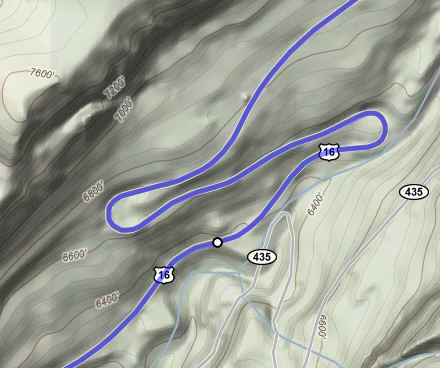 After coming out of the mountains, most of the road from Ten Sleep, to Worland, to Greybull, to Cody was pretty barren, and hot. Must have been at least 100 degrees, which was a huge contrast from the mountains, where it was probably 60 degrees. In Ten Sleep at the gas station I soaked and put on a thermal shirt to help me stay cool as I rode that route. As I started getting closer to the my destination for the night there were a few welcome clouds... that made for some interesting photography as the sun played hide and seek behind them...
Looked like it was going to be a clear night, so as I got into Cody I started looking for camping sites. Didn't see anything else, so I settled for a KAO campground just East of Cody. It was a long day, by the time I set up camp it was about 8:00 pm.
I'd like to say I slept like a baby... but my warm blanked was woefully inadequate... I ended up putting my ski pants on and several shirts, but I was still cold... so I spent most of the night in a semi-awake state...
Day 5, Saturday 8/22/09
I was completely awake by the time the sun came up. The skies looked clear and I was looking forward to going through Yellowstone Park.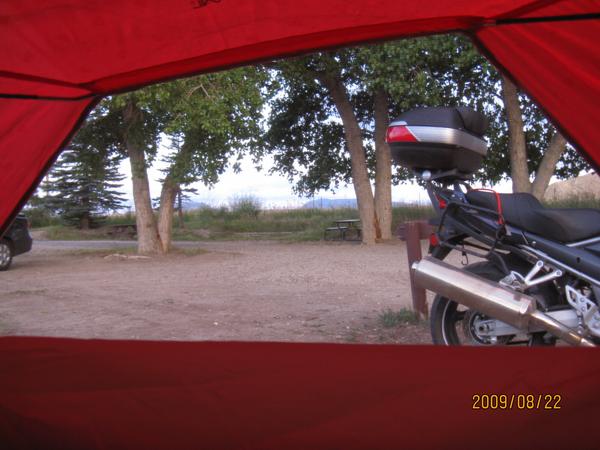 At the camp office the night before they had said that there would be pancakes in the morning. I assume it was included in the camping fee, but when I got to the grill there was a sign that said it was $2.00. Unfortunately there was also a line... the pancakes did look good... they were these huge things... the size of a plate... but I wasn't willing to wait around. Instead I went to the McDonald's in town and had a couple McSkillet Burittos... that was pretty much my breakfast most mornings... So after breakfast I headed for Yellowstone...
Route 14/16/20 into Yellowstone is a great drive... scenic... curvy... The water shots are around Buffalo Bill Reservour.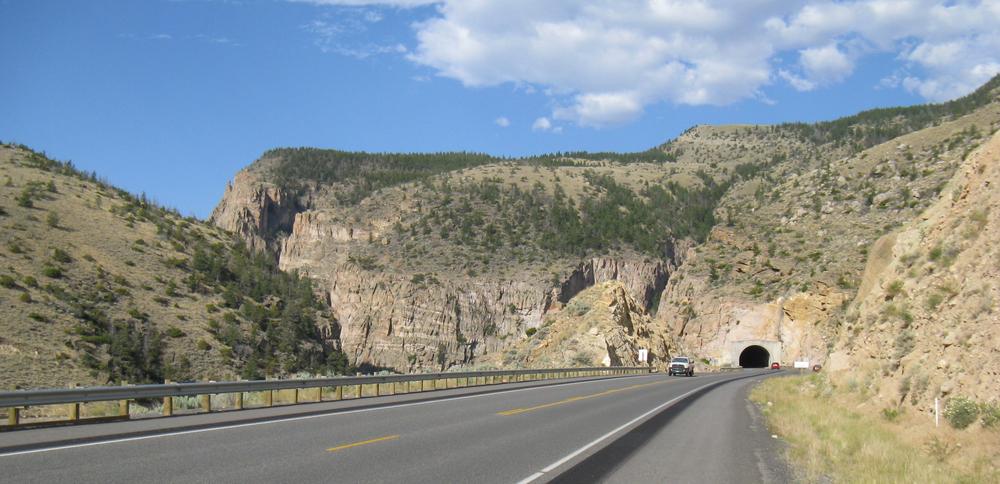 I must say, the local architecture was a bit on the weird side...
But other than that, there was no getting away from the beauty...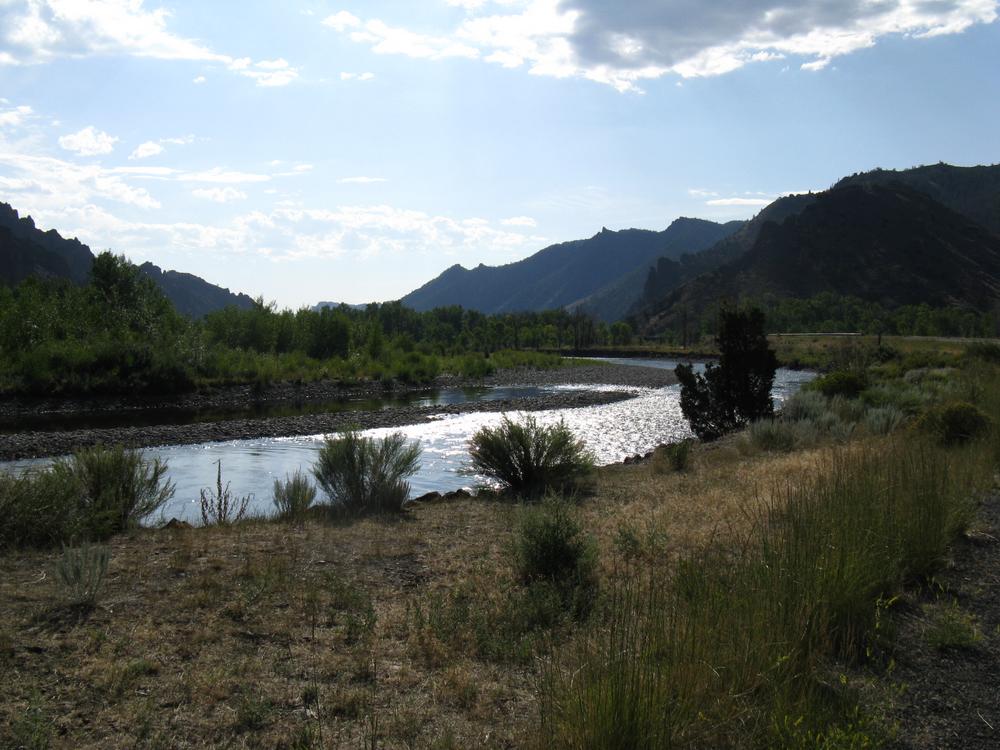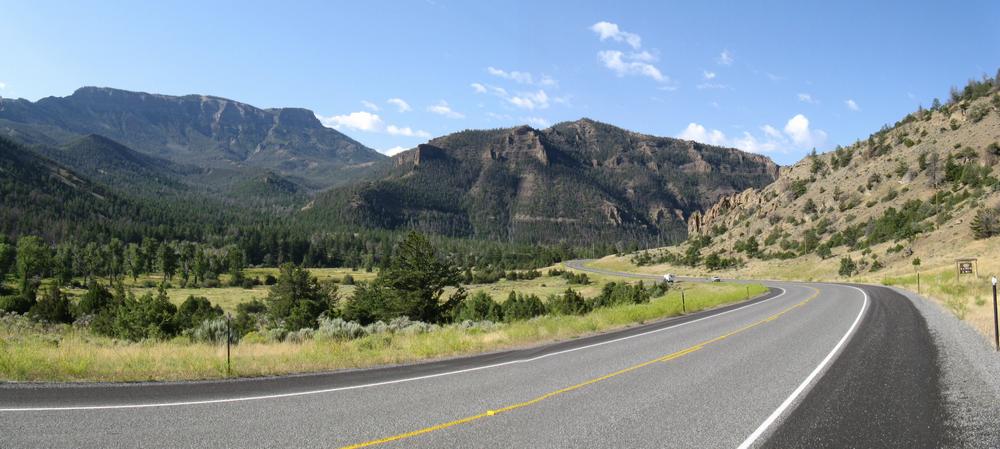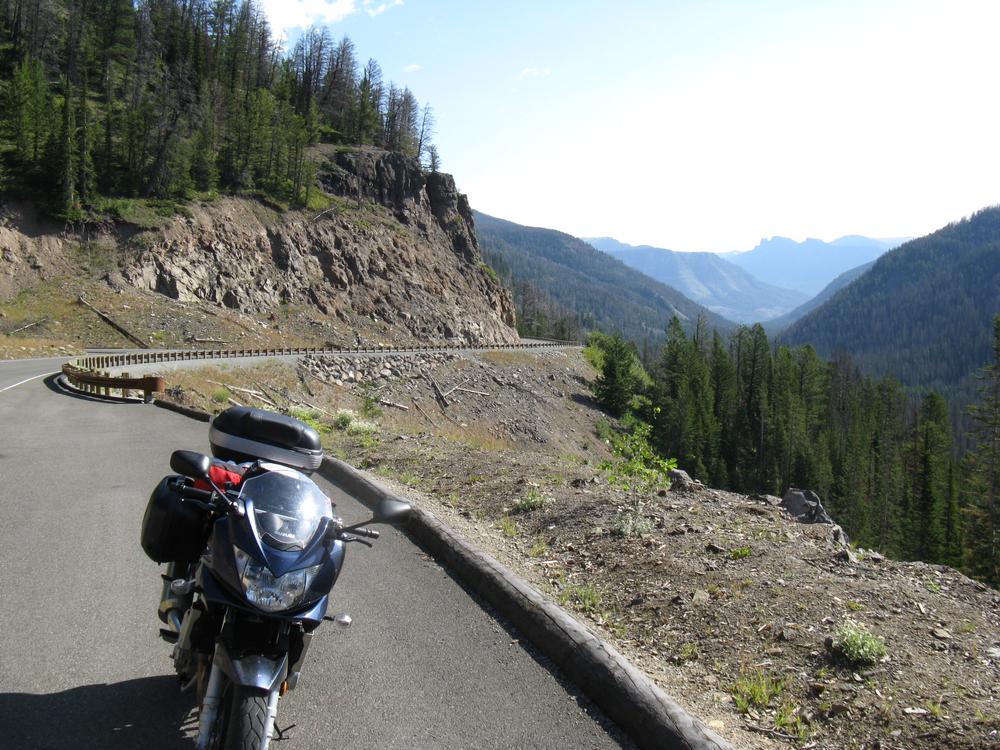 Just miles and miles of these roads... What made the whole thing eve sweeter is that as I was packing up in the morning, there was a group of bikers kitty corner from my camp site. One of the guys asked if I was going or coming from Yellowstone. When I told him I was going he gave me his pass, which was good for several days and cost $20. Yellowstone for free... Wahoooo! That's almost as good as free doughnuts.
No matter where you looked, the scenery was amazing...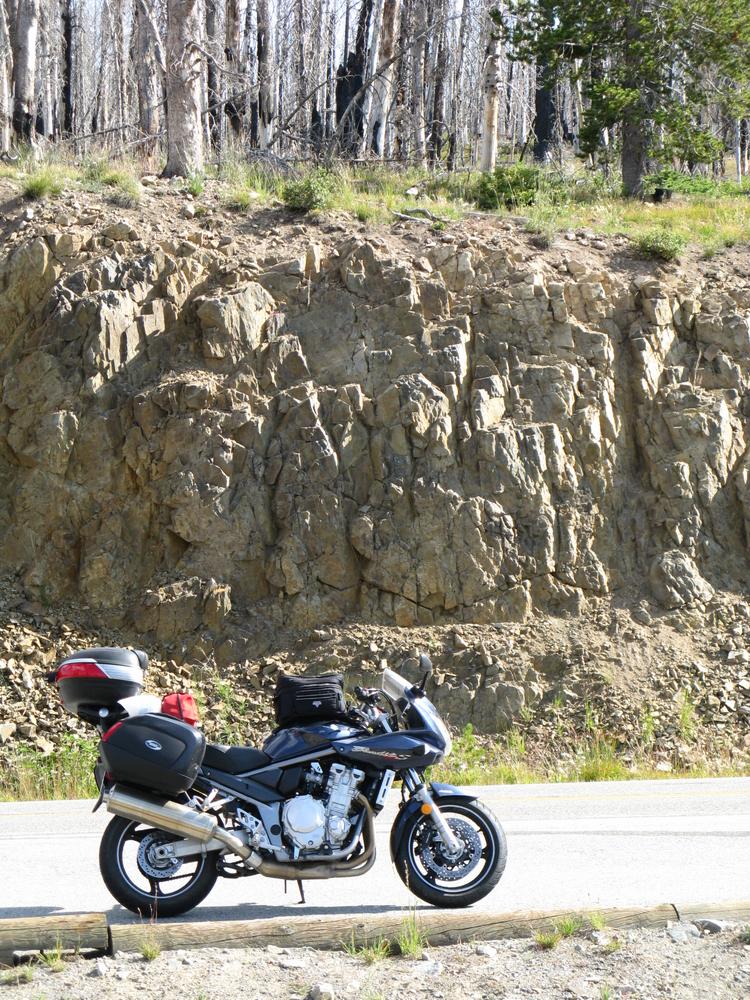 This next one is of Yellowstone Lake... there's just something strange about such a huge lake at 7800 feet above sea level... I didn't feel the water, but I'm betting it's cold... The air around there was much cooler... Route 16 hugs the shore for about 15 miles...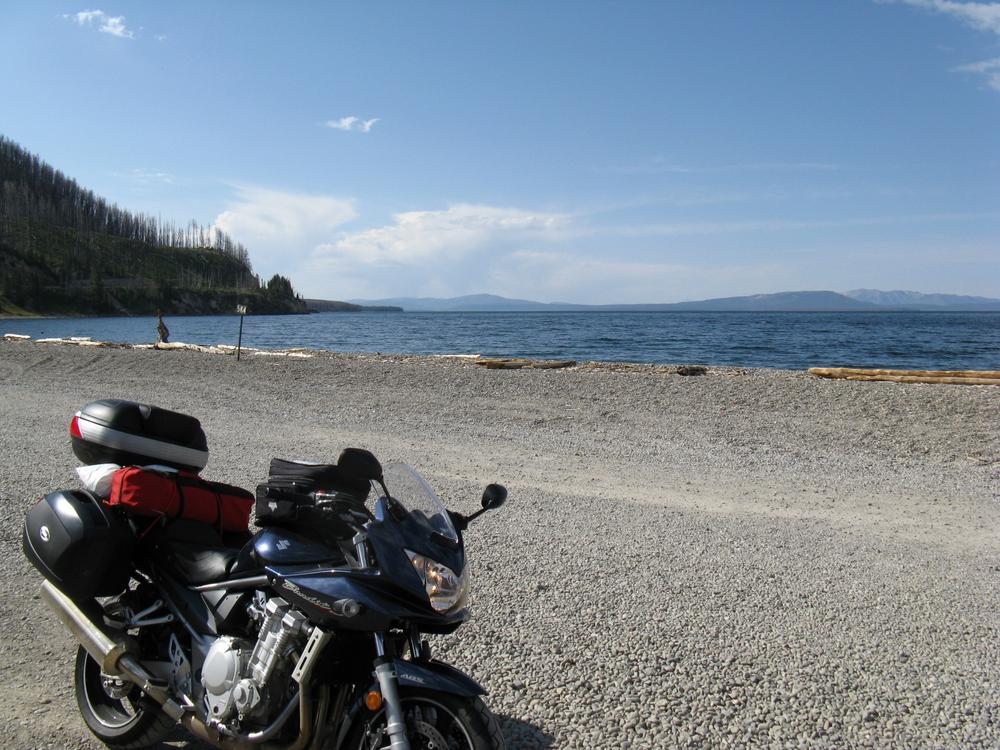 My plan in Yellowstone was to enter from the East, go south toward Old Faithful, then go completely around and then exit West. But the road going around to the North side was closed, so I would have had to backtrack all the way East to go further North... I opted not to do the full loop. I wouldn't have had time anyway..
I got to Old Faithful and found that I had just missed an eruption... I also found that it was extremely hot... the sun was out in full force and it was easily in the 90's... I got gas, and after putting up with the heat for a while I wet my thermal shirt to keep me cool... worked great as usual.
As I was walking around and waiting there was another geyser going off in the distance...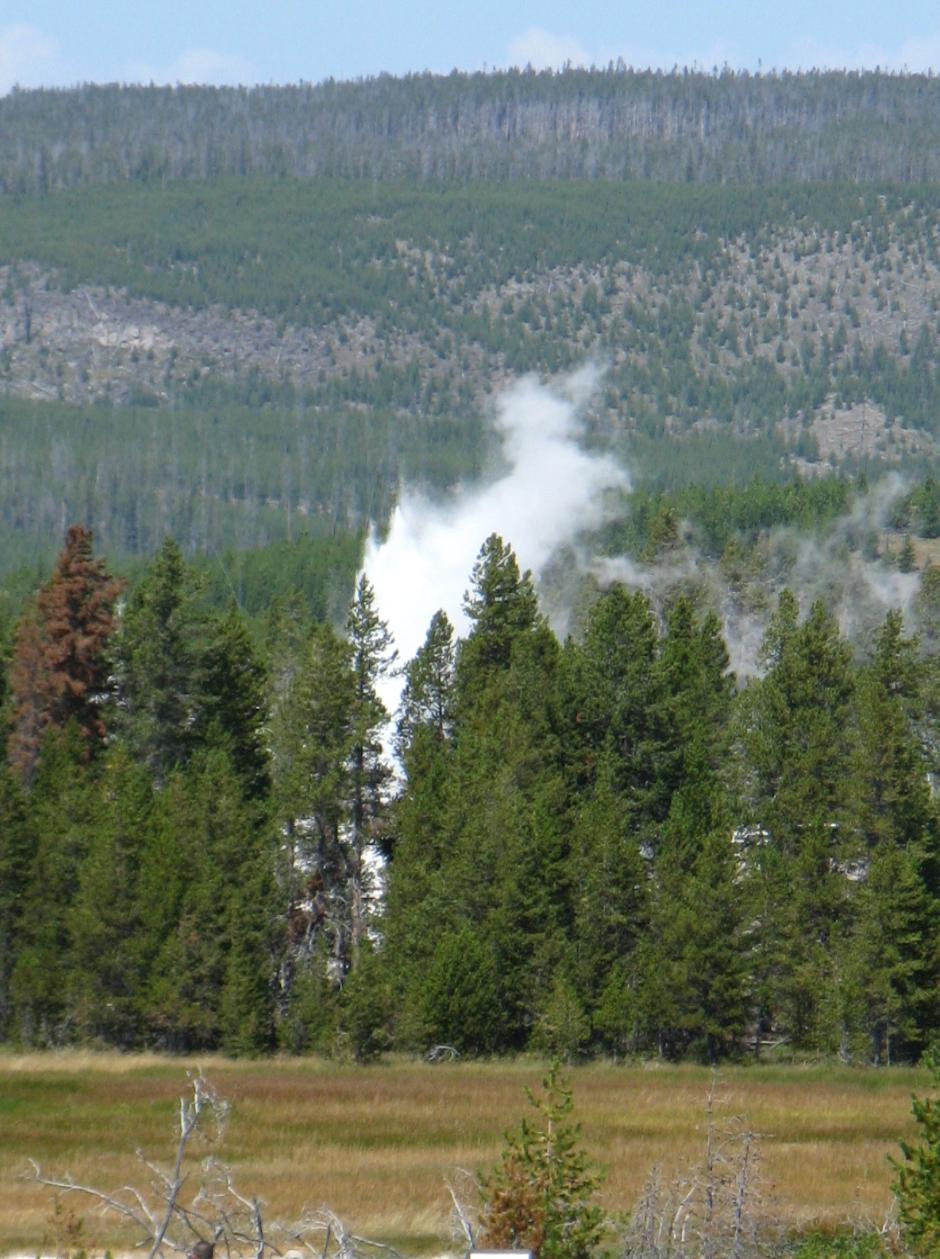 but that was at least a third of a mile away, and I was not going to walk it in near 100 degree temps.. So, I found myself a spot in the shade for my bike... ate a sausage egg McMuffin I had saved from the morning (calm down, I've had McDonald's breakfast food as late as dinner and never got sick...) ... and waited... The closer it got to the estimated eruption time the more people crowded in the seating areas... My thinking was, if I wanted to get a shot of the full gyser, I needed to be further back and just use the zoom to... I think it paid off...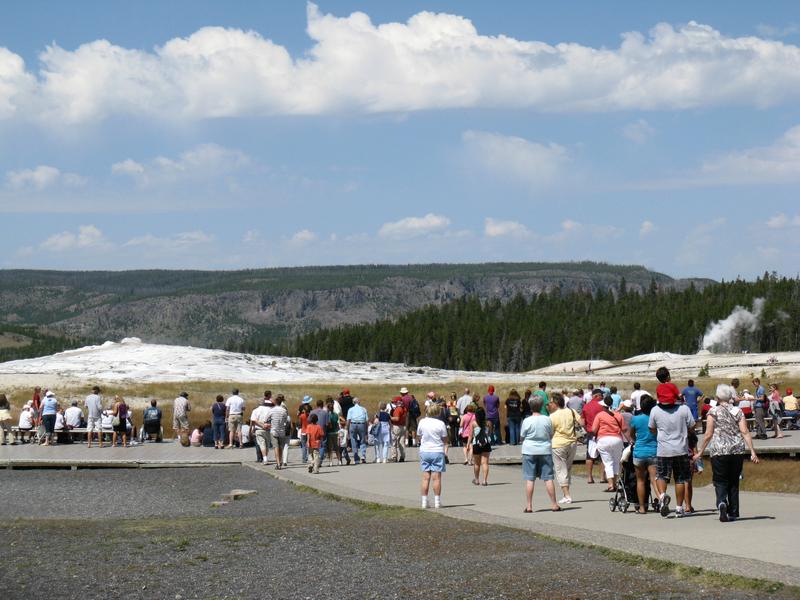 And here it is...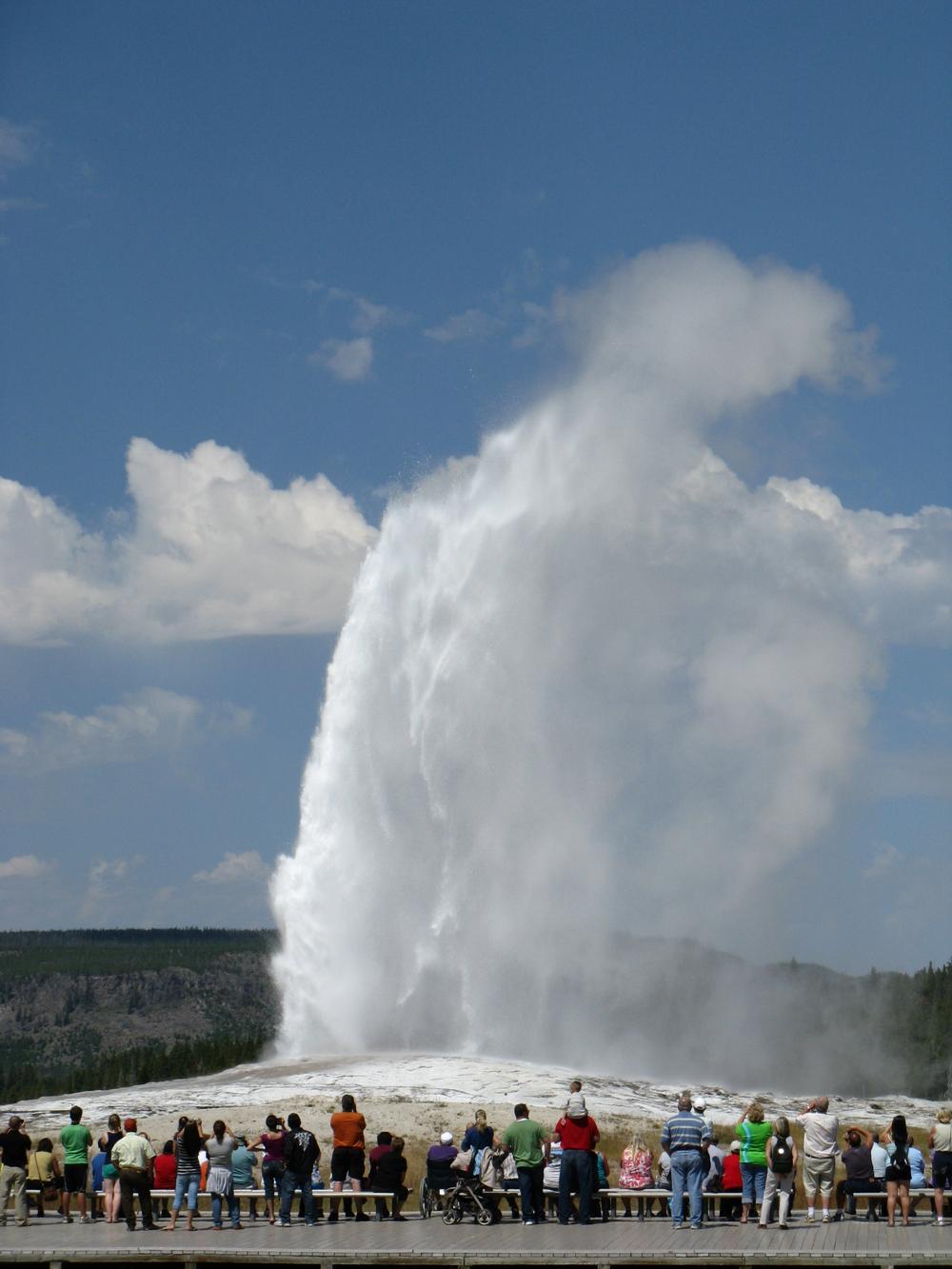 I was surprised that it actually went on for what seemed a few minutes... starting small and then several extended high eruptions and then died off again...
That was that, and I continued my was around toward West Yellowstone... again the scenery was fantastic... and I probably should have taken more photos...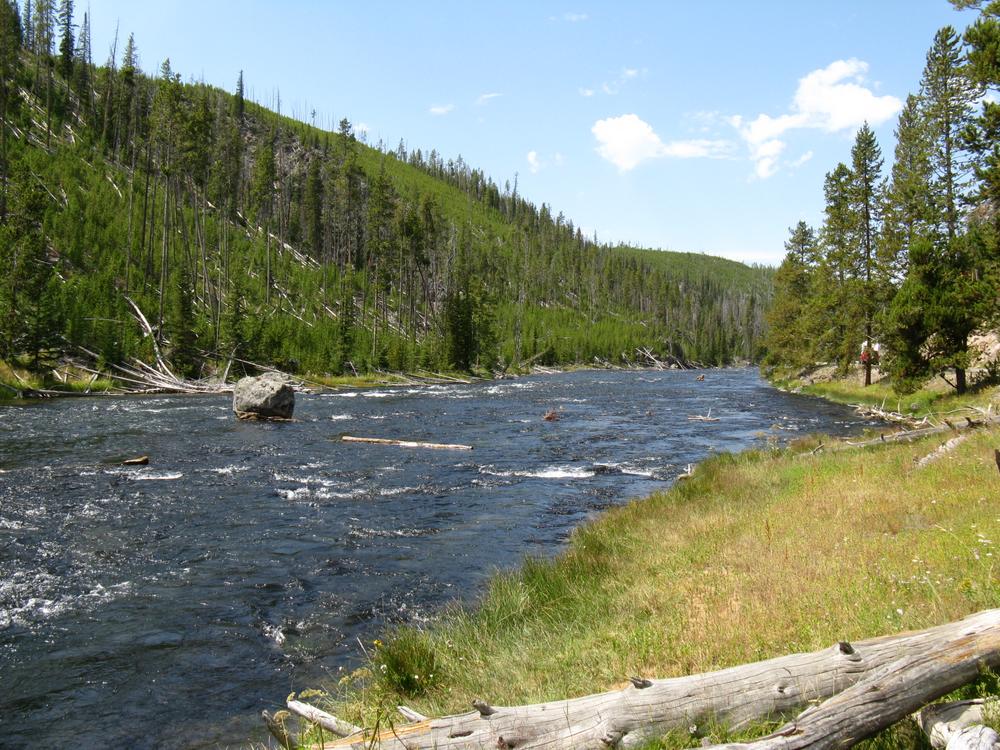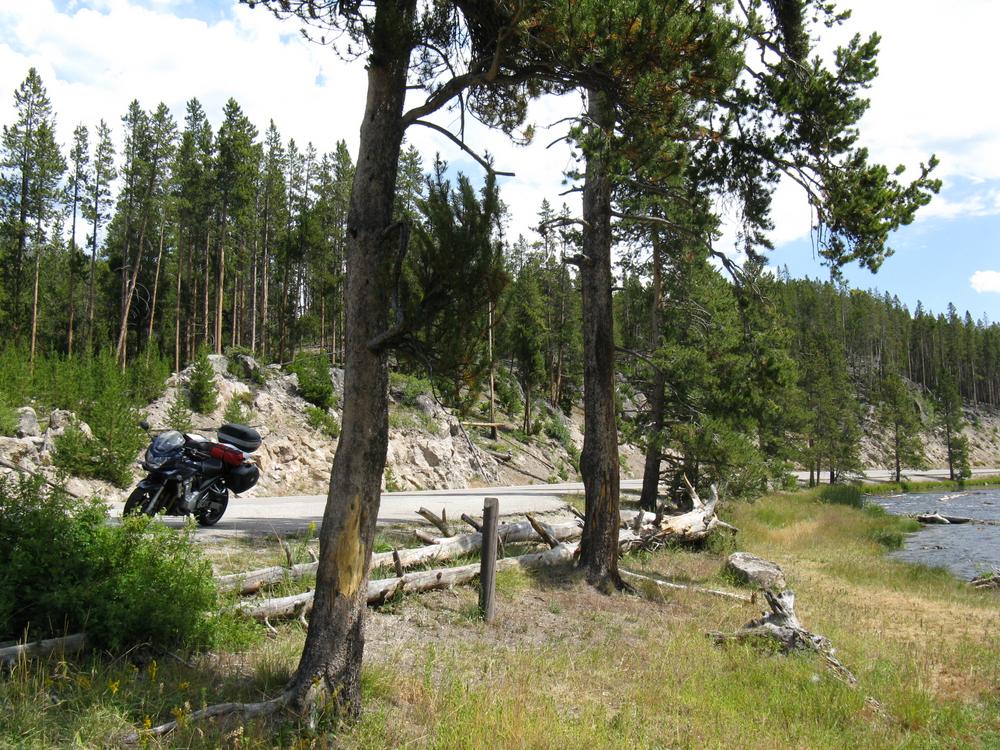 Stay tuned... the day is not over yet... but I figure I better end this web page before it gets too big...