13 Day Trip Northwest 8/09
Day 1, Tuesday 8/18/09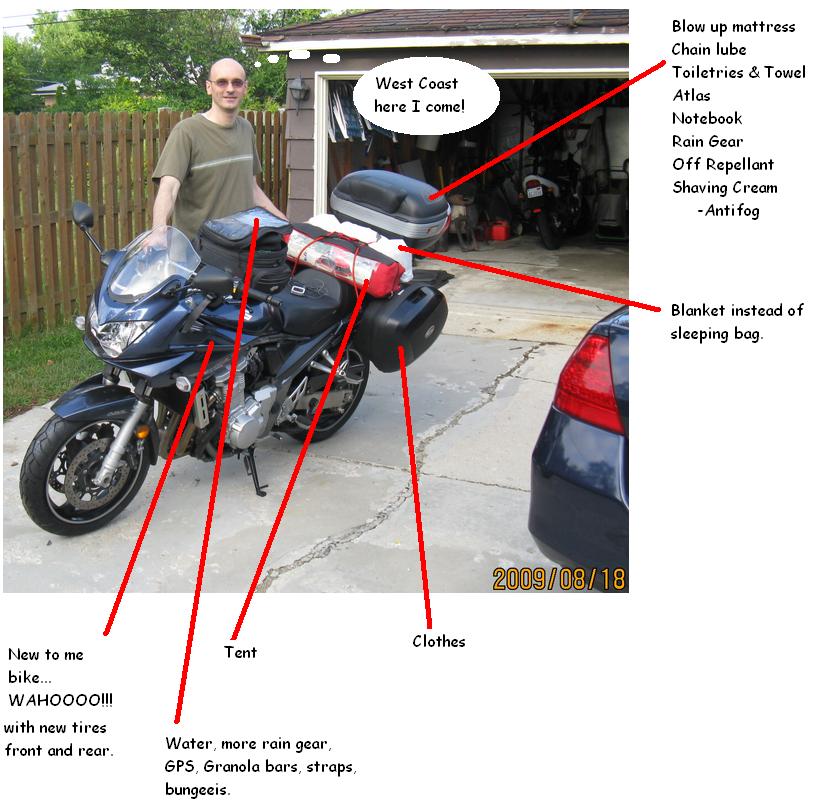 Don't think I forgot anything. Though later I did realize, even though I brought tools, I didn't bring my wrench set. Hopefully I wouldn't need it.
I took a blanket instead of sleeping bag because it was less bulky. I had a blow up mattress, and after all, how cold could it get in August...? Right?
So, the plan was to get out of town and make it to Galena IL, via Savanna, on the Mississippi river, by noon, and then into Minnesota and camp for the night. The actual route went something like this:
I ended up in Waukon Iowa, just short of Minnesota. My wife had told me that thunderstorms were predicted for the evening and next day, and I didn't really want to camp in the rain on my first night of the trip. Waukon was a fairly large city, where I could find a Motel.
The only small glitch in the program was a slight detour on Route 64 in Illinois. There was no marked detour so it took a few turn down some gravel roads before I finally found my way back to 64 and continued into Savanna. Got there about 1:00 pm and grabbed a quick lunch at Dairy Queen. From there I took Scenic Ridge Road to route 84.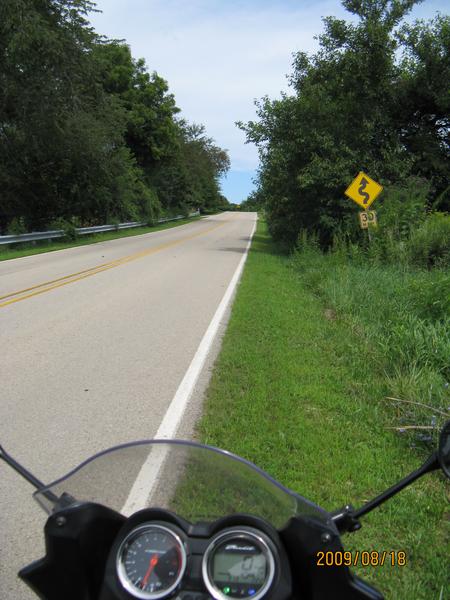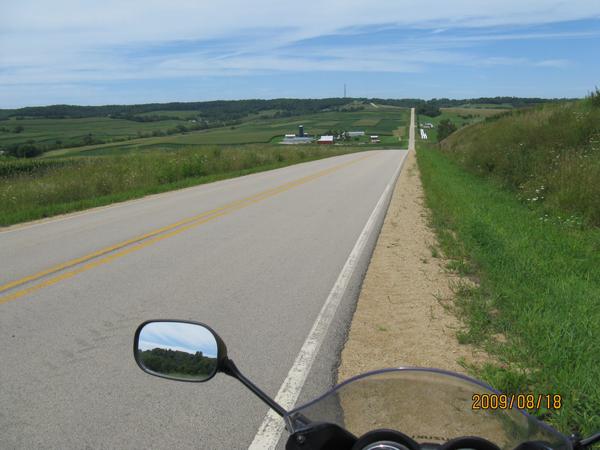 Lots of nice curves, rolling hills, and scenery. Basically the whole route from there to Waukon was very nice. It went 84, 20, 35, 133, 81, 18, into Prairie Du Chein, then crossed over into Iowa, 76 through Effigy Mounds National Monument and then 76.
Here's a shot of the start of 76 through Effigy...
Ended up at the Waukon Stony Creek Inn for the night. Watching the weather that night it actually looked like it was going to be clear in the morning. Best way to miss the storm seemed to be staying in Iowa, so that was the plan for the next day... skip Minnesota and just cut across Iowa. If I went North into Minnesota that would just give the storms more time to develop by the time I got to them.
Day 2, Wednesday 8/19/09
The Stony Creek Inn had a good continental breakfast; cereal, fruit, French toast, juice... so I filled up before leaving.
Day two went something like this...

Actually the start of the route was a little more convoluted due to me inadvertently blocking roads on the GPS, so it was leading me all around until I pulled over and fixed the problem.
The day started out in the high 50's and overcast... brrrrrrrrrrr when you're going 60 mph...
I did hit some pretty heavy rain, but it cleared up by the time I got to Spencer Iowa about noon, where I had lunch at McDonald's. Turns out I did a lot of eating at McDonald's... McSkillet Burritos for breakfast and Southwest salads for lunch; quick, convenient, and consistent quality food.
Came across this interesting town sign...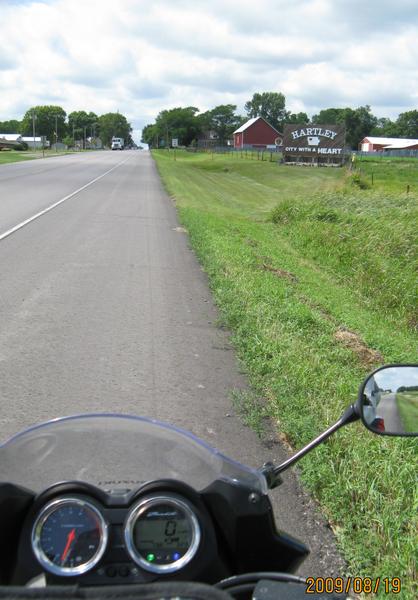 It says "Hartley, City With A Heart"... Anyway, the skies were clearing up and it was in the mid 70's.
And right about 2:30 got to the border... Unfortunately this will be the only border sign I have... I turned around for this one, but otherwise I just kept blowing by them...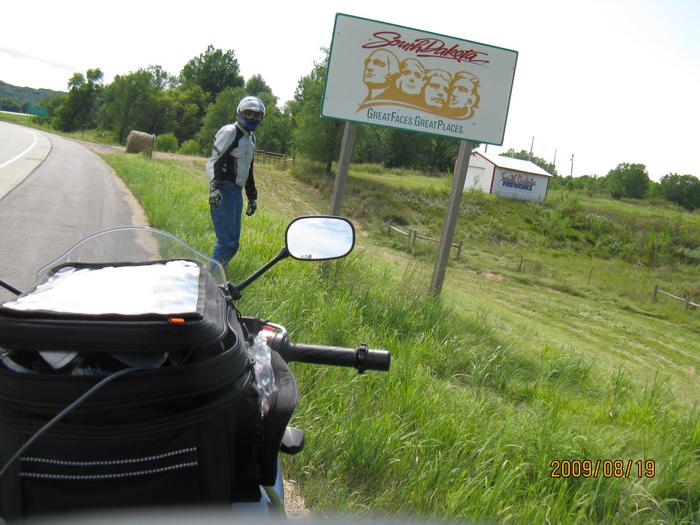 My planned stop for the night was Worthing SD, but as I started heading in that direction there was a huge dark, rain cloud just dumping it's load. Skies were still clear going West, so decided to do another 100 miles and go toward Wagner SD, and camp near there.
This is my GPS playing games with me... sending me down gravel roads when there were perfectly good paved roads around... As I shimmied along this road I would come upon clumps of butterflies... which were then dead butterflies, because I couldn't very well make last minute directional changes on this moist gravel stuff...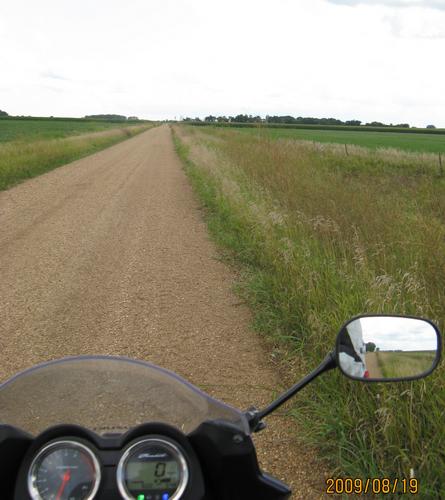 Ahhh... the scenery was getting nice...
I was dodging clouds the whole time to Wagner... but luckily I avoided the rain which was both North and South of me.
Hmmmm... pink roads... not your common Midwest construction...
Not a lot of curvy roads on this route...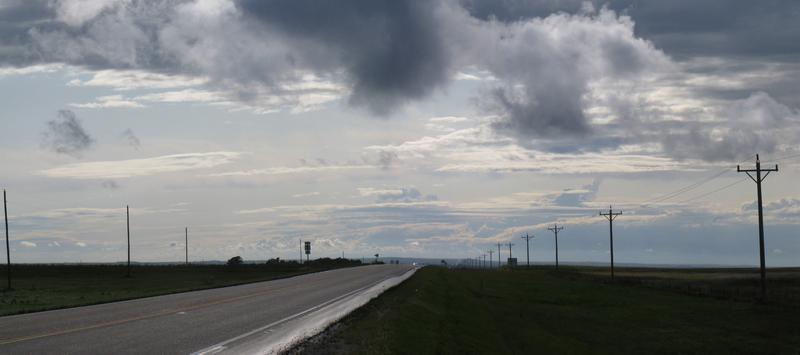 To make a long story short... those clouds in the distance were in the general direction of where I was going. By the time I got near Wagner it definitely looked like it was going to rain, so another night in a Motel... Stayed at the Lakeview... this one was too expensive and had a cruddy continental breakfast. There was a casino in Lake Andes, which was about 15 miles Northwest, so guess they didn't have any problems filling the rooms.
I got myself unloaded and went down the road to the only restaurant in town, where I had a footlong with chili on top. Not exactly my kind of food but hungry beggars can't be choosers. It rained while I was eating and the temperature dropped into the 50's.
Next morning I had my granola bar and a piece of fruit and took off early. Figured I'd get breakfast somewhere else.
Day 3, Thursday 8/20/09
The morning was cloudy, cool, and threatening rain, so I got geared up in my rain suit, both because of the chance of rain and to cut the wind. The route went like this...
Originally I was going to stop in Hot Springs, but I had time so continued on to Keystone. The roads between Hot Springs and Keyston were unbelievable. Curve after curve climbing up and down the mountains... but I'm getting ahead of myself...
These photos were at the Lake Francis dam by Pickstown... taken about 6:40 am... brrrrrrrrrrr...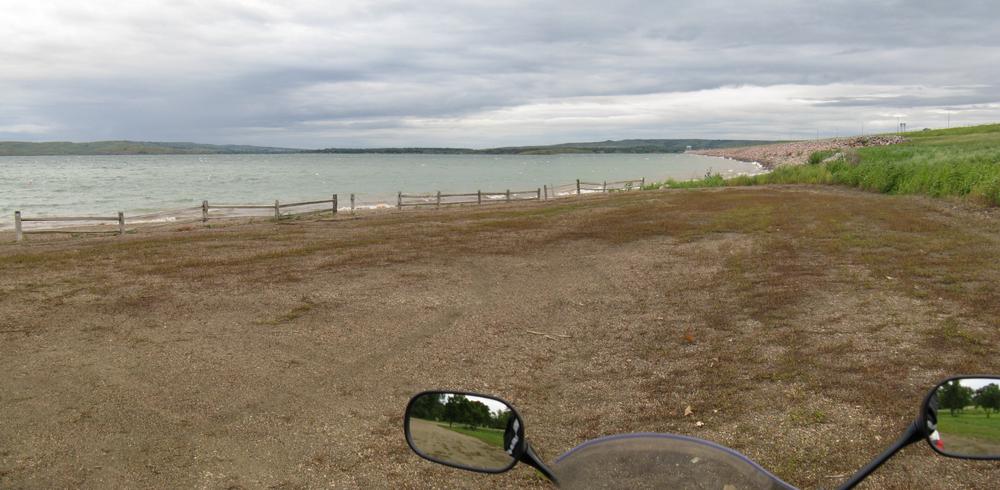 Well, I continued on, looking for someplace to eat... got to Burke (sounds like a noise you make after you've eaten something that doesn't agree with you) but the only cafe was closed. It was right around 8:00 am., I was cold and hungry... so stopped there anyway and had another granola bar and some water. But I was still smiling...
Noon rolled around and things started looking better...
And by 2:00 even better...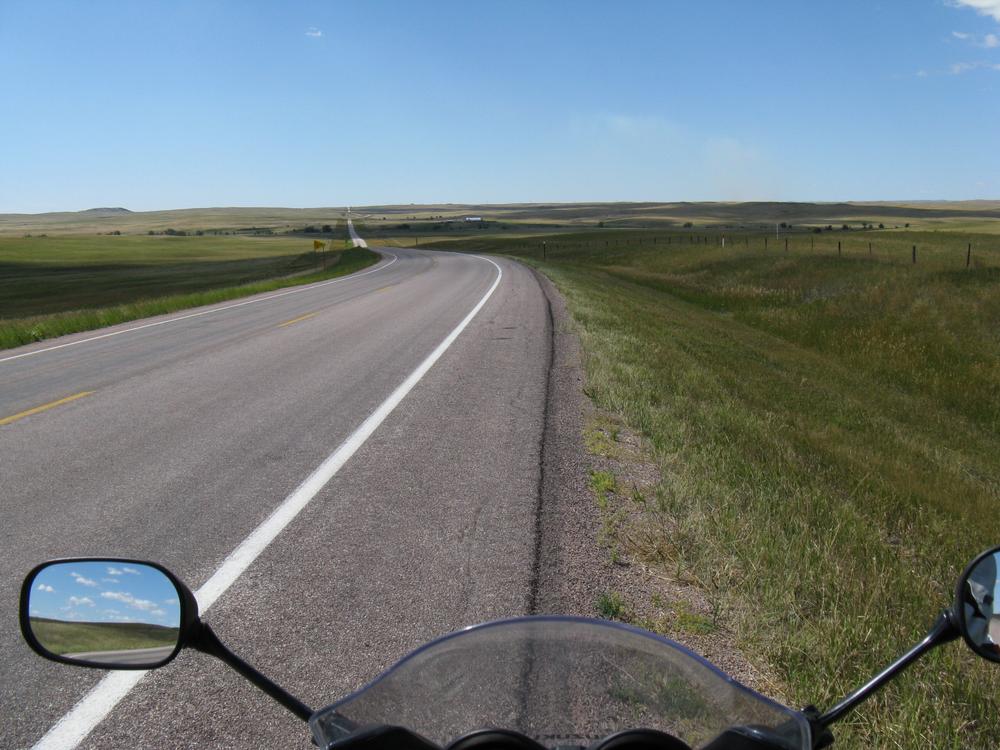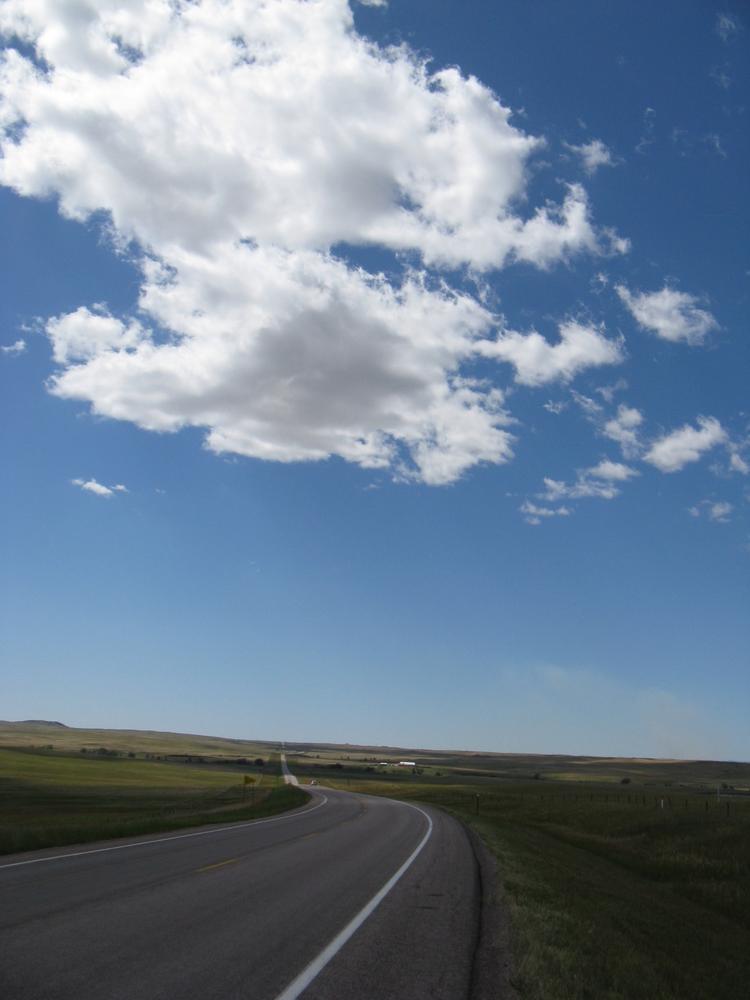 Got into Hot Springs and finally had a decent meal at the All Star Grill and Pub... I must have stopped for lunch somewhere... just can't remember exactly where.
Hot Springs was originally my destination, but I had light and time, so decided to continue on to Keystone and Mount Rushmore. Here's a close-up of the roads...
There's a lot of squiggly line there... it was a blast and the scenery was fantastic... so many photos I didn't take... Like for example the one area where there was a heard of donkeys all over the road and people were feeding them. There were several areas where buffalo were on the road and the cars would sneak by. At one point this big guy made a move like he was going to head butt one of the cars in front of me. Yikes... at least he had a few thousand pounds of car around him... I kind of stayed back from the car in front of me to see what he was going to do... then when it looked like the big guy was preoccupied I went through. Anyway, here's the photos I did take...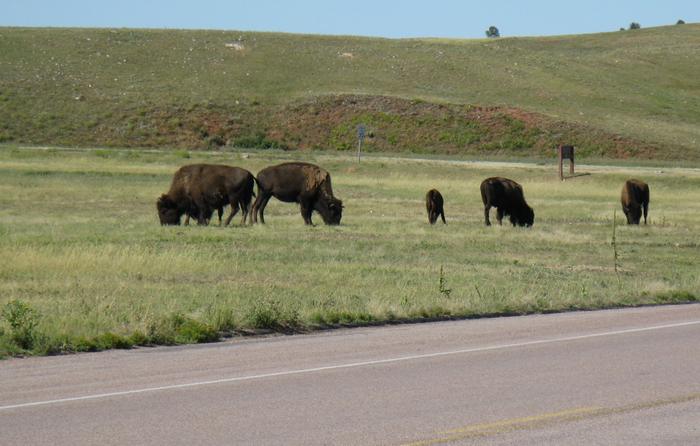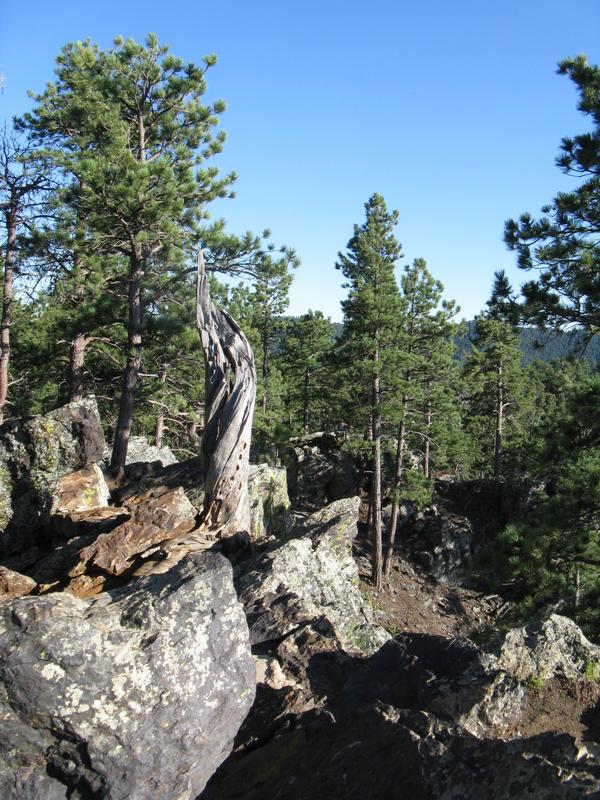 Most of the road up the mountain had some serious drop-offs and no guardrails, and with animals running around I kept my speeds sane... no room for high speed errors here.
In this photo, right behind me, across the valley, is Mount Rushmore...
Can't see it? How's this...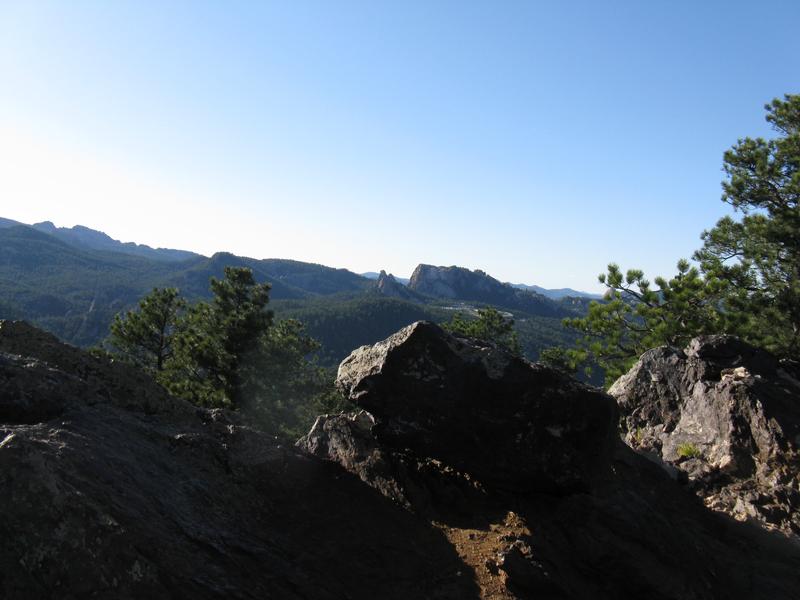 Still can't see it? Ok... here...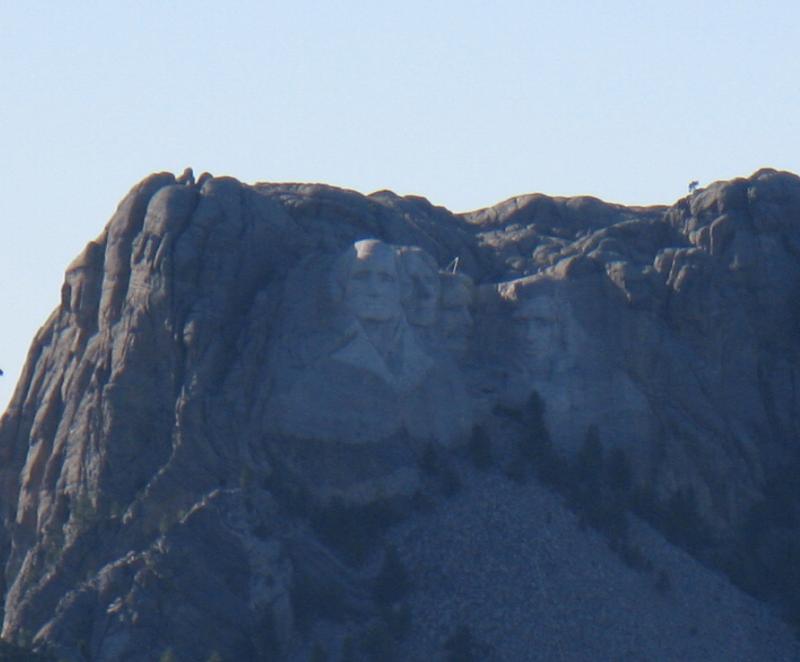 I took that across the valley with my camera fully zoomed in... That's as close as I got, because when I got there I saw they wanted $10.00 just to park and look at it. And they didn't allow stopping or parking anywhere along the road... Pffffffffffft...
Can't say enough about the roads though... There's a wide vehicle warning... some of the areas you went through rock tunnels that only allowed one car at a time... other times the lanes split off so all you had was about a six foot asphalt strip winding through the trees... lot of 15 mph corner... some hairpins you almost had to stop at... crazy.
Well, the only camping was about 15 miles back through the trees, and since the sun was fading quickly, and there were animals everywhere, and twisty roads with no guard rails, I figure I'd better find a room somewhere in Keystone. So ended up here...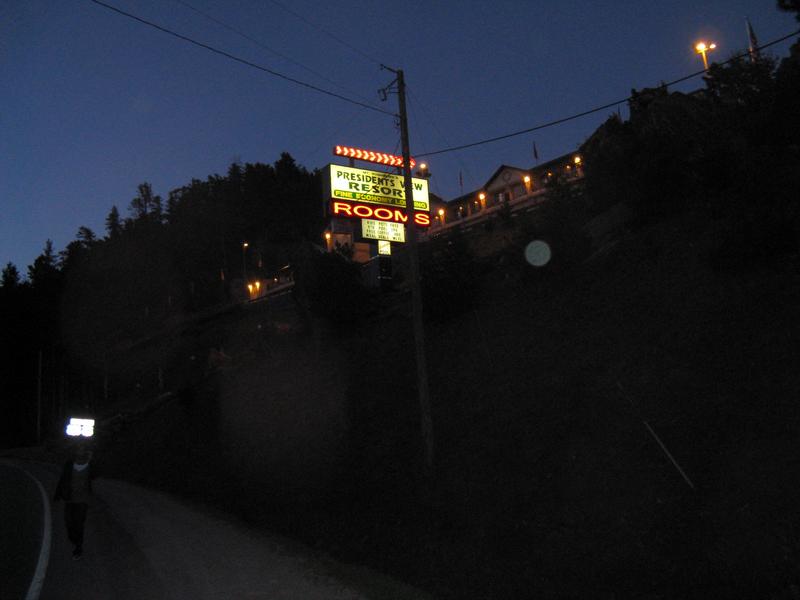 It was set up on the side of the cliff and you had to go up this steep drive to get to it... What attracted me was the big sign which not only read "ROOMS" but also flashed "$49.95". So I walk in and ask the guy... "You got any $50 rooms?"... What are the odds he did? He says, no sir but we do have some blah blah blah... for $68 (that's what the woman in front of me paid). I said no thanks and started walking (I'm not sure where I was going to go... cause I check a different Motel already and they wanted $78... but I wasn't going to go for this bait-and-switch stuff). The guy says, sir, wait a minute, hold on... He goes in back, to talk to his manager I guess... comes back... mumble mumble (so no one else hears him) blah blah blah... we'll give you a room for $49.95. Sounds good to me!
And here is my view of the presidents out my window...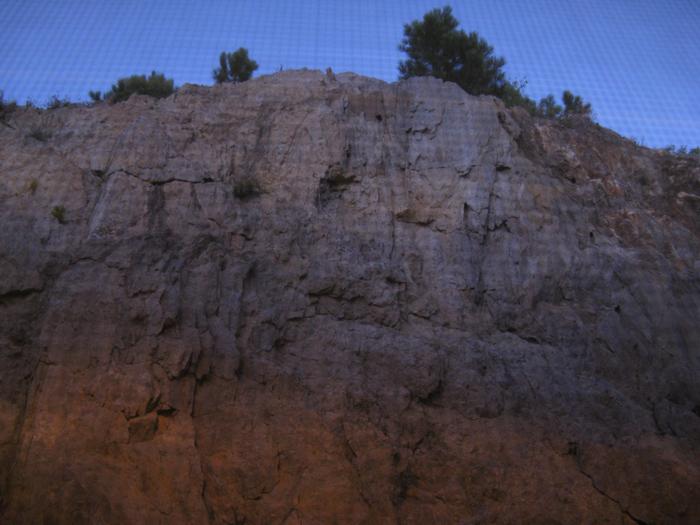 I must have been looking at their back ends or something...
Walked into town and got myself some pie at one of the restaurants along the strip. I think I was the only customer in the place. If you like little restaurants, overpriced boutiques, and overpriced Motels, it's your kind of place... Ok, it had a certain touristy charm.
Got back to the room and watched the weather... Midwest wasn't looking too good... but the West was clear and sunny... Wyoming here I come.