13 Day Trip Northwest 8/09
Day 10, Thursday 8/27/09
Got up early. I had already packed most of my stuff the nigh before so all I needed to do was finish up, load up the bike, and have some fruit and granola for breakfast. My daughter was still sleeping when I was ready to go, so I woke her up and we said our goodbye's. The sun had just come up, so it was still pretty cold...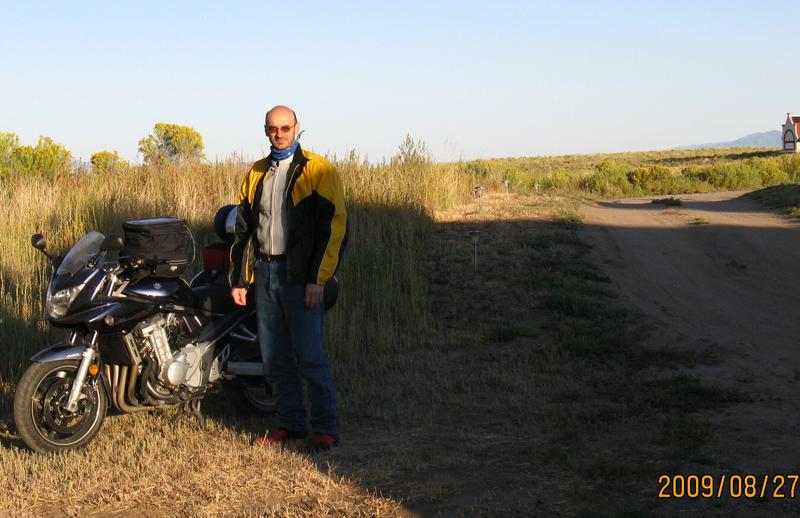 Here's the plan for the day...
Backtrack on 17 and 285 North until I get to 50, 115, 24, to I-70 (Yuck) to camp somewhere East of Colby Kansas...
17 cuts directly through the San Luis Valley... 285 is about the same but as you head North you at least have the mountains in view and Poncha Springs Pass...

In parting from the San Luis Valley / Crestone area I should say that although it is in the middle of nowhere, there are multiple hot springs in the area (including the clothing optional one), Great Sand Dunes National Park, serious hiking trails up the mountains, and plenty of Gravel roads for 4-wheeling (some areas where only 4-Wheel vehicles are allowed). Near Crestone there is actually a resort with a few holes of golf and a driving range... a strange combination... Tibetan monk temples to golf courses...
Whew... I thought it was cold in the flatlands... going through the pass I was watching the wet spots on the road for ice... Coming down the other side was a relief...
Made a bee line to McDonald's in Salida for a Burrito, hash browns, and a hot decaff... and with some more energy and warmth in my belly I continued East on 50... It is a beautiful piece of road that snakes along with the Arkansas river... This particular morning it was unusually crowded with both bikes and cars... if you're in the area it's a definite must do...
Penrose to Colorado Springs is still a pretty nice road, but 50 was bittersweet because it represents the last real twisty road through the mountains... as my journey home is officially beginning... back to the flatlands...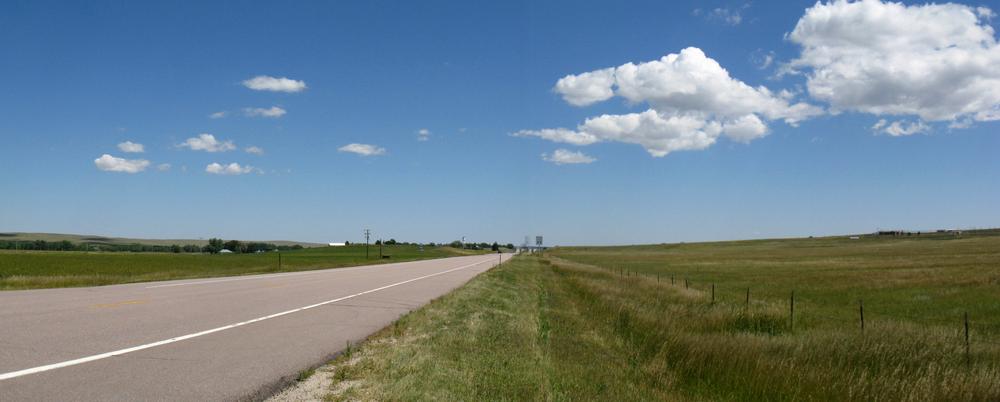 This lead to my second, an longest stint on the Interstate... Man! I hate the Interstate... But, I was doing between 75 to 90 mph...
I was planning to camp just East of Colby, but I stopped cause there was a big sign declaring that the Country Club Drive Motel in Colby was only $35... I splurged and got the upgrade to a Queen bed for $39... Hey, for less than twice the cost of my camp sites, I couldn't beat it.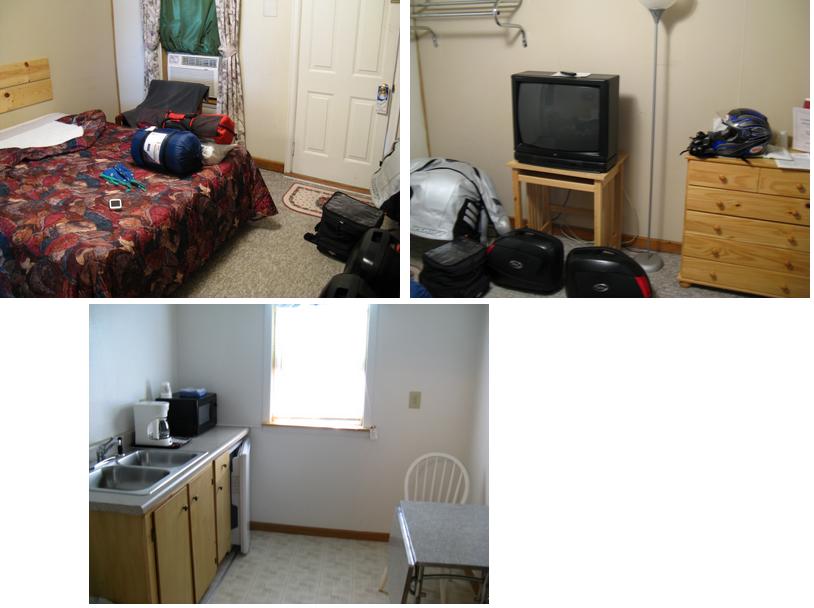 Of course, I could see one of the reasons why it was only advertised at $35. The shower was actually a water atomizer warm wind creator / torture device... I'm totally serious... I turned on the shower and I heard noise and the curtain started billowing... and I felt moisture in the air but I couldn't see water hitting the ground... the holes were so small on the shower head and the water came out at such velocity it just turned to mist... I did find out that if I got close enough to the shower head it felt like I was getting stabbed by needles... You know how Motels get filled up as night approaches... this one didn't... but hey, what do you expect for $39+tax... I'd stay there again...
After I was settled in I went back toward the Interstate (the business district) and found a Quality Inn that had a fancy Mexican restaurant on premises... Ran into a local good-ol boy who asked me if the bike was a BMW... so we yakked about bikes for a bit and then the economy and eventually I broke loose, went in, and had their shrimp and veggies platter and a Dos Exis dark in a frosted mug... Dang, they must have frosted it in dry ice cause it actually froze the top of the beer... The food was outstanding... and I know my Mexican... and the cold beer hit the spot...
Back to the Motel and called it a night...
Day 11, Friday 8/28/09
300 miles on the Interstate... Whew...

Actually I was a little surprised by Kansas... yeah most of it was flat and boring... but it actually started getting hilly as I went further East... I got off near Topeka onto Route 4, and that was downright enjoyable... decent road, decent scenery...
Destination for the night was Wallace State Park in Missouri... I rolled in at just after 5:00 paid my $11 (Wahooo!) and set up camp...
Tell you what... that's the best $11 you can spend... I was the first camp site away from the facilities... and the showers were huge...
Free mushrooms too...
The mushroom wasn't going to do it for dinner so I went 9 miles back to Cameron to find something... Turned out there was a Chinese restaurant with a buffet... for $7.00... pffffffffffffffft... I had everything... AND desert... While I'm eating I'm thinking I have seen that waitress somewhere before... then it dawned on me... You know that move "Clueless"... I think it's a Disney thing... it has one of those blond teeny boppers in it... This waitress was the spitting image of that actress... I told her as much... but she half smiled... I said I was serious... and she walked away... either she wasn't impressed by my observational abilities, thought I was hitting on her, or she just thought I was weird for knowing that movie...
Thoroughly stuffed, I went back to the park... it's actually very well taken care off... and had a short stretch of really nice roller coaster road...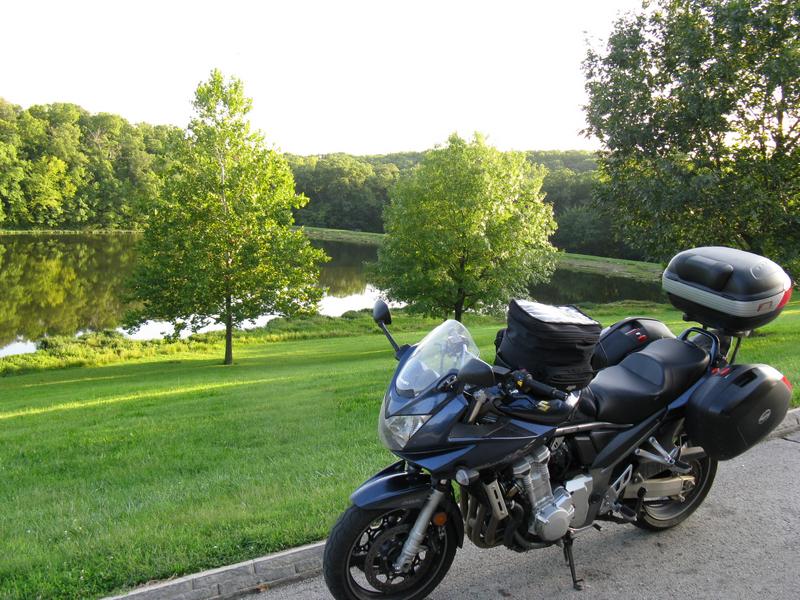 Did my usual routine... showered... planned my route for the next day... took some notes... and curled up in my nice, warm, sleeping bag... surprisingly it was chilly even this far East... Apparently the Midwest was under a cold spell...
Day 12, Saturday 8/29/09
Back roads from Wallace State Park to Peoria IL... I'd had enough of the Interstate... Basically I worked my way down to 24 and than 24 all the way across...
Route 24 is definitely some nice riding...
And sadly... before I knew it... I was across the Mississippi River in Illinois once again...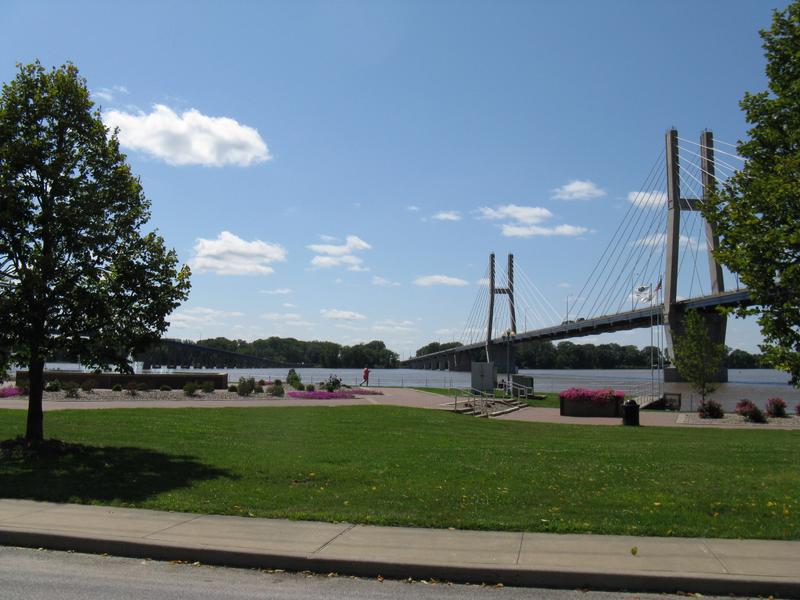 I debated camping for the night... but just kept going until I rolled into Peoria at about 6:00 p.m... Looked up the Motels on my GPS and found a RedRoof Inn (they are pretty much always the least expensive place)... Navigated there and paid my $50 for a room with two Queens... yeah... roughing it...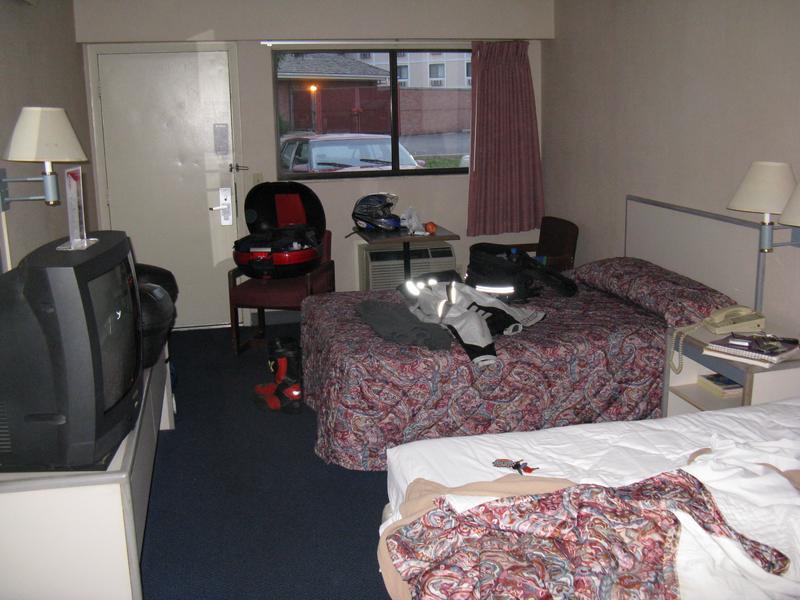 Day 13, Sunday 8/30/09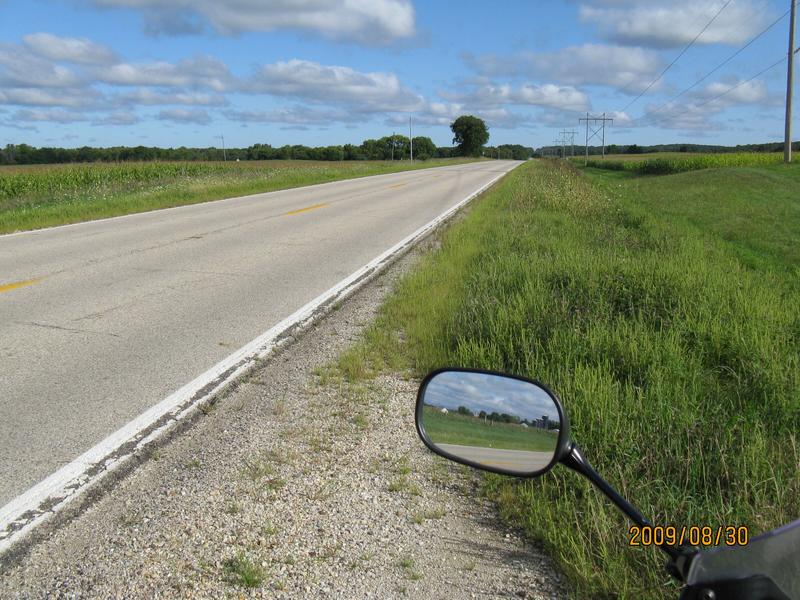 Took the back roads along the Illinois River which was nice and scenic.. then jumped on I-80 for the sprint home (needed to make it home in time for my younger daughters birthday party)... The stretch along I-80 definitely ranked as some of the worst few hours of the trip... the wind was right at me... it was only in the 50's... I was beat...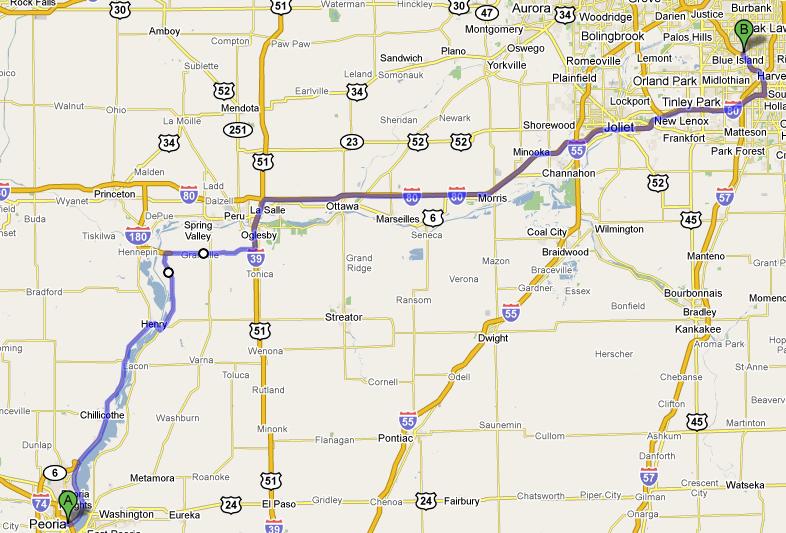 Back in the garage... home in time for lunch...
I found a message on my answering machine from Thursday... nobody checks it besides me... from my boss... says I should call him because they're doing some restructuring at work... Called him back Monday... They're shutting down two divisions and restructuring those two and ours... In other words my division doesn't exist any more, instead of driving 15 minutes to work I'll be driving 45... and that's assuming I apply for one of the new jobs and actually get it... cause there's more people then there is jobs...
Ah well... Even as I type this today, two weeks later, I'm not the same person I was when I left... Something had changed... something was "re-created" ...