Alaska 2010 (Our Asses Go To Alaska)
Thursday & Friday 8/26-27/10
Ok, so Thursday... Destination Homer. Why? Cause it's there... about 220 miles from Anchorage. Don't really have to give you specifics on the route.. cause there's only one route to between the two points.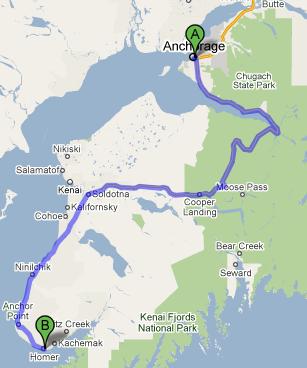 So, as we're driving back Southeast past Turnagain Arm my wife looks out into the water and sees some movement... and here it is:
A tiny ice berg... No... It's actually a Beluga Whale. There were several of them mulling around. You could see the wake in the water... they would swim just under the surface, then occasionally come up, spray, take a breath and curve back in. They were pretty far out, but still interesting to watch.
Part of this route we covered the other day when we went down to Seward, we skipped the photo taking unless it was something new, like this huge slab of ice in the mountains. Is it a glacier... don't know, how big does a block of ice have to be before it's a glacier?
So, all this time we're driving around we see these kinds of signs:
and others which would say stuff like "52 Moose Killed This Year, Give Em a Brake"... Now, you'd think with those kind of statistics, there would be Moose (Mooses? Moosi?) everywhere. Well we didn't see one the whole time we were there... But I got to thinking about it... How can you kill that many Moose? They're not like deer, where they just dart out of the bushes. They're huge and they move relatively slow... how can you miss them... ahhh... I mean.. how can you miss seeing them in time to stop? I think people see them and just run them over for the meat...If I was a starving Eskimo living in an igloo I would.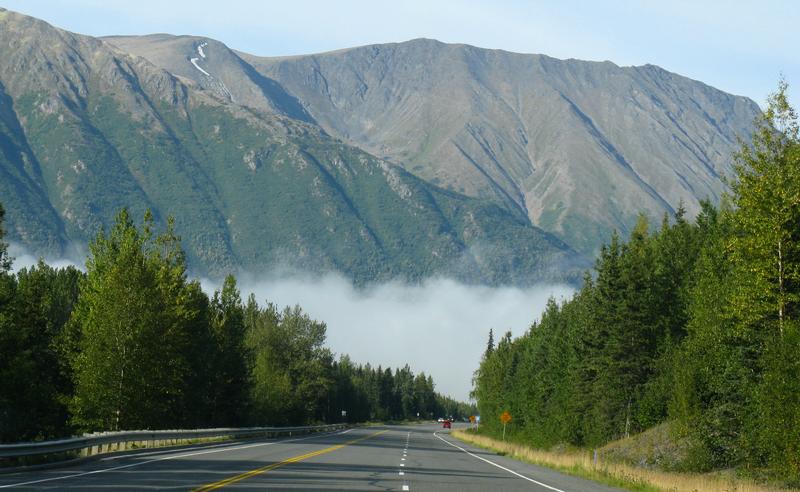 So, as you stay on the road to Homer... you leave the mountains and hit the flatlands... after days of seeing huge mountains it was kind of weird... and how shall I say... Booooooooooooooring... Looks like Wisconsin...
Anyway, as we approached the coast, I saw this off in the distance...
That's actually a volcano way off shore... more on that in a minute. So, as I'm taking this photo I hear barking... I look to my right and there's this dog coming at me. I look at him... he stops.. keeps barking.. we keep looking at each other... and I carry on with my picture taking while he keeps barking... Clearly we understood each other... You stay there... I'll stay here... and we'll be fine..
As I was leaving I snapped this photo of his buddy up on the hill... he was just barking.. keeping lookout I guess... but didn't really care to go through the effort of pretending to charge me.
The good news is we finally saw some bigger animals in Alaska... ya... the dogs..
And here's some info on the volcanoes...
Well.. more boring miles later.. we finally got to our destination..

The fog and clouds conspired to block the view...
But even in the fog and clouds there's uncommon beauty...
Homer is a strange little town... looks like any Midwest small town... with some really strange stuff thrown in... Eskimos gone hippy? Definitely some hippies..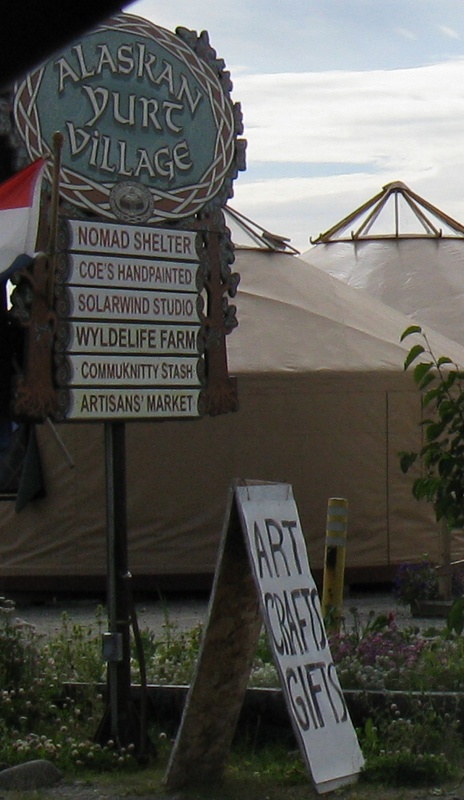 Yurt village?... What's a yurt... ? Modern TeePee...
Found this really cool lunch spot... The Cosmic Kitchen... clearly run by hippies.. It wasn't cheap as fast food places go.. but it was delicious... I had some ridiculous sandwich like an Avocado Bacon Burger... and a Strawberry frosty, which must have been made completely from frozen strawberries... cause it tasted like fresh strawberries.. sweet and tart.. mmmm...
This was a find... Two Sisters Espresso Bakery... definitely hippies... but we got this garlic basil loaf of bread, with huge chunks of garlic, that just filled the air... We happily drove the rest of the day tearing off and munching on the occasional chunk of bread...
Then we came on this... The Driftwood Inn..
These rooms were tiny... I'm talking like 8x10 feet max... weird..
Well.. having seen enough of this strange little town.. we headed back... Wasn't much to see on the way there.. and not much to see on the way back.. at least that we haven't seen...
By dinner time we had made it back to the Turnagain Arm area... and at dinner here... Trunagain Armpit... HAH!!!! get it... Let me tell you, these guys had plans to put of shop here for a while... and if you're in the Anchorage area... make it a point to eat here... That was some good pork... I had mine with a "plank" of bacon... that's right... not strips... but a "plank"... Ingeniously they take several thick strips of pork bacon stagger them with a slight overlap and then fry it until it all just kind of sticks/frys together.. making this crispy "plank" of bacon that they slap on your pork sandwich... Hey, is there enough pork there for you?! What more can I say?
Our asses were stuffed... and when we got back to the Hotel.. all we could do was stare and smell the rest of that loaf of bread...
Flip me over and call me done..