Mexico 12/20/2019 - xxxx

11/25/19
Thanksgiving is three days away, and less than a month until we're on the road again. The plan is to loop the Americas; go down to Argentina via the West coast and back up the East. Once we get back to the US in maybe a year or year and a half, then Europe or Africa.

We, is me and my honey. If you know me then you know her. She's not into social media and likes to live a private life, so, I'll respect her wishes and keep her the mystery woman in my logs.

There was a lot of debate regarding the mode of transportation, probably just as much between me and myself as between her and I. Questions like, what's the goal, see the world or ride the motorcycle; or, after three months and 9000 miles of riding Mexico and Guatemala do I still want to do this, am I up to it physically; or, how much stuff do we need to take and how much space do we need? In the end, we'll be taking two vehicles, my DR650 and an older Subaru Outback. I've also got a towing attachment (not a trailer, more on this later) so the car can tow the bike as needed, which will most likely be most of the way to and through Mexico. As we go further South, to areas I haven't ridden through yet, and the roads get nicer, I'll be riding. For the car, other than putting some spring assist spacers on the rear and setting up and bringing a normal size spare, we'll probably leave it stock. Still debating bringing one of those enclosed rooftop containers, but hey, it's an Outback, not a two ton pickup, so, just as well, we can't take that much stuff.

As when I took off in May, there's mixed feelings and apprehension, though less about borders and do I know enough Spanish to get by!? The bigger question is will be opt out of some countries? We may need to go around some or get through relatively quickly. Venezuela comes to mind on the return trip, but who knows, maybe things will be a bit more stable in a year or however long it takes us to get there. What are we up to now, about 4 million people have left that country? We took a look at the government travel site and there's a whole lot of places in this world that are not recommended. Yeah, what else is new? Maybe if the US and other world powers stopped meddling and sucking out their natural resources, they'd be way better off... so much more could be said... Anyway, we'll play it by ear, and as before, only plan a few days in advance.

And here's how things are looking right now.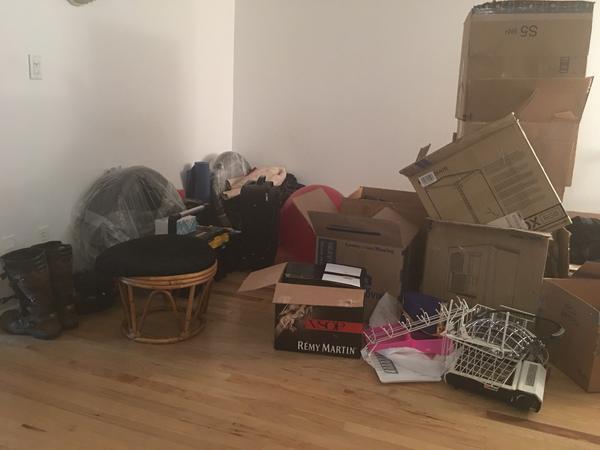 Using honey's place for a staging area (no... we're not taking the ottoman). She's been selling off stuff, giving it away, and figuring out what she wants to pack and keep. Fire Sale!

In the mean time, we just got about 18" of snow here in the Boulder area. Eeeeeeeehah! The car is buried and the bike is sitting in my daughters garage.




Monday 12/16/2019

The packing continues. A lot of the stuff has already been sold off or boxed and stored. The place is looking pretty empty. Some boxes, kitchen stuff, kitchen table and three chairs, mattress on the floor (bed was sold a while ago). Tonight we're going to see Kahlil, my grandson, at his first violin recital (I hear it's a few seconds of playing.) and then we'll have dinner and say our goodbyes. My honey's daughter and fiance are coming over Wednesday to pick up the table and chairs and to say goodbye.

Looks like the weather will be sunny come the weekend, so that's a good start.

Over the last couple months I've been thinking about how to deal with a car and a motorcycle. Don't want honey to have to pull a trailer all the time, not to mention the extra licensing, title, registration at the borders. But it would be nice to be able to tow the motorcycle for the long and boring stretches, and basically most of Mexico since I've ridden so much of the country already. I found the MOTOW and a few devices like it, but MOTOW is by far the better design, vs. a similar unit that's all over E-bay, Amazon, and Walmart for $100 and not worth 50 cents! So, bit the bullet and bought a Motow.

Had to do a little modification to the bracketry to get some clearance at the bumper and took it for a first tow from my daughters to the departure point in Boulder. It's a neat design, meant to have the rear wheel in the carrier that slips into the hitch receiver. It has a hinge so follows just like a trailer. Also, lowers and raises with a screw.




Then on the front it uses straps on the handlebars to lock the bars in place so that bike tracks straight.




The bike does lean a few degrees and sway a bit from free play, and after the first few blocks the bar straps loosened, which had the front wheel doing a shimmy, but once I retightened it, it seemed to be ok. Since then, I've bought some heavier straps I'll use. Talked to the manufacturer and they recommended a hitch stabilizer, which is on order, to knock down some of the swaying. Talked to them enough to get some more confidence that this thing will actually work. They sent me a photo of a guy hauling a Ducati with hard bags and two tires on it, for thousands of miles.

Also figured out a way to rig up some lights on the front of the bike, so that people following me will have more than just a couple small flags. They are magnetic mount and the bike's reflector brackets are the perfect place for them.

Just have to drop off a few more boxes at my daughters house in the next couple days, and we'll be ready to go. Thursday night we'll be sleeping on a yoga mat and a blow up camping pad! Some guy is coming for the mattress. No place to live, minimal stuff, a car, the motorcycle, some food, pots and pans, some clothes, some shoes, and that's it. The journey continue.

12/20/2019
Alright, and we are off again!

Morning of the 20th, got of out Dodge. Made our way south toward Colorado Springs, stopped for a short hike up to the Castle Rock in ahhh... Castle Rock... then took a walk at Garden of the Gods and continued on to our digs for the night in Alamosa CO.



With the stops and the hiking we got to Alamosa after dark. Where apparently they had temps in the negative double digits last week... as in -40??? Guess it's one of the coldest places in the country. All of a sudden, towing the bike to warmer climates didn't seem like a bad idea!



In the morning it was in the negative single digits. Loaded the car back up, took off the bike cover, and cable locking it to the receiver and took off for Aztec NM.




So far the towing arrangement is working well. The handlebar and the mirror visible in my side mirror was my indication at all was well with the bike. Some beautiful scenery along the way.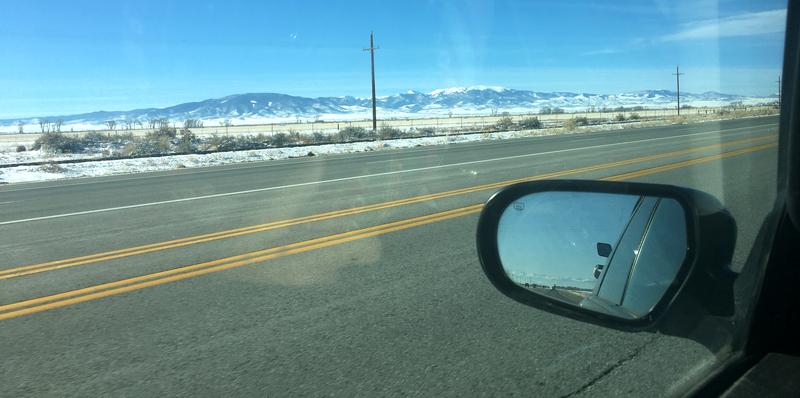 Stopped for gas in a little town called Pagosa Springs. Local guy came over to check out the towing arrangement and we got to talking bikes. He told us about the hotsprings just down the road... so... Pagosa Hotsprings it is! Situated right next to the San Juan River in Pagosa. They have pools from 86 degrees F to 110 degrees F. So we bounced around for a couple hours among the pools. I also took a wade into the river. Not very deep this time of year, but cold has heck. After about 20 seconds I couldn't feel my legs any more... So, back into the 106 degree pool! If you're in the area, it's a must do. Apparently Pagosa means Healing Waters in native American... High sulfur content, along with other minerals. At $26-30 per person (bring your own towel or pay +$4) it aint cheap, but you can stay there all day. They also sell drinks and food right in the pool area.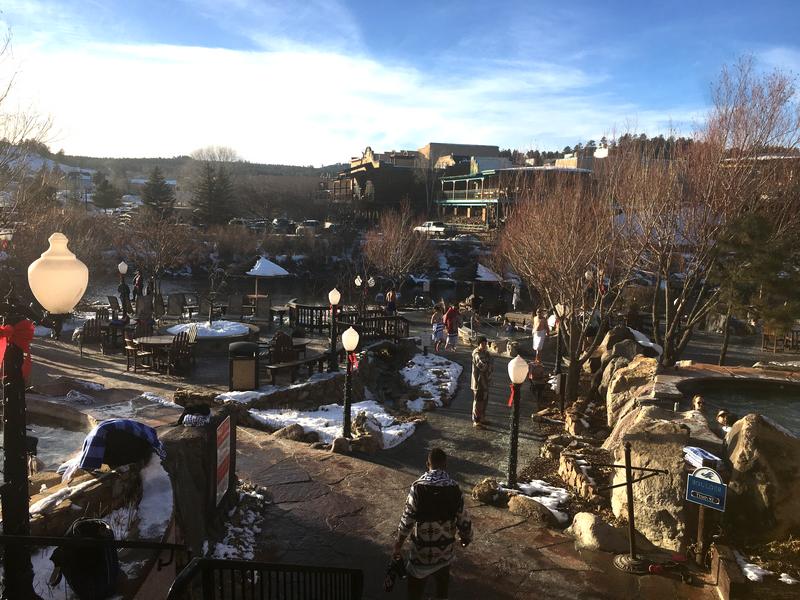 After getting thoroughly steamed, we finished off the days drive. Yup, definitely have had worse days!

That "fog" in the distance is actually smoke. Something was burning, not sure what. Maybe a controlled burn.




12/21/2019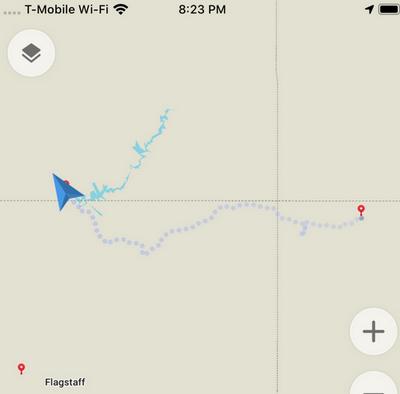 Aztec NM to Lake Powell area. About 260 miles.

Before taking off for the morning we took a couple mile walk from where we were staying to the Aztec ruins.



All the doors were less than 5ft tall...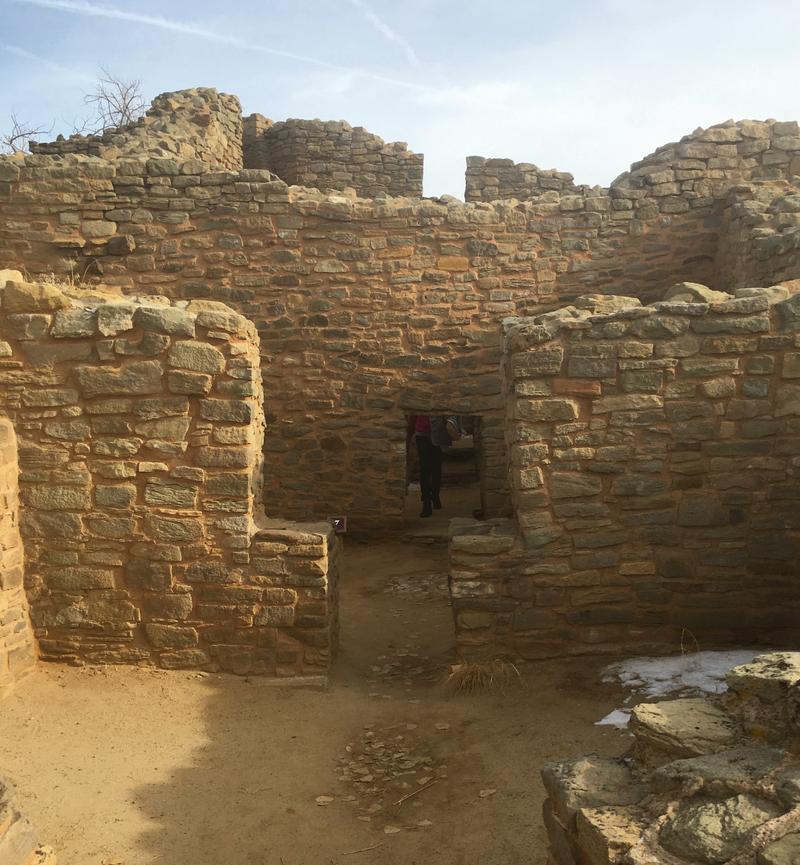 Pretty complex layout. Multi level condos made of stona and wood on the outside and then a large central meeting area in the middle of the city.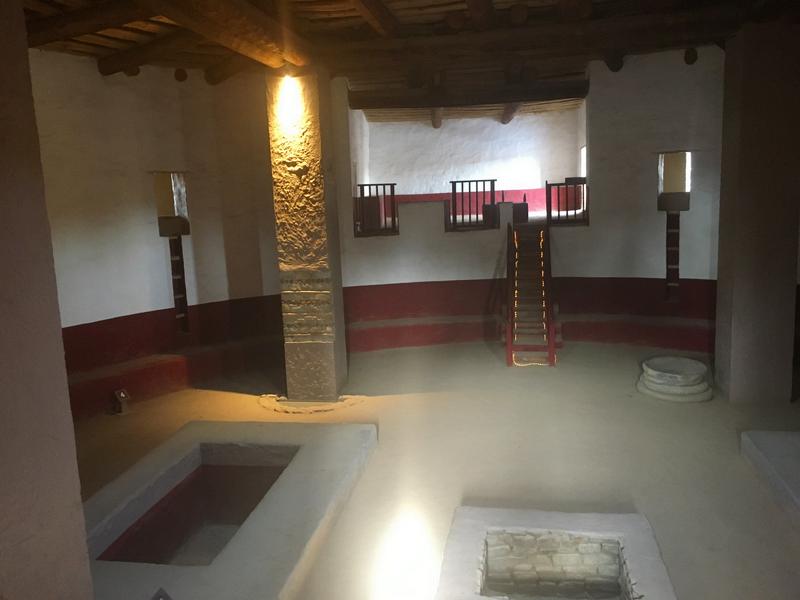 One of the main corridors, half under ground. Very cool in there. As you enter each section there are additional passages to the left; living quarters. Took decades to build.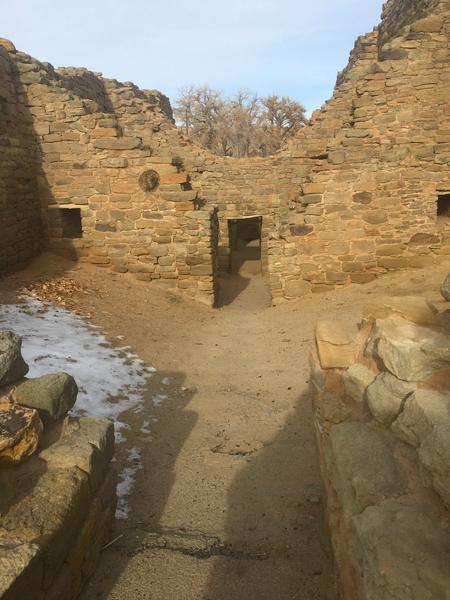 Then you gots to grind the corn to make your corn flour so you can make your tortillas...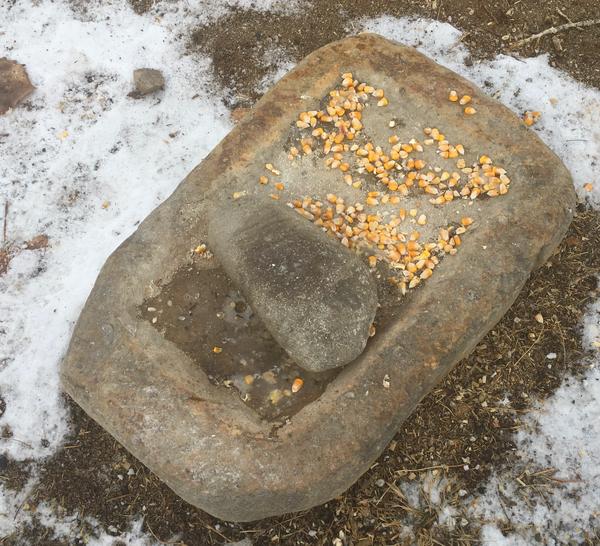 Got ourselves back on the road. Some pretty nice scenery along 64 and 160 headed West. A desolate beauty.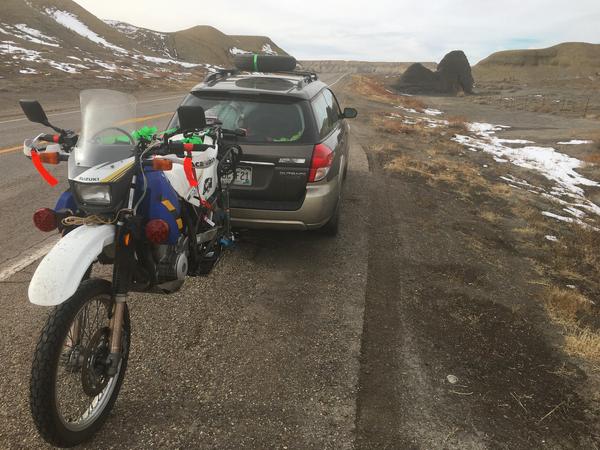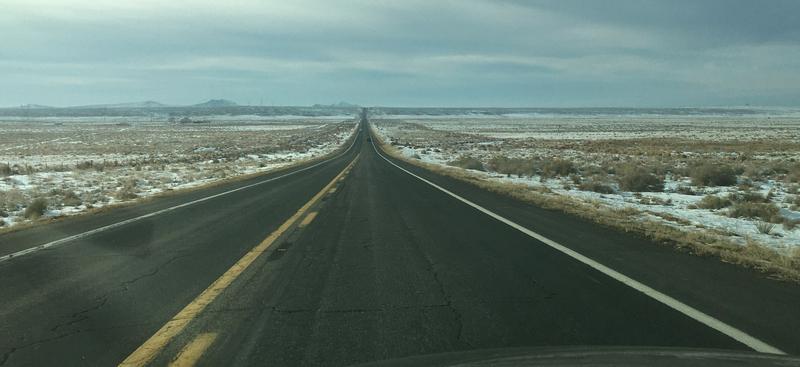 Planted for a couple nights. We'll see what we can see around here tomorrow.

12/22/2019

So, near Page AZ apparently are a few slot canyons. After doing some research, picked Waterholes to go see, which is about 2 miles long. Compare that to Antelope which is more expensive, more crowded and only about 200 meters long, and Waterholes is a clear winner. Use to be you could just buy a permit from the Navajo and take the tour yourself, but no more. Now, none of this is cheap... About $58/person for a 1.5 hour tour. They drive you to the start of the Canyon, and you hike back to where you took off from. It's private land owned by a Navajo family. Our guide was 20 years old kid. He knew his stuff and answered all our questions. Pretty straight forward. There are definitely some tight areas, and you have to shimmy down some ladders.

Honestly, I was a bit ticked that I couldn't just go hiking on my own. Felt like I was getting shafted. But I considered it a donation to the Navajos, for chasing them off their land. I also learned about the Long Walk... where the US basically made the Navajos and other natives migrate across three desert states back in the 1800's. Many of them died in the process.




Yes, this is actually a walkable slot. At the bottom is sand. If there wasn't any then you would literally be walking on two walls that come to a point. When it rains, the rain quickly builds up and rushes through these canyons at huge speeds. The water can actually remove all the sand. If too much sand gets removed then the slot's have to be refilled by dumping sand from above.




This was at the end of the slot, and goes to join the Colorado River.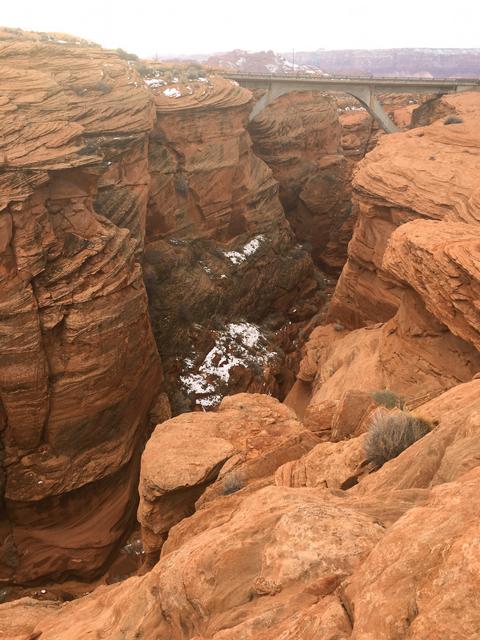 And the Colorado River right after the dam.



The dam.




Overlook onto Lake Powell; Glenn Canyon Rec. area.




12/24/2019

Merry Christmas Eve!

The day started out a little foggy and got worst from there, but there were definitely some bright spots! Holed up for a couple days in Williams AZ, on historic route 66.

This was 89 headed south out of Page AZ... snow on the ground, fog in the air... winter wonderland!



Stopped at this place called Cameron. Selling all sorts of Native wares. Check this out, a manual loom (is that what they call them?). A little old native lady was working on it, says it will take her about a year to finish... The smaller rugs on the wall sold for thousands, so I'm guessing this will be about $15-$20G's

There was a basket there that took a year to weave, price... a cool $15,000...
They had sand art and pottery... butt-load of jewelry. Good thing we don't have the money or the space in the car!



They also had a post office there, so mailed off a couple post cards to the grand-kids, and conversed with the nice lady working the counter. She had hair down past her butt, said she was thinking of cutting it cause it's heavy... Me being a near cueball, have no clue how that would feel. Does your neck get tired?

Also had a restaurant there, so we shared a vegan Navajo taco for lunch (you can have it with Muton I think). MMMMmmmm... Beans, veggies, on fry-bread (yeah, bread that's fried instead of baked). First Navajo taco ever. If you haven't had one... find one. There was a restaurant in Page (Steer89) that was suppose to have them, but they were closed, so this was a nice surprise...



So, after our taco, we proceeded on toward the Grand Canyon... Yeah... things didn't look so good.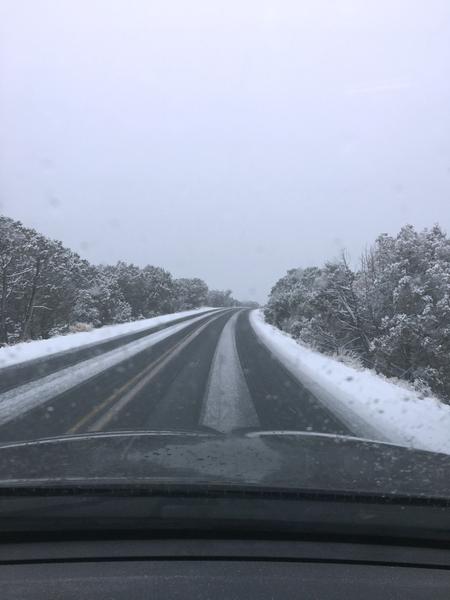 We got to the gate and they told us only part of the road was open, and we couldn't get to Williams that way, so had to turn back around. Got out of the snow, but as we got closer to Williams, more of the same.




Made it safely to our Motel, motorcycle still attached! Though definitely in need of a wash when the weather clears up in a few days and we head further South.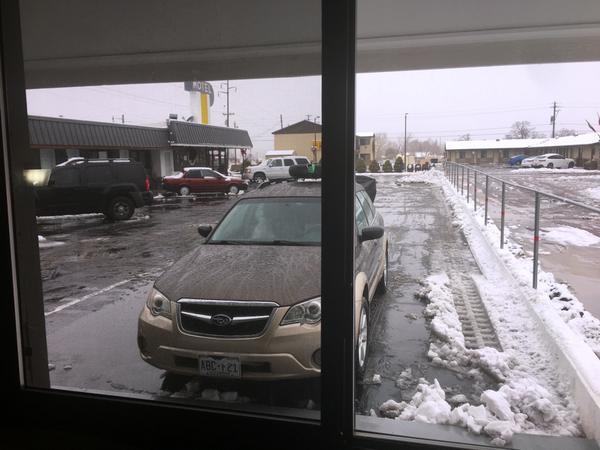 And why is the Subaru sagging in the rear, cause we didn't bring the kitchen sink, but we brought the stove and kitchen! Making Christmas Eve dinner... Rice, salad, some home made sauerkraut... Honey, pass the Soy sauce, would you? Where's the granola?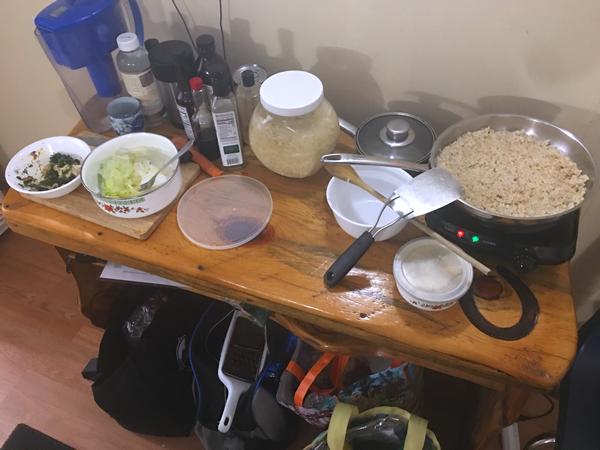 12/25-12/16/2019

Two nights in Williams was a good idea. Got another snow storm the second night and clearer skies in the morning.

Took a walk down main street (Route 66) during the day. This was a tree in the front yard of some motel. Definitely get the prize for largest decorations!



And this was the state of affairs this morning.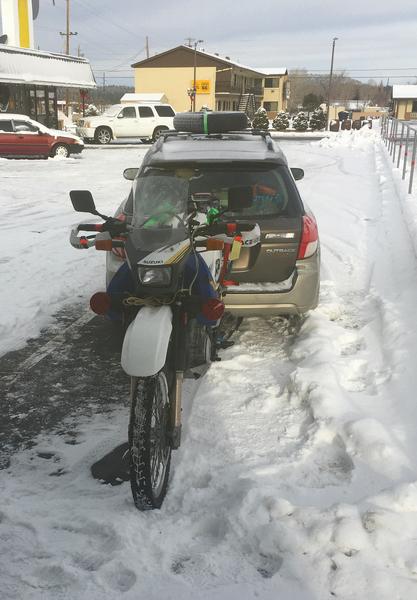 In Phoenix for the night, where it's a balmy 61 degrees... and NO snow. Head for the border tomorrow!

12/27/2019

They grow some big cactus down in Southern Arizona and Northern Sonora!
Took an short hike through Organ Pipe Cactus National Monument. The stats on these big cacti are crazy. Takes them until they about 75-100 years old before they start growing their first arms. They get to be 30 ft tall! They bear flowers one day out of the year and then produce fruit.



That's about 8 miles from the Mexico border in Arizona. And figured that it was time to pull the bike off the MOTOW and ride through the border. Given that I only had about 6" of ground clearance while towing it, and knowing that Mexico has those speed bumps (topos) everywhere, the towing was over for now, unless I lift the rear of the Subaru.





Well, the border at Sonoyta was not much of an issue, at first. Jabbering back and fourth with the guy giving us our tourist cards went on for a while. But the Banjercito was about 17 miles down the road, so on we went. It was in the 40's and started raining, so put on the full rain gear, turned on the heated grips and heated vest, and we went on our way; me on the bike, honey in the Subaru. Took hours to get the Temporary Import for the Car, because it's a Colorado salvage car, and Colorado gives you a title with a Colorado assigned IDCO instead of the Vin number, and the car actually has two VIN numbers (cause it was pieced together), but people want the VIN number, they don't want some IDCO, so it took conversations, phone calls, looking through manuals, talking to three different guys, taking pictures, and so on. By the time it all got sorted out it was dark already and we were still two hours from our destination... So, riding in the dark, in the cold on unfamiliar roads... sketchy. At one point there was a construction site, where basically part of the highway was missing... just a mess... literally craters, washboard, mud... and sharing it with semi's. Luckily it was only a quarter mile or so, or it wold have been even a longer night. Finally made it to our destination at 8:30... File that under "don't ever do that again!". Next border, get there early, and leave plenty of time!




12/28-29/2019

Took a walk around parts of Caborca and came across this. It's a depository for bottle caps, because apparently caps are not generally recycled when plastic bottles are. What do you do with all these caps?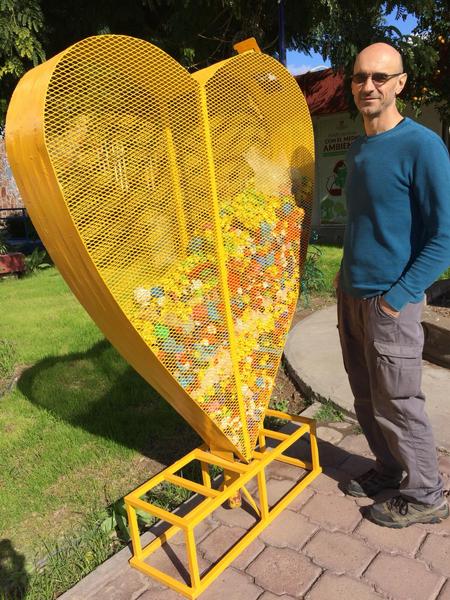 You stick them to walls to make murals pointing out the need to stop polluting the world... pretty cool..




This morning in no hurry to head for our next destination. Struck up a conversation with a young Mexican guy that had the room next to ours. He's been riding for three days shooting to get across Mexico, on his 200cc bike, all loaded up with gear. Said it was cold. I bet, hitting low 40's at night, and he came in late. Even with heated gear and heated grips I was getting cold the night before. We said our goodbye's and honey and I took off. Brisk morning, still needed the heated vest and grips to stay warm.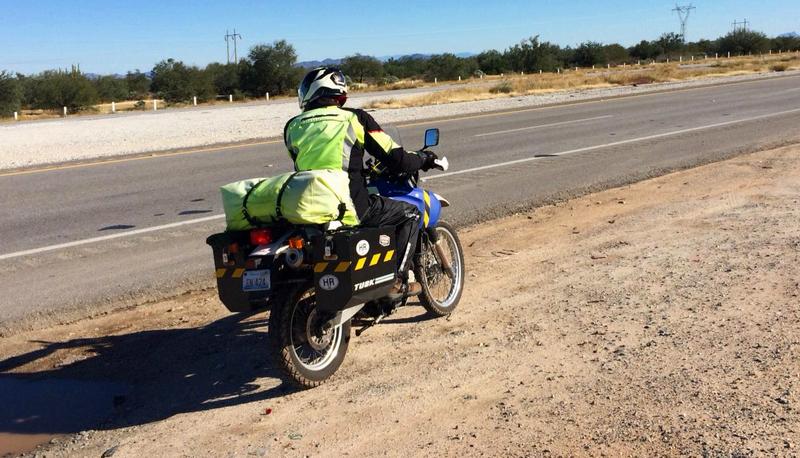 Not much going on here, four lane split highway... snooooooz...





Some three hours later we got to our next destination and what was supposed to be our Air B&B for the night. But I got a message from the guy saying, sorry I don't own that property any more... great. So, we looked up some hotels for the night... And here's what $18 dollars gets you in Mexico... A two story with a garage on the bottom, big enough for the car and bike and room to spare, and a room with a king size bed on the second level... S-weeeeeet... Made some phone calls, made dinner, and plans for the next few days...

And yeah, that's a line drawing of a naked woman on the shower with the see through glass and blue light... Ha!



12/30-31/2019- 01/01/2020

We had a really great place in Mermosillo. Cristina the host was very nice and friendly and we muddled through a conversation regarding New Year's eve celebration. She made some recommendations regarding restaurants that were having New Year's Eve dinners. But we didn't bring any dressy clothes, so Cristina offered to have us join their family. We agreed and she'd let us know what time to come down (we were up on the second floor of the house). On the 31'st they stared with music early and the evening rolled on. Finally at 9:30 she said we can come down, that dinner would be there in an hour. Eating dinner at 10:30 at night?... We had eaten dinner, and we were getting tired. I thanked her but said we were going to go to sleep. Music could be heard from downstairs and around the neighborhood until 3:00 in the morning! So, didn't sleep great but enough.

View from the rooftop.



While down below someone was laying on the deck doing her nails... Yeah, it was a rough couple days...



Well, the bottle caps recycling is a step in the right direction, but still got a ways to go to get things cleaned up...



Took off from Hermosillo this morning for San Carlos, which is just far enough from Guaymas (which is the more popular spot) to be not near a big city...

Yeah, not much going on on the way there. More four lane highway, though brand new and grooved concrete; 15 headed south.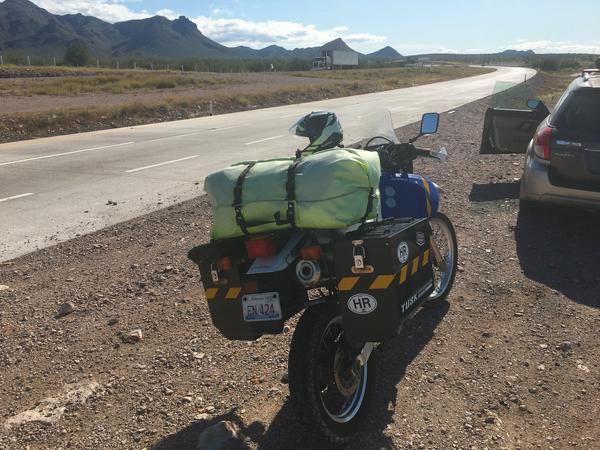 Got their early and got checked in. Girl at the counter speaks poco Ingles, and I speak poco Espanol, so checkin was smooth and easy.




Got our stuff in the room... Nice view from the sliding glass back door, with a path to the pool... and all for less than a Motel 6 in the USA.




Took off and headed for the beaches, which are just across the street from the hotel. Walked around a bit and got the flavor. Yup, that's a lot of beach, and practically empty. There were quite a few people making a ruckus in one of the grass roofed restaurants. Feliz Nuevo Ano!




Tons of shells everywhere, about 70 degrees, with a steady West breeze, waves lapping at the shore. Yup, it's going to be rough here for a few days!



There's also a small Canyon just North of us, so will do a hike to check that out, and see what else we can turn up around here.




01/02/2020

Got up before dawn to try and catch the sunrise, but the clouds hid it on us..




Took the main road out West to see where it would take us. Came to a Mirador with a really nice view.



Hiked down the hill into the bay area, wandered around and climbed some of the rocks along the edges...



Took the road all the way to the end. Ends in a dirt road leading to a tiny poor town, where they're obviously trying to attract tourists, not sure they're having much success..

Bought some groceries at a couple of the food stores in town, got back to the hotel and ordered lunch from Arbolitos De Cajeme Restaurant... Deep fried fish... they make cuts in the fish on a crosshatch pattern, on both sides, then dunk it in oil, so that you get chunks that are fried crispy on five sides and are flaky in the center... with some rice, a stack of tortillas, a little salad, some sauces...