Friday 5/14/2010
So, there was really no grand plan here. There were just over 20 people and we split up in multiple groups, going whereever we felt like it. I had really enjoyed my route Thursday, including the Cherohala Skyway... which is most of the southern section of my big loop, and of course I wanted to go by the Dragon from the South, so taking the Cherohala was the only way to get back there in a reasonable amount of time. I rode with my buddy Steve from Buffalo Grove and his cousin "Dadoo" from Indiana. A group of about six riders had left before us, headed in the same direction. So here's the basic route and a close-up of the business end of 129:
By the time we got to Sweetwater at about 9:23 it was time to shed some gear cause it was was already hot and humid:
Next stop was about 10:00 just short of the Tellico Ranger Station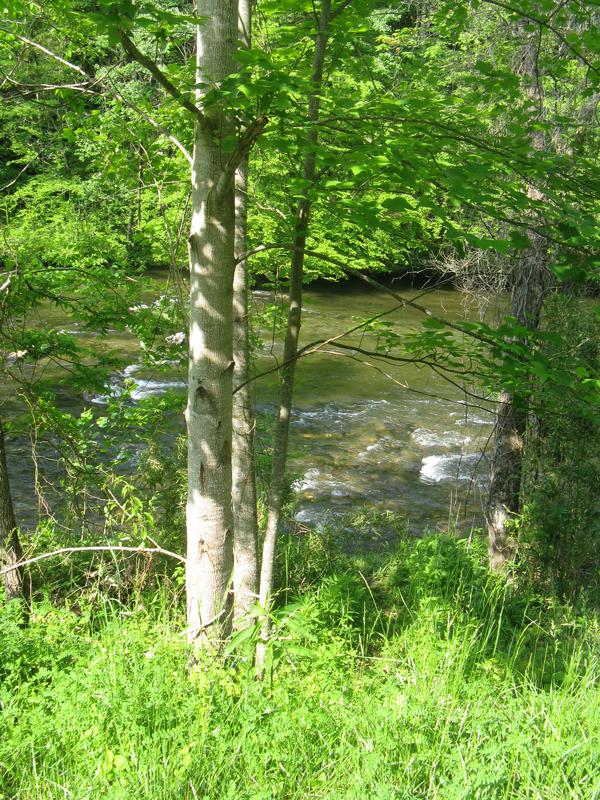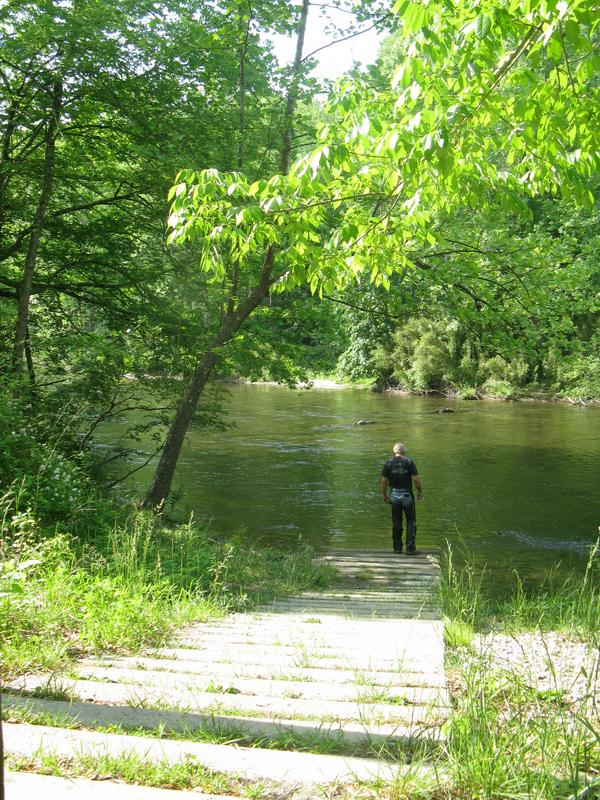 Apparently the running water caused some of us to inspect the trees a little more closely... No, it's not officially a trip until Steve is pissing on a tree somewhere... Maybe Steve was a dog in a former life and still feels the need to mark every territory he visits...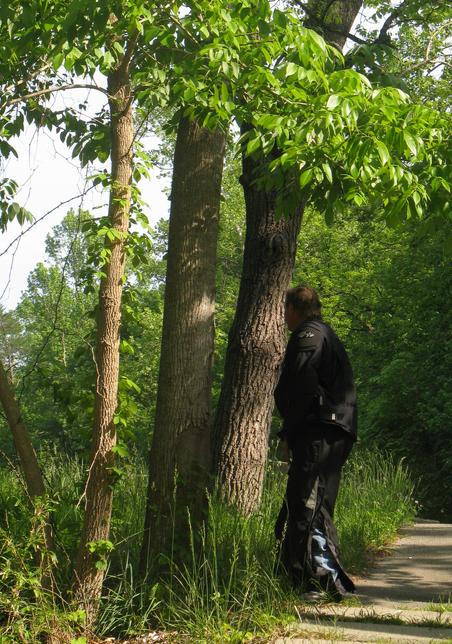 With all that out of the way we made our way to route 129. The last section of 143 before getting to 129 was a fantastic stretch of road. By 11:00 we had reached 129.
We stopped at a gas station on 129 and ran into a couple that had ridden down from Ontario on their Suzuki Vstrom. Actually the roads were full of Vstroms; we thought there was a convention in town. On our way again, at about 12:30 we reached the Dragon Resort. Hmmmmmmm... two of these things are not like the others... those two Porches definitely had the setup. Saw them at the gas station and when they took off they could have given our bikes a run for their money. Sweet rides, but the rest of it was all bikes.
We also found the crew which had left the Hotel before us. And of course, the infamous tree of shame. For those not familiar with it, it's a tree which holds some of the parts from motorcycles that have crashed on the Dragon.
Yeah, there's not a lot of room for error on the Dragon... trees, cliffs, and rock walls combined with sharp turns and elevation changes are a challenge no matter what you brung to run.
Actually we had the best situation. Normally the road is shared by cars and normal traffic coming over 129, but because the road was closed from the North, it was just bike traffic, which made it slightly safer. Well a few of us decided to give the Dragon a shot and the rest went back down to the gas station to hang. Words can not describe the Dragon; the constant directional changes...the tight turns, blind corners, crazy banking... at speed it takes total concentration... braking, shifting, turning, accelerating, shifting.. rinse and repeat... at one corner with a runoff there were two police cars, both had their lights on, but the guys were just standing there talking... another friendly reminder, just like the tree...
There are a couple photographers along the route that take photos on a regular basis... here's a couple of proofs I found of myself... The first one is obviously from killboy.com and the other one is form zphoto.com...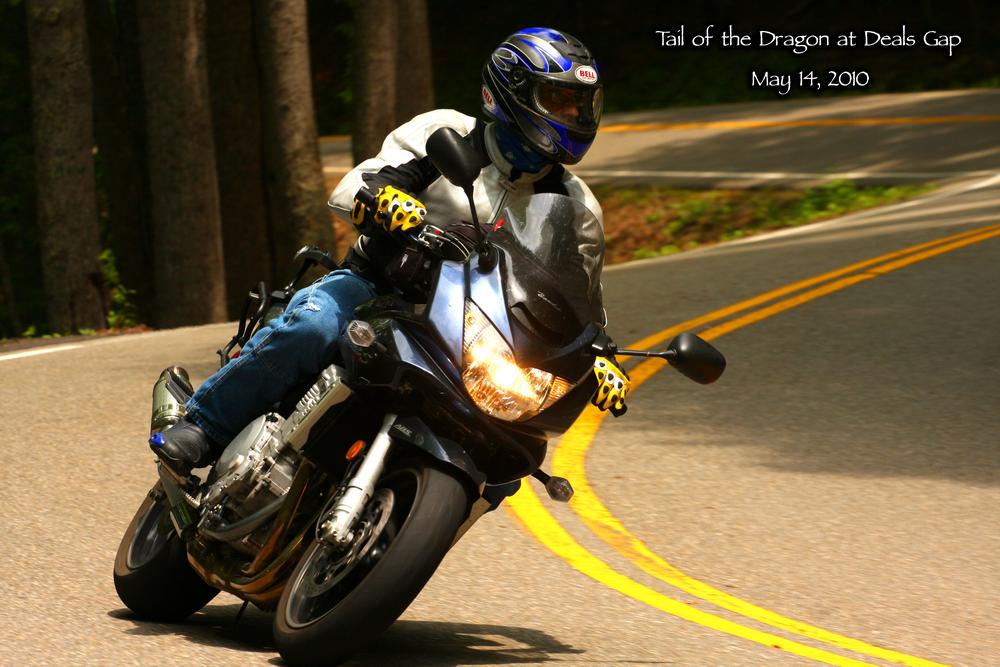 Well, all I can say is if you haven't done that road, you should. And consider yourself blessed if it's still closed when you're there. We were talking later that they should just close that road and charge admission... Bet the state would make some money... track days cost anywhere from $150 to $200+ a day...
After our run up and down we went to the gas station to meet everyone else.
I had about 58 miles on the bike since we stopped there before. On the entire trip I was getting a steady 50 mpg, so figured I had plenty of gas left but as long as I was there why not top it off... To my surprise it took 3.8 gallons of fuel... works out to about 15 mpg... Wow! Talk about working the engine hard... I couldn't believe it... You can see that kind of mileage on a race track, but didn't expect it here... thought there was something wrong with the bike... but the rest of the trip was back up to the usual 50 mpg. Yeah, I know... you didn't really care, but I told you anyway.
Ok, so we got the show back on the road. A must stop was the Cherohala Skyway Harley Davidson... Dadoo was all bummed we didn't stop there coming in. So he went ahead and we would catch up. It's actually a nice stop. They don't have any bikes, just clothes and paraphernalia. There was a river across the road, so we hung around, took some photos, and shot the bull.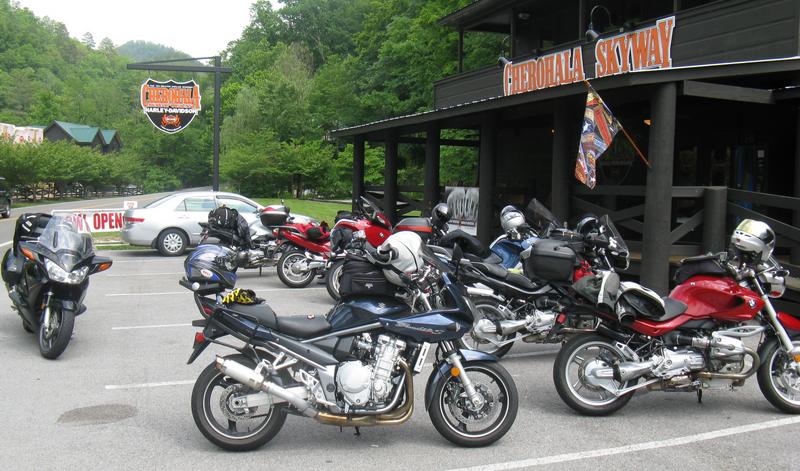 It was a great ride.
As we started getting closer to the hotel the skies started getting dark, it cooled off from the 90+ temps and it looked like we were just going to make it without getting wet. Well.. not quite. We jumped on the interstate for a short stint to make time and instead ended up sitting in stop and go traffic; not even first gear. I got a bit annoyed and just peeled off down the shoulder to just wait and saw the reason for the holdup. Someone's car had lost a ball joint or something and the car was across the highway with it's wheel all sticking out. Well, just as everyone cleared the traffic it started pouring. I tucked in behind the fairing cause there was no stopping now. Made it back to the hotel without getting too wet... The cool rain was actually kind of nice after the heat of the day.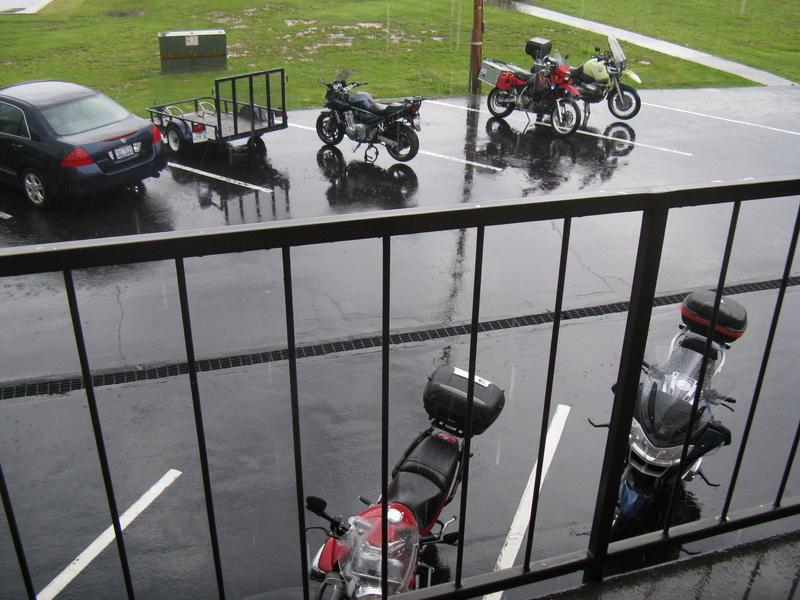 So, we all did our own thing for a while and dinner time rolled around. I was dreading walking across the street to the restaurant in the rain, when I had just gotten semi-dry. There was talk of going to the Mexican place, but I had been there Wednesday night and I wasn't impressed. Then one of the construction workers staying at the hotel suggested another Mexican restaurant 1/2 a mile down the road and he said it was much better. Then it dawned on me... Hey!!! I had a car!!! So, I offered to do the limo service down the road... and by the time we were done I had taken five carloads of people. The restaurant was absolutely fantastic... good food and large portions.
Two funny stories.. first... The last carload was Steve and Dadoo... hmmm... last at the restaurant... last to leave the hotel for the ride... I see a pattern... So, anyway all the seats at the table were taken and we grabbed a booth... eventually we decided to order the "Special Dinner". Suppose to have some of everything... A taco, burrito, chimichanga, stuffed pepper, and rice and beans... yeah baby! sounded like my kind of meal! So, eventually the waiter starts bringing out the plates and brings one of us a plate with a taco... some lettuce.. some meat... and I'm like... WTF... there's a problem here... that's not what we ordered. Then the waiter comes out and sets two plates in front of each of us... I just burst out laughing... at the absurdity that were were going to get jipped and then getting so much food instead... there was barely enough room on the table for the plates... Man we were stuffed.
To backtrack a little, as we were waiting for our meals... an unnamed person was looking at the photos on the wall... of people celebrating their birthdays with sombreros... and the plan was concocted that we would tell the waiter it was Gypsy's birthday... they would sing to her... she'd wear the sombrero.. and Phil was standing by with the camera to take the shot. The moment came and those of us in the know were anticipating, then it all fell apart... She was just getting up to go to the bathroom as the servers were surrounding her... claiming some foolishness like it wasn't her birthday... and slipped away... and to make it even worse... Phil missed the shot... SO disappointing...
Jeff and some of the folks were nice enough to pick up my tab for dinner... thank you everyone... and I coffered back to the hotel...
A great day... and a fun evening...